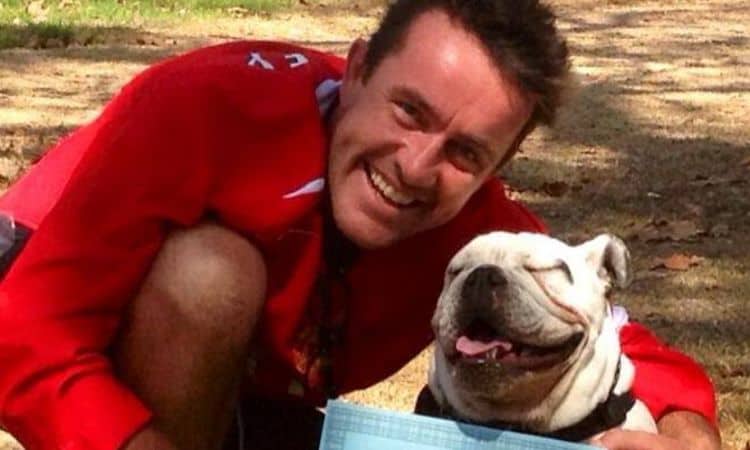 It's been 27 years since MTV's hit reality show Real World hit the screens. Real World is sort of the mother of all reality television today. The show tackled the HIV/AIDS situation and the same-sex marriage issue at a time when these conversations were still a murky subject. It addressed personal issues as well such as tumultuous relationships and abortions. Needless to say, the show produced some of the best actors and actresses today. One of the people who were on the iconic show (season 2) is Dominic Griffin. For a first TV trial, it is not easy being a TV villain. However, Dominic Griffin decided to follow the show's theme of not being polite and getting real. 27 years later the star has been involved in various projects and artworks. This article answers the question on everyone's mind. Whatever happened to Dominic Griffin?
Who Is Dominic Griffin?
Dominic Griffin was born in Dublin Ireland in 1969. He has a younger sister called Barbara and a brother. According to MTV's, the Real World Wikia Griffin's relationship with his father was strained. His parents made an appearance on episode 13 of the reality show when Griffin went back to Ireland to see his father who was ailing at the time. Griffin moved to the United States from his home in Ireland when he was 17 for a short vacation. He stated that he ended up liking the weather and the people so much that he ended up staying. Griffin shot to fame through the first-ever reality show on TV in 1992 called the Real World. He was cast for the Real World: Los Angeles entity at the age of 24.
Before going on the show, Griffin worked as a bartender to supplement his income. While filming for Real World, Dominic formed a solid friendship with his roommate Aaron who ultimately became his best friend. The two, however, are of very different opinions in regards to their political stances and lifestyle choices. This, however, didn't deter the two from becoming lifelong friends and their castmates seemed to agree that they had a unique bond. Griffin stated that his knowledge was derived from life experiences while Aaron claimed that his knowledge came mostly from books.
Distinctive Features
Dominic Griffin was mainly known for his black spiked hair which stood out from all his castmates. He also liked to think of himself to be of a good sense of humor. Additionally, Griffin stated that he was addicted to nicotine and his castmates seemed to agree that he drank too much. While on the show, Griffin was commonly referred to as the drunken Irish from Real World. He later on in an interview stated that he didn't want to be known as the drunken Irish. However, this was the character the producers of the show wanted him to fit into so he had to take it on. Griffin has over the years stated his dislike for commitment, as he termed it 'claustrophobia of relationships'. He explained that he didn't like staying with one person for too long and likes to break the monotony by shuffling to explore other women.
So What Has Dominic Griffin Been Up to?
Writing – Dominic Griffin has always enjoyed writing long before he got on Real World. He was a freelance music writer and a movie critic. Even after leaving Real World, Griffin still stayed in the entertainment industry. He became a writer for Variety Magazine writing television reviews for the magazine. He is the senior editor at Film Threat Magazine. He also writes for several music columns and is a contributor to HITS Magazine. Griffin also founded a company that helps place music in TV shows, movies, and video games. Additionally, he wrote his own short film called Wishful Thinker. Moreover, he had a stint as a radio producer sometime after his exit from the reality show. According to the Austin Chronicle, Griffin produced two TV shows called Live from the Pit and Rockline. The shows aired on KLBJ FM.
Walt Disney Company – Dominic Griffin joined Disney in 2008 as a music executive for various Disney TV and film projects. According to The Synch Tank, Griffin is also the vice president of the licensing division of the Disney music group which markets, monetizes, and protects the musical assets for the Walt Disney Company. As the VP of the licensing division, Griffin is in charge of overseeing the daily processes of ensuring that the musical copyrights aren't infringed by others. Griffin said that his division oversees the licensing of classic Disney songs in commercials. This means that every time you hear a Disney song from your favorite show in a commercial, you have Griffin to thank. He has overseen various commercials such as licensing the famous magic chant from the fairy godmother in Cinderella for a Gatorade commercial.
Griffin stated that the Gatorade commercial was his best one ever because it featured several World Cup stars and he is a huge football fan. He added that seeing the commercial finally come to life made him proud. Aside from that his division also oversees the day to day ongoings at Hollywood records, a division of the Disney music group which handles their leading artists such as Selena Gomez.
Acting – While acting is not really Griffin's first choice he has had stints in acting over the years. Griffin was an extra in the movie 'relief bite'. He does agree, however, that the scene was a bit hurried so it might be difficult to identify him.
Summary
Dominic Griffin has always had a passion for music and entertainment. Even with all the fame, this former reality TV star has proven that there should be no hindrance to following your dreams. Having started as a struggling freelance writer and music enthusiast, Griffin proved that consistency and hard work are what is needed. His advice to budding music producers is to create fruitful and meaningful relationships with coworkers and others in your line of business. He adds that it also always helps to be nice in the music industry as well.