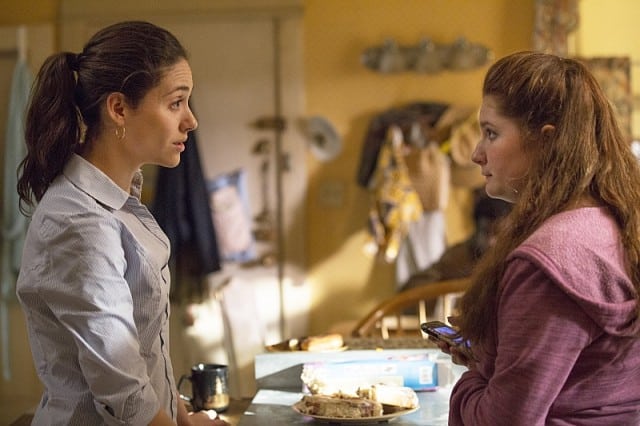 Shameless is no stranger to controversial topics, and this week's episode, "#AbortionRules," is no exception. Fiona is wrought over the fact that her little sister is, in fact, pregnant. What's worse is that she fears that Debbie will have the baby, and it will be just another mouth for Fiona to feed. You may think she is selfish, but Fiona can barely catch a break as it is, and she definitely doesn't have it easy this week.
Before I get to Fiona's chaos, let's focus on some of the other Gallaghers. Both Carl and Debbie are up to no good at the high school. Carl with his giant friend Nick have smuggled a bag of guns into the school through a janitor. Ironically, they are selling the weapons to students who want protection from a possible shooting AT the school. Oh Carl, please stay in school and learn something.
Early in the episode, Debbie adopts a bag of flour as her fake baby to prove to Fiona that she can be a mother and go to school at the same time. It's going fairly well at first; some of her teachers even humor her with the gag. Debbie stops to talk to some of the young mothers at her school, and they shed light on the reality of being fourteen with a baby: not fun, at all. Meanwhile, Fiona has recruited everyone to convince Debbie to get an abortion, and Lip almost gets her to go but then she decides to walk home alone and call Derrick. Derrick has not answered his phone since he left for Florida, and now his phone is disconnected. It's over, Debbie.
In an effort to contact Derrick, Debbie finds his sister at work and asks her to reveal where Derrick is hiding. His sister tells Debbie that Derrick is the one who wanted to run away because he wants to have a future as an air force pilot and that having a child at fourteen would only hold him back. There's the wake-up call Fiona needed. Sadly, and hilariously, Debbie leaves her sad flour baby on the train as she runs off for the right stop. At this point, I think Debbie knows that she cannot be a mother at her age. I wonder if her stubbornness will give way, and she can face this choice with a clear head.
Kev and V deal with the two Lisas and Yanis, and it gets rather explosive. First, the Lisas report Yanis' dogs to animal control for being too loud, and it only makes Yanis angrier. Later, Yanis revs his motorcycle in the middle of the night so loudly that Kev decides to cut the wire to the exhaust. That morning Yanis drives down the street with his motorcycle sounding as loud as usual, and guess what, Kev cut the brake wires by mistake! Sure enough Yanis collides with a car at the conclusion of the episode. Will he live? Will Kev get in trouble?
Finally, Fiona has one hell of a day in "#AbortionRules," and I think the Shameless writers must have known how stagnant her plot felt last season, because they've amped it up already. Fiona's first day as the diner's assistant manager does not go smoothly. The employees, who were formally her friends, despise her. Sean is constantly ducking out to go to AA meetings, and Ian quits on the spot after a very open fight in the middle of the restaurant.
When Fi goes to Sean to complain to him about everything, he confesses that he used heroine again after several months clean. This comes as quite a shock to Fiona, who cannot quite process how addiction works, despite her required attendance to Addicts Anonymous in the previous season. She asks him to promise not to use again, and he reminds her that his disease doesn't work like that. Fiona is not reassured when he tells her he does not know if he will use again.
I am so happy that this conflict has finally come to the surface of this relationship. In Season 5, we always saw Sean at the AA meetings, but I never felt like Fiona truly understood what she was getting into when she started seeing him. Addiction isn't some cute problem you can slap onto a relationship and keep it shallow; that's just not an honest portrayal. Shameless has the potential to tell this story well, and I am excited to see the show execute it correctly.
If a boyfriend with sobriety issues isn't enough, Fiona learns that she is pregnant from her blood test for her new position. Oh yeah, Fiona Gallagher is pregnant! I cannot wait to see next week's episode! Will Fiona take her own advice and get an abortion? Will she even tell Sean about the pregnancy? Will she tell Debbie, and will they keep the babies and raise them together? The stakes just got higher for Fiona Gallagher, and I'm definitely sticking around to see how it plays out.
[Photo credit: Cliff Lipson/Showtime]
Tell us what's wrong with this post? How could we improve it? :)
Let us improve this post!