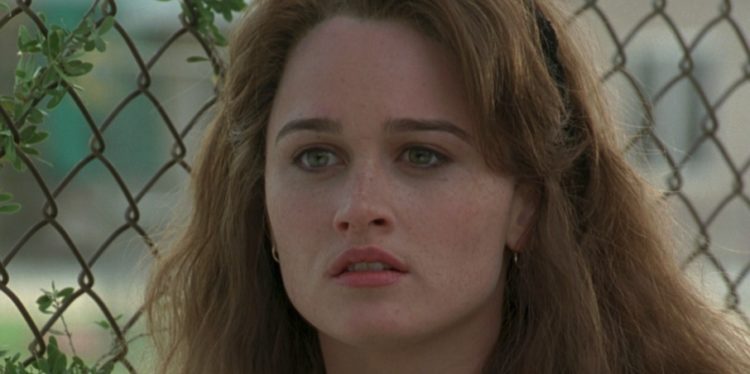 Did you know that Robin Tunney's big break came during Encino Man? I'll admit that this was news to me even though it's easy to remember her in the movie as one of the snotty young women that a lot of us have likely met once or twice in our lives. But that wasn't where Robin managed to take on the designation of a scream queen since it wouldn't be until a bit later when she starred in The Craft and eventually End of Days with Arnold Schwarzenegger that she would really let loose with her vocal range. It can be said that, much like many other actresses, her career isn't dominated by the horror genre, but the performances that she's put in when it comes to horror has been impressive enough to remember her and take into account that she's no one to look past when it comes to the ability to produce a quality scream at the right time. It is kind of amusing though to see how her characters are portrayed in The Craft and End of Days since they're pretty opposite given what happens.
In The Craft, there's no doubt that she's the main character considering that the movie sets this up quite nicely by focusing on her intently throughout the opening and through much of the movie. While it does focus on the other three actresses that comprise the small coven of witches it does focus quite a bit on Tunney's character and goes into the idea that she's a natural witch whereas the others weren't born to such power. But while she does have the ability, she's also wary of it and doesn't lean into it as hard as the others, making her appear hesitant and perhaps even a little weaker at times where the others in her group, marginalized individuals that are ready to strike back at the system, tend to go a little overboard with their newfound power.
Near the end of the movie, she does embrace her power in order to survive and even make it clear that once the conflict is over that she's not powerless in the least bit, but she's definitely not the type to abuse the abilities she possesses. The point is that while she comes off shy and even reclusive at first in the movie she evolves into a person that gains her own sense of power and then seeks to control it rather than unleash it until she has no other choice. The reason this movie helped to set her up as a scream queen is easy enough since she had to deal with Fairuza Balk's character, Nancy, who became unhinged once she gained the power that she wanted, and when Balk appears angry in a movie it's enough to terrify a lot of people considering that she really gets into her character. The recent reboot of The Craft is up for debate when it comes to how effective it really was as a movie and whether or not it did anything to push the story forward. If anything it feels as though the reboot embraced a few of the current issues in society and replaced the issues with the young girls with the need to blame a patriarchal character, but this is only another reason to state that the original was definitely better.
The other movie in which Robin showed just how great she can be, and how loud she can really scream, was End of Days, which was also supernatural in origin but painted her as a rather helpless individual that had been cornered by fate and raised with a firm destiny in mind that she couldn't escape apparently. If not for Arnold's character she would have been given over to the devil as his wife, which would have been a way to enact the end of days as spoken of in the title and throughout the movie. But the way this was done was kind of interesting since the character of Christine started having visions as she grew older that she couldn't control since they came out of nowhere at times, and were fashioned in a way that made her gasp or scream in terror, which was convincing since having to see the things that she was seeing would have terrified a lot of people.
When all is said and done, Robin's status as a scream queen in the horror genre isn't that extensive, but it's definitely worth noting since she's been around for a while and she's managed to create a great deal of interest as an actress throughout the length of her career. The Craft and End of Days are movies that a lot of people still like, but she's done so much more that they tend to slip into the background now and then, as is normal. Robin has definitely earned her place as a scream queen though, there's no doubt of that.