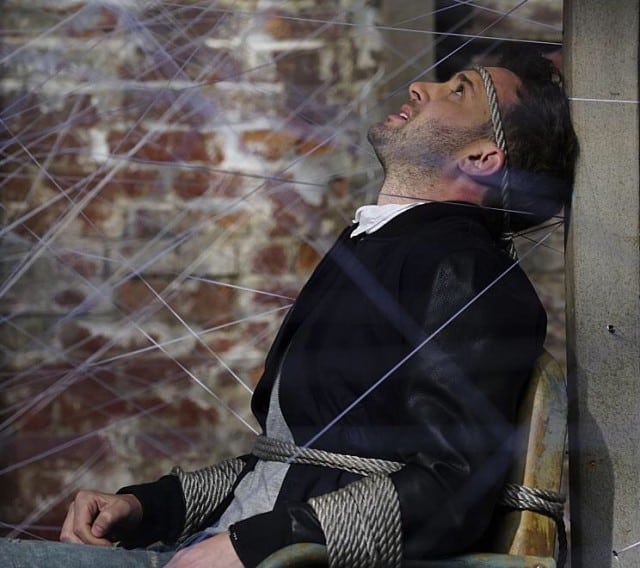 "It's one mad genius against a team of geniuses." The promo line for this Monday's second season finale for Scorpion took the words right out of my mouth. Mark Collins, a former member of Team Scorpion, has kidnapped our favorite shrink and plans to kill him. Now, the team races against time once more to save Toby from certain death.
I also wonder what Mark's list of demands are going to be. Maybe he wants back on the team or maybe he wants something from Walter. Then again, if Team Scorpion gives Mark what he wants, he's still going to screw them over in the end. It's classic Villain 101 all over again unless, by some crazy miracle, Toby is saved from Mark's insane clutches.
In the promo clip below, Mark let Toby call Happy on the phone. The shrink told the mechanical prodigy that he'll always love her no matter what happens to him. It's sentimental yes, but it could very well be something more, like a secret message of sorts to let the rest of the team know where he's being held captive. Or it could be Toby's last words before Mark kills him. Sometimes, I just watch too many crime dramas for my good.
The clip also showed Tim saving Paige from a gunshot. It was hard to see who the shooter is due to the fast cut scenes of the clip, but I guess that the shooter is Mark. Makes one wonder how Mark got his hands on a gun. I also want to know how the criminally insane genius managed to tie up all those strands of string in the abandoned warehouse.
As much as I want Team Scorpion to not negotiate with Mark, because it's not going to end well as Walter briefly mentioned in the promo clip, it still has to be done in order to have a fighting chance at saving him. I hope that Toby can be saved or else we would have another character death on our hands. Somehow I don't think that Happy would be, excuse the pun, too happy about that.
Photo via CBS, Video via YouTube