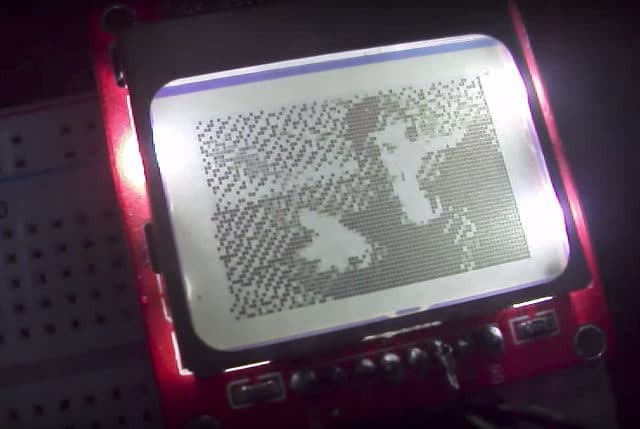 I thought it looked kind of goofy with the color and original color, but monochrome the first version of Spider-man looks even worse. Okay, to be honest I was just as into as anyone when the first movie came out but over time and upon watching it again I looked back and really thought that Toby Maguire was a little TOO nerdy at times and a little too over the top for the webslinger. He wasn't absolutely horrible but there was a lot of room for improvement. But watching the film on a 90's phone screen didn't seem possible until now. The idea that it could do this without blowing up or draining the battery in a matter of seconds is kind of interesting.
If you remember a 90's phone screen it means you're old enough to recall the 90's to start with, and you'll recall that there was no color, no real sharpness, and everything looked like it was being shown on an old Gameboy with even less definition. How a movie like Spider-man actually managed to show on this screen is kind of interesting since Spider-man didn't come out until 2002. The technology of the 90's seems like it shouldn't have been compatible enough to run this film but if someone had the knowledge of how to make it work and the idea of how to do it then it would be possible.
After all nothing is really impossible so long as a person can think of a way to make it work. There are things that are improbable, such as making an outdated piece of technology work with something that's years ahead of it, but even that is possible obviously. I'm not sure you'd want to watch your movies this way but it could have been an interesting challenge for the person that did it and something that they wanted to prove to themselves or to another person. I wouldn't be surprised if this was the result of a bet being made that it could work.
That being said, Spider-man has definitely come a long way in the last 15 years, ditching Tobey Maguire and Andrew Garfield in an effort to secure someone younger and more likely to play Peter Parker for some time to come. While both actors that have come before did a decent job the problem is that with comic book movies the number of issues that exist within each character's story is so great that to really encapsulate every little nuance about them you'd have to make them all TV series with insanely high budgets. Movies are good for a series or a serious moment in the character's life that could cover a single issue or more.
Now I'm kind of wondering if the person that did this could make it work with the newest Spider-man movie, or if that's just too big of a gap and compatibility would be a huge issue. It'd be interesting to see at least. Just realizing that a 90's phone could be made to do this was amazing.