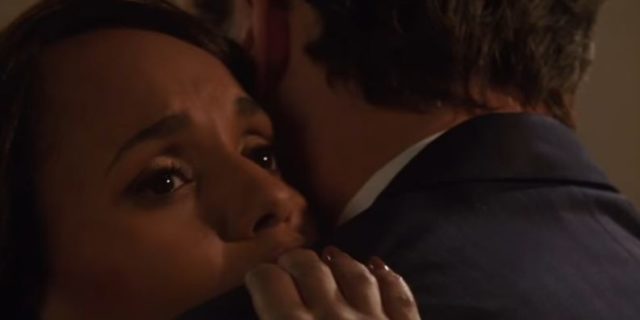 Last week we got to experience what it would have been like if Olivia hadn't Fitz's election. This week, we are right back into the old timeline. Yet, somehow, the episode tonight ends very similarly to last week's ending. But first, who will become the President: Cyrus or Mellie? And who dies by the end of the episode?
The episode opens with Liv telling Mellie the presidency belongs to Cyrus. He is getting released from jail immediately. In a hotel room away from the press, Abby reminds Cyrus he is the next President of the United States. He lets that sink in.
Mellie shows up and tells Olivia she is not ready to concede. Olivia reminds her that it is the right thing to do, but Mellie won't go down without a fight. Liz North is on Mellie's side and tries to make Cyrus look bad in front of the press, prompting Liv to help Cyrus.
Liv goes over to Cyrus' hotel room with a bunch of suits for him to try. She wants to help but he kicks her out. The last time they talked, she left him for dead. She wants to help. Liv gets called over to Rowan's office. He demands that she stop helping Cyrus. There is no way she will win, and she could be killed.
Fitz gets Frankie Vargas' wife to do an interview in order to help Cyrus. Liv gets angry when she finds out about the interview, thinking that Mellie is behind it. She asks Fitz to help her help Cyrus. They owe it to him. Fitz shows up at Cyrus' door. Cyrus is mad. He has the right to be. Fitz asks him to step up. He's the President now.
Cyrus, all cleaned up in a suit, does a press conference where he talks about prison. He feels like he let everyone down. He doesn't think he deserves to be President. Frankie Vargas is who the people elected. He plans on using visions to lead the people the way Vargas would have wanted to. From afar, Rowan looks on, distraught.
Liz takes Mellie to meet her benefactors. They are the man and the woman. Mellie doesn't want to win through sabotage and tries to stand up to them by reminding them that she knows they killed Vargas. The woman grabs a golf club and beats Liz. Blood splutters all over Mellie. She has no choice over what happens next.
Angela finds Fitz and tells her she has proof Liv ordered the hit on Vargas. She is going to arrest her.
Liv arrives at Mellie's office to find Liz North dead on the floor. Mellie tells Liv that they have no choice. There is no way out. Jake comes in and Liv asks him to stay with Mellie. He is her VP.
Fitz asks Angela not to arrest Liv. He knows she was not responsible, and he is not going to let her take the blame. She didn't kill Frankie Vargas.
Liv helps Cyrus get ready. He is becoming the next President. On her way to the White House, she sees the FBI. They are arresting Rowan. The orders came from the White House. Meanwhile, the electoral votes come in. Mellie is going to become the President. Liv shows up to the White House angry at Fitz. He tells her he is protecting her father, and that together, they will take down the man and the woman. With "Ain't No Mountain High Enough" playing in the background, Liv and Fitz kiss.
Save