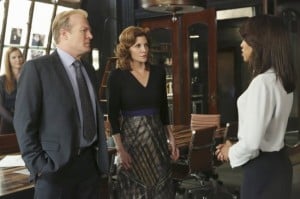 Just when I thought I would never give two craps about any of oil baron/murderer Hollis Doyle's personal problems, Scandal managed to reverse that firm thought process last night. Only for a few nanoseconds and for a different reason than you might think. Meanwhile, Cyrus's need to get back in with Fitz and Mellie's weekly dose of meddling made the White House story-lines my main focal point of the hour, while Capt. Jack's increasingly shady behavior has officially pushed me over the fence onto the "He Must Go Down!" side of the situation.
Like Father, Like Daughter
Again, I was not caring about Hollis Doyle's predicament for most of the episode, and that's because I knew from gate that his daughter (Desperate Housewives's Andrea Bowen) was in fact involved with her own kidnapping. Even when her bloody, severed ear showed up at the offices of Olivia Pope & Associates, I still pegged Hollis's devil spawn as being the culprit and was just waiting patiently while everyone else got hip the ruse. Come on, it's Hollis Doyle's daughter! He knew she was capable of going to drastic measures to get what she wanted, because he himself is the same way. It's just another case of like father, like daughter, especially when it comes to their psychotic tendencies and lack of responsibility (or emotion) when it comes to their actions affecting those around them. So, nope. Wasn't feeling their little family drama.
However, it was gut-wrenching to see Emily (name?) ask for the $20 million dollars instead of the foundation and stability of her family. That was cold-blooded, but then again, what else could you expect from an individual who willfully hacked off their own ear to get paid? Now, when I say "gut-wrenching" I mean in a "she doesn't know any better" type of way. At her age and with her lifestyle, that $20 million can easily be gone within two years time, and I'm being extremely generous with that number. So, she should have stayed where the money was and dealt with the horrors that is her family. Then again, you can't help but recognize the fact she was Hollis Doyle's daughter, meaning that the grass has to be greener on the other side, even if it required losing an ear to gain access to the greener pastures. But as far as me feeling sorry for either Hollis or his daughter? Can't do it.
With that said, Gregg Henry did give a damn good performance of taking Hollis from the Brahma bull we've come to love to hate and bringing him down to size when he felt his baby girl was in serious danger.It was a bit of a shocker to see Doyle actually care about something for once, and Henry brought his A-game even though I still felt his character had ruined everyone around him to a point of no return.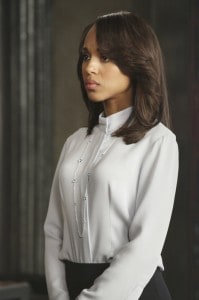 President Grant Isn't Himself Today…
Now this story arc right here was where I was hanging at the edge of my seat throughout the house. While I knew Fitz had fallen off his rocker a little mentally and emotionally from the fallout of Defiance-gate, I had no clue that 1) he had pretty much turned into his father in the process and 2) that Mellie was going to be the one to read him to filth and actually use her "mother gene" as her library card. When I say Bellamy Young put her damn foot in that scene, I mean she marked all her territory on that monologue. There wasn't anything else for Fitz to say after she went in his ass, and I bet if the script did call for Fitz to respond to the verbal smackdown, Tony Goldwyn would have still been rendered speechless at the end of the scene.
At first I felt Mellie was being extremely extra and more out of line as usual when it came to rearranging the President's schedule. I know she's the First Lady and all, but changing the President's schedule is way past over stepping her boundaries, especially when it comes to the Leader of the Free World's daily agenda. Then Scandal's answer to Lady MacBeth dropped the bombshell of their kids not wanting to have anything to do with their father since he's "changed." Talk about a slap to the face, because if there was one thing Fitz cherished out of his sham of a marriage, it was his children. The revelation also displayed in so many words how rock bottom Fitz has become since he found out that the answer to all his problems wasn't found 'between the legs of Olivia Pope.' And I'm paraphrasing there, of course.
Mellie brought the pain in that scene and she wasn't going to let up until Fitz got a clear understanding on how much he had become his father, which was another slap to the President's face, and how it was affecting the people who were actually not on his "ish list." But will it make a difference? Will Mellie's pleas for Fitz to wake the hell up and get over himself actually crack is drunken shell of anger? Let's pray that it does.
Capt. Jack: Lover of National Terrorist?
As I stated above, I'm in the camp of Don't Trust Jack at the moment, because while he clearly has feelings for Olivia and has gone to lengths to make sure she's safe, he's going about it in a very unorthodox manner. Then there is Cyrus, who is not happy about this man he's never heard of, yet has a classified history with Fitz that threatens his trust issues with the President even more. Olivia is about to get hurt from all corners of her life and she doesn't even know it yet, and who is smack dead in the middle of it all? Jack. In other words, the Jack-ass (pun intended) does not sit well with me at all, and he better show is true colors quick.
As for the new hashtag mystery, #WhoIsTheMole, I'm a little perturbed by it, mainly because it looked as if Osbourne was in fact the snake in the grass at the White House, but unfortunately he's not. So who in the hell could it be and why didn't Osbourne explain himself clearly when Cyrus confronted him with the info? Osbourne had to have known something, because Jack wouldn't have taken him out like he did and make it look like a suicide. Something is just not right in the buttermilk with this one. Also, it looks as if Jack and his unnamed associate have an idea or inkling to who the mole is exactly, but I couldn't help but feel that they are actually in cahoots with the mole as well. A very confusing new mystery for the Scandal crew, but I'm all in, gladiator-style.
A New Family for Huck & Quinn
How can anyone not love Huckleberry Quinn?!? They are looking out for each other not only as a mentor would his mentee, but a big brother would his sister and vice versa on both counts. The former Lindsay Dwyer is a true bad ass when it comes to her new talents as a budding spy in the making, and Huck is the right person for the job of instructor. Plus, the both of them have so much in common that their bonding makes so much sense and praise Shonda Rhimes and her writers for spotting and pointing that truth out to us.
Plus, how cool was it that Huck found Quinn a new 'family' to watch over ala his own 'family?' And did anyone notice how close Quinn's 'family' situation mirrored her own? Did Huck do that on purpose for Quinn, or could the family he watched over earlier this season been a resemblance of his own family? Things that make you go, "Hmmm…"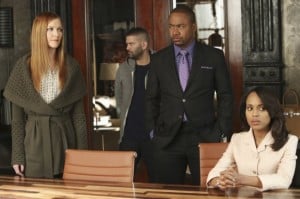 A quick side note: When Olivia was preaching to Hollis's daughter about people not getting a second chance at life, I was screaming at the screen, "Huck and Quinn did! Albeit illegally, but still!" (However, that poor girl doesn't have the skills, foundation, nor resilience to turn her life around like Huckleberry Quinn did for themselves, so, uh… Yea. She's toast.)
David Rosen, the Newest Gladiator?
Finally, has David Rosen become a permanent member of Olivia Pope and Associates? His presence in the office fit like a well worn glove and Abby was too delighted to have her boo in close proximity. Harrison, on the other hand, looked as if he was either feeling sorry for splitting the two apart or that he might have second thoughts on Abby being like a sister to him. If I was a betting man, I would go with the former scenario, because I seriously think Harrison might have a thing for Olivia. That's my prediction at the moment until further notice.
So what were your thoughts on this week's episode of Scandal? Should Olivia be worried for her life? (The previews point to "yes.") Does Fitz need an AA meeting of sorts? (If he's reeking of scotch then he needs something.) Will the #WhoIsTheMole storyline come to a head next week? (Doubt it, but who knows?)
Sound off below!
Photo Credit: ABC