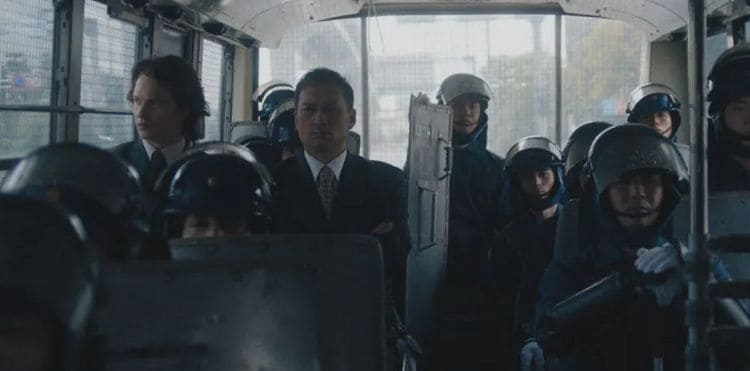 HBO Max is on a roll when it comes to producing and featuring quality content, and Tokyo Vice is no exemption. The series is an upcoming drama based on the 2009 book by Jake Adelstein, also titled Tokyo Vice. The book details Adelstein's life and work as the first non-Japanese reporter for Yomiuri Shinbun, Japan's largest newspaper. Here is the official synopsis of the show, according to IMDb: "A Western journalist working for a publication in Tokyo takes on one of the city's most powerful crime bosses." The series is helmed by J.T. Rogers, who had previously worked on theater as a playwright. Tokyo Vice features a powerfully assembled ensemble of cast members. Here are the performers set to appear in Tokyo Vice.
Ansel Elgort
Ansel Elgort stars as Jake Adelstein, the foreign-born journalist who moves from Missouri to Tokyo. The 28-year-old actor has become a Hollywood superstar in a relatively short period, having only started in the 2013 movie Carrie. Since then, he's made a name for roles in blockbuster hits like the Divergent franchise, The Fault In Our Stars, Baby Driver, and The Goldfinch. Most recently, he starred in the Steven Spielberg movie West Side Story, which had earned multiple acknowledgments at various award-giving bodies. Tokyo Vice is Elgort's first TV role.
Ken Watanabe
Legendary actor Ken Watanabe plays Hiroto Katagari, a Japanese detective whom Elgort's character works with to investigate the underbelly of Japanese organized crime. The actor has appeared in multiple Hollywood hits. Most fans would recognize him for his role in Letters from Iwo Jima, directed by Clint Eastwood. Over the years, he's appeared in popular movies, like Inception, Godzilla, Transformers: Age of Extinction, Transformers: The Last Knight, Bel Canto, Detective Pikachu, and Fukushima 50. He's set to appear in two upcoming movies, Kensuke's Kingdom and True Love. Watanabe has also had plenty of work in the TV world, although most of it are Japanese productions, like Gokenin Zankuro and Chushingura 1/47. Ken Watanabe is also known for his charity work, particularly supporting areas struck with disaster. "For the people who suffered through the disaster, 10 years is just an accumulation of everyday life and nothing changes in a big way," Watanabe said in a recent interview, according to Nippon. "I will continue my support despite having only little power, with the feeling of wanting to help and console people."
Rachel Keller
American actress Rachel Keller plays Samantha in Tokyo Vice. Samantha is an American expat in Tokyo working as a hostess of the Kabukicho district. You'd probably recognize Keller for her past roles in Legion, where she played Sydney Barrett, and Fargo, portraying Simone Gerhardt. She's also appeared in The Supernatural, The Society, and Dirty John. On film, she's appeared in A Man Called Otto and In The Shadow of the Moon. The Hollywood Reporter has described Keller as "Hollywood's next big thing." "When Rachel Keller got the call that she'd been cast in season two of Fargo, she was working three jobs — nannying, hostessing and serving juice at a food truck in Los Angeles. She promptly quit all three to play the femme fatale in Noah Hawley's Emmy-winning limited series," the publication wrote.
Ella Rumpf
Swiss actress Ella Rumpf plays Polina, a European expat who works as a new hostess alongside Samantha. Originally intending to find work as a model in Tokyo, Rumpf finds herself working in Kabukicho instead. A multi-awarded actress, Rumpf gained critical acclaim for her role in the horror drama Raw as well as her role in Tiger Girl. She also starred in the comedy movie The Divine Order, a Swiss-produced film. On TV, Rumpf has had roles in Tatort, Freud, and Succession. In an interview with Closeup Culture, Rumpf, a relative newcomer, talked about her acting ambitions, saying: "MY ambitions are quite strong in terms of what kind of stories I support, by acting in them. My ambitions are to work with artists I admire and that support a message which enriches and questions the world we are living in. My list would be long, but a director of my generation that inspired me a lot is Xavier Dolan. Working with him would be a dream come true." We can safely say that starring in Tokyo Vice is a step in the right direction for the actress.
Rinko Kikuchi
Japanese actress Rinko Kikuchi plays the supervisor of Adelstein in Tokyo Vice. Her character represents colleagues and bosses Adelstein has had while working in Tokyo as a journalist. Kikuchi holds the distinction of being the first Japanese actress to be nominated for an Academy Award in 50 years, for her work in the movie Babel. Splitting her time between Hollywood and the Japanese film scene, Kikuchi has worked in 47 Ronin, Kumiko, The Treasure Hunter, Nobody Wants the Night, Terra Formars, Pacific Rim: Uprising, and We Are Little Zombies. She's also appeared in American TV shows like Westworld and Invasion. In an interview with The Guardian a few years ago, Kikuchi talked about her rising fame in Hollywood, saying: "I'm Japanese, but I love to be honest. I didn't anticipate this… this fame. I never expected to come out into the world, for everyone to see. It's kind of scary. I've learned so much. I've met more people this year than I've ever met before in my life, heard all their stories, listened to all their music, read their books – I've done a lot of listening."
Hideaki Ito
Japanese actor Hideaki Ito plays a yet-to-be-named role in Tokyo Vice. He's previously worked in Memoris of a Murderer, March Comes in Like A Lion, March Goes Out Like A Lamb, Lesson of the Evil, and Kamui Gaiden.
Tomohisa Yamashita
Thirty-six-year-old actor Tomohisa Yamashita is also a cast member of the upcoming series Tokyo Vice. The actor is a superstar in Japan, but he's also worked in a few Western productions, like The Man From Toronto and The Head.
Show Kasamatsu
Show Kasamatsu previously appeared in You Are Forever Younger Than Them and Mask Award. It appears Tokyo Vice will be Kasamatsu's first American project ever.
Recurring cast
Actors expected to play recurring roles in Tokyo Vice are Shun Sugata, Masato Hagiwara, Ayumi Tanada, and Kosuke Toyohara.