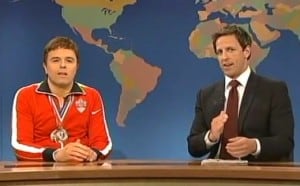 Last night Saturday Night Live kicked off its 38th season with first timer Seth MacFarlane taking the reigns as the host for the evening. With several fan favorite cast members not returning from last season (Kristen Wiig, Andy Samberg, and Abby Elliot), SNL seemed to have a bit of a hill to climb to earn a potentially skeptical audiences approval, however, I believe they did a pretty good job.
As expected, politics took a front seat for the cold opening, a trend we can probably plan on at least through the fall. What viewers weren't expecting, however, was to love Jay Pharoah as the new President Obama, formerly played by Fred Armisen. Nailing Obama's staccato like speech patterns and over confident delivery, Pharoah's impression of the president was spot on. As usual, Jason Sudeikis' comical Mitt Romney was overplayed and hilarious, setting the tone for a fun election season on Saturday Night Live.
One thing viewers knew to expect from tonight's host were Family Guy references and impressions and Seth MacFarlane did not disappoint right off the bat with his opening monologue. Not only did we get to see him do the voices of some of his most notable characters, but delivered a fast moving conversation between himself, Stewie, Peter Griffin, and Quagmire. He didn't stop there, however, breaking into song complete with impressions of everyone from Marty McFly to George Takei, leaving me excited for the rest of the show.
There were certainly some hits and misses last night with the worst sketch of the evening immediately following MacFarlane's successful monologue, which momentarily made me rethink my enthusiasm for the night's show. Fred Armisen in the sex therapist sketch fell flat with cheap jokes that were predictable and not really funny.
Aside from a few ho hum sketches mixed into the night's episode, the rest of Saturday Night Live's premiere was actually quite funny. Seth MacFarlane is no doubt a talented guy and he had no problem delivering spot on performances and comedic timing that made the sketches much better than they would have been otherwise. Blink and you might have missed it, squeezed in at the last moment was a funny sketch that included newbie Tim Robinson and MacFarlane in an Amish advertisement for spoons in which MacFarlane read the website letter by letter in his own unique way: Broken ladder (E), river that took my son (S).
Also, not to be forgotten was Bill Hader with his ever brilliant Clint Eastwood impression. Playing off the republican national convention, the segment showed clips of a mock upcoming tour by Clint Eastwood and his empty chair. After a few easy, but funny jokes, Clint wrapped it up by singing "Let's Call the Whole Thing Off" with his chair.
Topping the night as my favorite moment was MacFarlane's hilarious impersonation of Olympic swimmer Ryan Lochte reviewing fall television. Insinuating that Lochte might not be the sharpest tool in the shed, MacFarlane's Lochte declared, "It feels weird to be dry," while sipping a juice box he had demanded previously. If no other sketch had made me laugh the whole night, Seth MacFarlane hosting would have been worth it just for this alone.
While Saturday Night Live may have had better episodes in the past, the season premiere wasn't anything to sniff at and really was quite entertaining. Seth MacFarlane pulled off a great night and made audiences excited for the rest of the season. Frank Ocean, as the very talented musical guest, only added to the tone of the night, making the season premiere, overall a success. If this sets the pace for the rest of the season, which I hope it does, we should be in for a treat.
What did you think of last night's Saturday Night Live? Did Seth MacFarlane live up to the hype?
Saturday Night Live airs Saturdays at 11:30/10:30c on NBC.