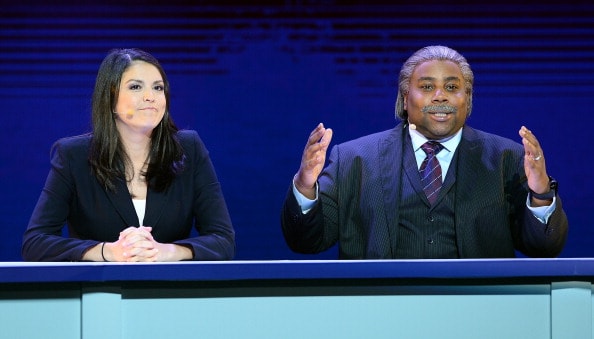 Last week NBC struck it rich in the ratings when it aired a three-hour special devoted to the 40th anniversary of Saturday Night Live. The late night sketch comedy show debuted on October 11, 1975 and starred Gilda Radner, Dan Akroyd, and Chevy Chase. Over the course of 40 seasons, there have been a total of 141 cast members. Some of those fan favorites include Phil Hartman, Adam Sandler, and Amy Poehler. There were even a few stars you may not have known appeared on the series because they wore out their welcome in such a short amount of time. Both Ben Stiller and Sarah Silverman did not survive a full season, while Laurie Metcalf never appeared on a sketch that made it to the live broadcast. Due to the writer's strike, she was let go after that one episode. On the flip side, there have been many stars who have lasted multiple seasons. Here is a look at some of the stars of Saturday Night Live who stayed on the show the longest.
Tim Meadows 1991 — 2000
Tim Meadows spent ten seasons on Saturday Night Live, but I found it hard to remember any popular characters that he played. The only one that came to mind was The Ladies Man, which would then be turned into a movie and star Saved by the Bell's Tiffani Thiessen. Other characters that Meadows would portray during his time on the series include Oprah Winfrey, Tiger Woods, Michael Jackson, and O.J. Simpson. Phil Hartman, Mike Myers, and Alec Baldwin have all poked fun of Meadows' tenure on the show during their opening monologues when they have hosted Saturday Night Live. Tim Meadows has found recent success in primetime television. He had a supporting role on Suburgatory, which also featured SNL vets Chris Parnell and Ana Gasteyer, and currently stars on the NBC comedy Marry Me, which features Casey Wilson, who starred on Saturday Night Live for two seasons.
Al Franken 1977-1980, 1985-1995
Al Franken began his tenure at Saturday Night Live during the first season. However, he did not begin showing up on screen until 1977. Franken was hired along with his writing partner Tom Davis, whom he had known since his childhood. Lorne Michaels had the two men share a paycheck during that first season of Saturday Night Live. They were paid $175 each and were considered apprentices. Due to his awesome writing skills, Franken won three Emmy Awards. Franken would depart the series when Lorne Michaels did at the conclusion of the 1979-1980 season. Michaels had requested that Franken replace him as head producer of Saturday Night Live. NBC President Fred Silverman refused the request after Franken mocked him on television with a chart showing the poor ratings NBC had experienced during his time heading up the network. Franken would return to the series when Michaels did in 1985 and then would once again leave for good in 1995 when he did not win the coveted Weekend Update anchor role. Norm Macdonald would become the new anchor.
Fred Armisen 2002-2013
Fred Armisen is probably one of the more recent performers of Saturday Night Live that I have liked the least. He was there for 11 seasons, so that was a lot time to have to try to tolerate him. Since his departure in 2013, he has continued to pop up on the show in various sketches. Usually, he would play the part of Garth, who, along with Kristen Wiig's Kat, would appear on Weekend Update and make up ridiculously funny songs on the spot. To date, Armisen has appeared in 856 sketches on Saturday Night Live and has performed 99 different impressions, which is the third highest in the show's history. Some of those impressions include President Barack Obama, Prince, Stewart from The Californians, Steve Jobs, Ice-T, Gene Simmons, Lawrence Welk, and Penny Marshall. Armisen currently stars in the comedy Portlandia and is the bandleader for the Late Night with Seth Meyers house band.
Kenan Thompson 2003-Present
Kenan Thompson was no stranger to the world of sketch comedy as he was a series regular on the Nickelodeon series All That that ran on the network from 1994-2005. Thompson was a part of the variety show from 1994-1999 and appeared in over 100 episodes. Some of his more popular characters included Pierre Escargot, who would say French phrases in English while sitting in a bathtub; Lester Oaks, Construction Worker; and lunch lady Miss Piddlin. One of the characters that Thompson portrayed on All That is shown frequently on Saturday Night Live. That character is Bill Cosby and Thompson recently played him on the 40th Anniversary Special. Thompson has performed 108 impressions during his eleven seasons on the show. Some other ones include Al Roker, Al Sharpton, Reba McEntire, Steve Harvey, O.J. Simpson, and Randy Jackson.
Seth Meyers 2001-2014
Seth Meyers joined Saturday Night Live in 2001 and became the show's head writer and Weekend Update co-anchor when Tina Fey would depart the show in 2006. He would anchor the segment alone once Amy Poehler left the series in 2008. For his final season on Saturday Night Live, Meyers shared the desk with Cecily Strong. In the early years of his time on the show, Meyers would impersonate John Kerry, Anderson Cooper, Carrot Top, Peyton Manning, and Tom Cruise. He left Saturday Night Live on February 1, 2014 to host his own late night talk show, Late Night with Seth Meyers.
Darrell Hammond 1995-2009
Darrell Hammond currently holds the record for appearing in the most seasons of Saturday Night Live. When he parted ways in 2009, Hammond was 53 years old. This makes him the oldest cast member to appear on the variety show. He has uttered the famous catchphrase, "Live from New York, it's Saturday Night!" 70 times which is more than any other cast member. Some of Hammond's popular impersonations include Donald Trump, Al Gore, Regis Philbin, Sean Connery, and Dick Cheney. Hammond replaced Don Pardo as the announcer of Saturday Night Live this season after Pardo passed away in August.
Who is your favorite Saturday Night Live cast member? Let us know in the comments section below.
Photo by Ethan Miller/Getty Images
Tell us what's wrong with this post? How could we improve it? :)
Let us improve this post!