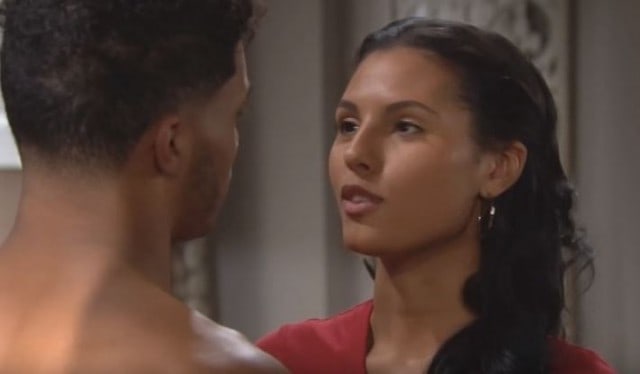 Oh the love triangle that people find themselves in when they should just stick to their promises and love only the ones they are with. On the Bold and the Beautiful Wednesday, we saw that many of the people here cannot do just that. We all knew that Sasha was moving in on Zende and that she is offering him something that he cannot refuse, but will he? He should; but it looks like her offer is so tempting that he actually considers the fact that she wants to be his friend with some benefits on the side — even though he is in a committed relationship with Nicole.
He and Sasha had a very sexy shoot today, and they were very happy with the results. When the family walked into the shoot with Nicole and heard him telling Sasha she looked sexy, Nicole was not happy. However, she wanted to go out to dinner with her family and invited Zende to go along. He claimed that he was not ready to go out and just wanted to go home. That's when Sasha showed up at his house while he was shirtless and involved in a project. She approached him and put her hands on his nude chest telling him that she is not happy with Nicole, that she is the kind of person that stabs people in the back and doesn't care who she hurts. She talks about how angry she is and then she asks Zende to be her friends with benefits and then asks him to think about it. She won't say anything to anyone, so why not?
Just like Sasha had no business being at Zende's place, Bill has no business being in the office with Brooke. However, he is; and he wants to make things right. He tries to convince Brooke that he can fix things between her and Katie and they can be a family together again. He knows that it's not going to be easy, but he wants her to know that he can do it. Brooke wants him to go home and be with this family and stop bothering her. She is afraid that Katie will find out and that it will make things worse for all of them. Bill has already talked to Katie and told her that Brooke's feelings do not matter if Katie trusts that he is not going to do anything to harm their marriage. However, Katie is not convinced that there is nothing to worry about. She tells her husband that she knows her sister and that her sister only told him about her love for him because she wanted him to act on it and do something that would hurt Katie.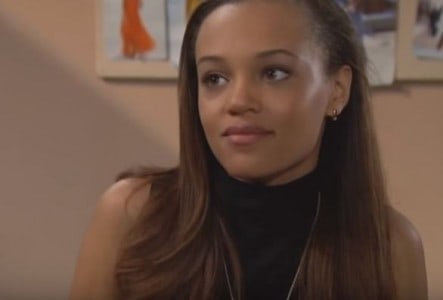 Eric is trying to help Brooke, and he tells her that neither sister can help their feelings and that they both need to work through them and have a little bit of time to process what has happened between them at the moment. Eric is of the opinion that Katie needs to remember that Brooke is a part of her family and that she needs to embrace that, but he knows it will take some time. He decides that it might be a good idea to get Rick and Maya and Brooke together with him and all go out to dinner, which is the same dinner that Nicole joins while her ex-best friend is hitting on her boyfriend at his house. She has no idea as she is enjoying time with her family that Zende is being offered a chance to have sex with Sasha so that he doesn't have to wait on Nicole to have the baby and be back to her old self.
Nicole might not have a clue what is going on at the moment, but she's not stupid. She knows that something is off with Sasha and she comments to Rick and Maya that she cannot really trust her. Maya is aware of this and she might actually know more than she is letting on at this point, even though she is not taking sides at the moment. It's pretty clear, after all, that Sasha and Zende work well together and that they seem to have a way of making the other seem so much better.
Photo Credit — YouTube