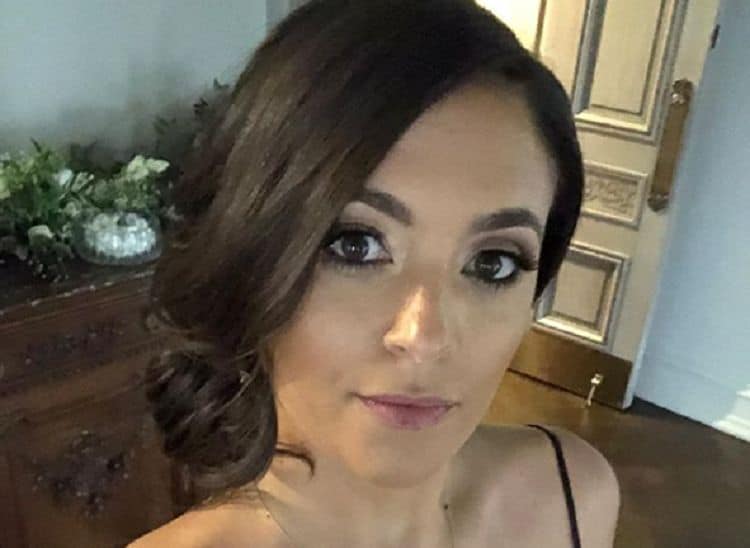 If you've watched the Jersey Shore reboot, Jersey Shore: Family Vacation, you'll have noticed that one face from the original cast is conspicuous by its absence. Despite finding fame on the show, Sammi Giancola declined the opportunity to make an appearance on its follow up, citing her desire to avoid "toxic situations" as the reason behind her decision. Find out more about what she's up to these days with these 10 fast facts.
1. The Sweet Smell of Success
2 years after her debut on Jersey Shore, Giancola began to capitalize on her new-found celebrity with the first of what would be many endorsement deals. Dangerous, a fragrance for men and women, was released to moderate success in 2011, followed up a year later by Dangerous Desires. Talking to Elle about her decision to get into perfumes, she said, "Growing up, I just loved perfumes and I always wanted to get into them. At first, nobody had a perfume and I wanted to be different and do stuff that I felt represented me 100 percent. And Dangerous and Dangerous Desires definitely do that."
2. No Time for Reunions
In 2009, Giancola was cast as one of the members of MTV reality show Jersey Shore. After the show ended in 2012, she appeared in several of its spinoffs and reunions specials, including Snooki & Jwoww, and the 2017 E! special, Reunion Road Trip: Return to the Jersey Shore. When it came to returning for the most recent reboot, Jersey Shore: Family Vacation, however, she issued a hard pass, posting, "I am at a completely different place in my life right now focusing on my businesses and relationship". "I am not the same person as I was when I was 22. At 31, I am currently extremely happy in every aspect of my life and want to avoid potentially TOXIC SITUATIONS."
3. Soccer Skills
Giancola was born in Hazlet, New Jersey in 1987. At high school, she excelled at athletics, holding the distinction of being a four-year varsity soccer letter winner and holding the title of Raritan High School's 'Most Improved Player'. She continued competing all the way through her studies at William Paterson University (where she majored in sociology), playing as a midfielder on their Division III women's soccer team.
4. Her Net Worth
At the peak of Jersey Shore, Giancola was pulling in a mighty $150,000 per episode. Factor in the end-of-season and sign in bonuses, multiple TV appearances on the likes of The Tonight Show with Jay Leno, The Ellen DeGeneres Show, and The Wendy Williams Show, a podcast and multiple other business ventures, and it'd be easy to think she's one seriously wealthy woman these days. As, indeed, she is. According to Celebrity Net Worth, the star is currently worth $2 million.
5. Just Sayin'
What does any good reality TV star do when they don't want to make reality TV anymore? Launch a podcast. In 2015, Giancola dove headfirst into the trendy world of podcasting with Just Sayin', a relationship based podcast co-hosted with TV host Clare Galterio. The show sees the two dish the dirt on their own relationships, as well as offering juicy little tidbits of celebrity gossip.
6. Beachcomber
Not many of us don't like the beach, but not many of us like it quite so much as Giancola. "I'm a Pisces and grew up living close to the beach," she's explained. "The atmosphere of the ocean and sand makes me feel at peace. I'm a true Jersey beach girl. Ocean City, New Jersey has always been my favorite summer beach getaway."
7. Artistic Soul
Believe it or not, Giancola has the soul of a true artist. As a kid, she drew almost constantly, entering any competition she could (and winning a fair few in the process). Such was her love for painting, she almost decided to pursue it at University, but opted out after her other main passion, soccer, won the day. "I almost went to college for my drawing and painting skills," she's said, "but instead decided to go to William Paterson University so that I could play soccer close to home." Even though she's spent the last few years concentrating on very different activities, she hasn't completely abandoned her creative side, as evidenced in everything from her podcast to her fashion line.
8. Bookworm
If you thought reality TV stars struggled to read anything more than their own name, and only then if it was in very big print, think again. Sociologist graduate Sammi is an avid bookworm, and if she's not catching a tan on the beach, she can usually be found with her nose in a book. "My favorites are biographies, mysteries and love stories," she's told Top 5. "I also really like novels that are set in the past – I love going back in time and learning about how things used to be!"
9. Sweetheart Styles
In 2013, fresh from the success of her two fragrances, Giancola decided to get into fashion. The result was 'Sweetheart Styles', an online clothing and accessories line selling everything from pineapple trinket boxes and pretzel-shaped bottle openers to lace pencil skirts and satin joggers. According to Sammi, the line had been a long time coming. "Growing up, fashion and clothing were one of my favorite avenues to express myself. I would spend hours sewing my own shirts and making my own belts to match different outfits. I've always loved to style clothes for my friends & sisters, or put outfits together," she's commented on her website.
10. Acting Plans
In her own words, Giancola has always fostered dreams of acting in movies or making it big as a TV host. In fairness, she's had more opportunity to do both than most of us, presenting shows such as MTV's 10 On Top and appearing alongside the rest of the Jersey Shore cast in 2012's The Three Stooges. Since then, the acting work's been relatively thin on the ground, but if Sammi gets her way, it won't be that way for much longer. "It was such an incredible experience being on a movie set,' she's said of her time on The Three Stooges. "I can't wait to get back."
Tell us what's wrong with this post? How could we improve it? :)
Let us improve this post!