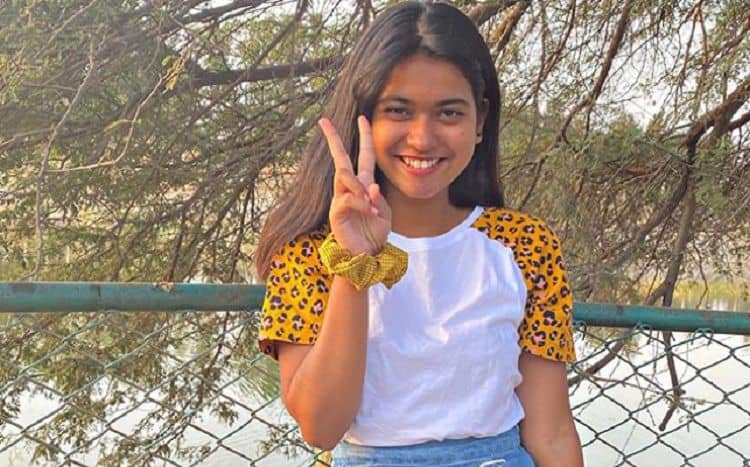 Social networking platforms are rapidly giving rise to internet-celebrities, and Saloni Singh happens to be just one among a long list of them. Saloni's stardom originally is from TikTok. She was born and raised in Bangalore, Karnataka, in India, and her ethnicity is entirely Hindu. She is currently 16 years old, and her zodiac sign is Cancer. These are just basic facts but there is always more to a person they usually reveal sometimes unknowingly so here are some of the details about her that you might not have known:
1. Saloni's love life
We would all assume that Saloni's pretty face and charming eyes that go unnoticed would have prompted a probable male companion to woo her. Well, it is still good news for those who are dying to be in a relationship with her because she has no boyfriend. She hasn't declared her interest in dating so far, but who knows you may be the lucky person she has been waiting to come knocking on her door. Although she maintains a low profile, her love life is non-existent, but maybe that will change as she gets older.
2. Her career on TikTok
Saloni's primary goal in her career is to brighten other people's days. She started posting on her TikTok account in 2007 with the username, "@salon.e" and has since found success as one of India's most popular accounts. The talented young lady shows of her comedy, lip-syncing, and dancing skills in her videos, which landed her a substantial amount of fans on her page. Similarly, her acting and impersonation skills are also impeccable, and she has earned the "Muser" crown after her fan number grew to 10.7 million and 403 million likes on her account. With such achievements, the famous star stays motivated to make videos.
3. She has a YouTube channel
The 16-year-old TikTok celebrity recently started a YouTube channel with the name "Saloniyaapa!! and posted her first video on December 25th, 2019. She currently has three videos on her YouTube channel, and all three have over ten thousand views each, with the first one having twenty-two thousand views. The fast rise in numbers shows how her fans are loyal and also love her. Although all her videos are in Hindu, you can't help but laugh at her comedy skits and characters. The comedy sketch videos are about various topics; at first, Saloni Singh introduced us to some of her characters. Then, she posted a second video titled "New year resolution Liya kya?" Her latest video shows how her "mother" character reacts to her Instagram posts.
4. She has excellent acting skills
Saloni is a great actor, as seen in her skits. Besides, acting is what made her earn more followers on TikTok and Instagram platforms. She has done a lot of collaborations with her brother. In addition to that, she has collaborated with AJ in a video. AJ is also a famous social media influencer from Mumbai known for his prank videos and has an account on YouTube, Instagram, and TikTok. Saloni's YouTube videos display her ability to impersonate "Mother" and "Father" characters. Her impersonations are perfect and can mirror the accurate representation of Hindu parents.
5. She is famous on Instagram
Her fans know Saloni Singh as Saloni Yaapa on Instagram where she has over a hundred posts with her followers, amounting to 471K, yet she only follows 134 users. She is an active user who keeps posting pictures or a video daily. Her Instagram page consists of images mainly of herself showcasing her beauty, cheerful personality and impeccable fashion sense. Knowing how much she likes to be cheeky, you won't miss one or two of her humorous videos with the brother making some appearances.
6. Her fashion and makeup
Some of her Instagram images display her trendy style of dressing; from her casual jeans with t-shirts to sweatshirts paired with sneakers. Also, she sometimes dresses up according to her culture, for instance, Saree dresses, a Bindi, as well as head and ear jewelry. Her makeup is simple and more natural. The TikTok comedian sure loves her signature wing eyeliner so much that she always has it on, even during the days that she has no other makeup. Saloni also knows how to rock red lipstick, which is her favorite.
7. Saloni Singh's hobbies
We are advised to choose a profession comprising things we love, so we never have to work a day in or lives; Saloni heeded that advice. Saloni's work is her hobby; thus she loves acting, dancing, and making videos in her spare time; that's why she is consistent with her videos, which are on the three different platforms. Furthermore, she also loves taking photos, as seen on her Instagram.
8. She is proud of her culture
Her Indian ethnicity is the primary influence of Saloni's funny clips and sketches as seen from the characters she plays in her videos and the way she speaks in her native language. Besides, the videos she makes are often based around her cultural heritage and the situations that occur in her day to day life. She does not shy away from her cultural dressing once in a while.
9. She does brand endorsement
Her vast amount of followers and the number of likes on her Instagram page have led to a company like Livon, giving her a promotion deal. Livon deals with hair creams and therefore, Saloni has a post giving away some of the company's products to her followers on Instagram.
10. She is conservative
Although Saloni is famous on social media, not all of her details like her family or parents are known by the public. On the one hand, she posts videos and photos with her brother, but on the other, she doesn't give any further information about him. She rarely puts her daily activities like her specific location or where she goes to school. Furthermore, she has also not done many interviews. All the same, she regularly posts pictures with her best friend Shruti Tripathi, who goes by the user name @shruu_tripathi on Instagram.