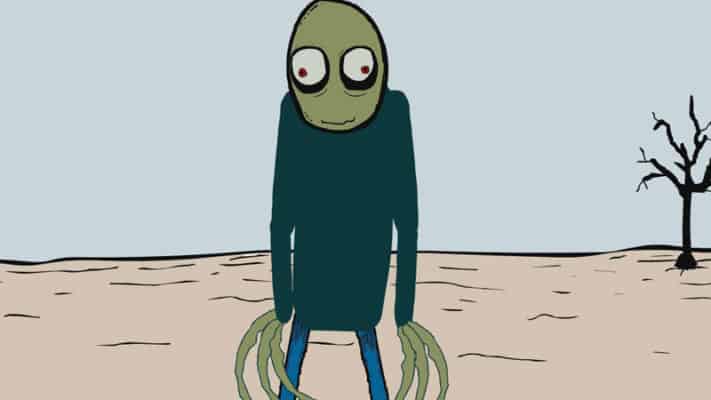 When David Firth first created Salad Fingers back in 2004, it was all supposed to be a joke. Someone referred to him as having "salad fingers" one time in reference to the way he played the C chord on the guitar, and the rest was history. No one knew, not even Firth himself that this simple story would reverberate so well among so many viewers all across the globe. Some even went as far as saying that Salad Fingers was one of the best things that came out of pop culture back in 2005. The series only last 10 episodes, and many are clamoring for even more.
There are a few reasons why Salad Fingers should get a reboot. For one, there were just so many unanswered questions. Plenty of fan theories have spread since the show ended to try to figure out some answers to those questions, but really, only Firth could answer any of them completely.
To start off, we really need to what's wrong with Salad Fingers. The character seems to display symptoms from various types of illnesses. He's definitely displaying characteristic symptoms of schizophrenia. While Firth denied that claim, he hasn't given a response as to what Salad Fingers is actually sick with. Many people believe that he suffers from multiple personality disorder. Supposedly, his finger puppets, one of which is his true self, represent his three main personalities. We need to find out more information about these finger puppets and if they really are Salad Fingers' personalities.
Next, we need to find out more information about this Great War, and we really need to see it in action. It seems to be an important factor to Salad Fingers existence. What exactly is this Great War and how did it start? Who is fighting in this Great War and how does Salad Fingers come into play? One theory states that the Great War must have been nuclear, which may explain why the characters on the show appear to have been mutated somehow–including Salad Fingers. Some also say that all the events in Salad Fingers were all happening in his mind.
While some fans claim that Salad Fingers was not scary at all, it was definitely scary enough for us. We all know how awesome a little scare could be from time to time, and if we could get a few more scares in from Salad Fingers, it would just be great. Salad Fingers was the type of show that gave us nightmares. Really. But we believe a good scare can be a healthy thing, and it's all the more reason why Salad Fingers should get a reboot. We can't imagine what other kind of nightmarish things David Firth could come up with, and it's something that we'd really like to see regardless.
Another reason why Salad Fingers should get a reboot is David Firth himself. There's something sinister and weird about his work, but for some reason we just can't get enough of it. David Firth is a genius when it comes to flash animation, the same stuff he did for Salad Fingers. The series was a huge success because it was truly different from everything else that we've seen anywhere else. We'd definitely like to see more from David Firth, please, and if that means more Salad Fingers, then we can be happy.
All in all, we just want to see more of the rusty spoon kind of creepy that Salad Fingers brought to the small screen. We'd like a continuation of his story and to find out more about that world and those characters. 10 episodes were too short-lived, and it really left us wanting more in the end. We'd like to see this make it as a regular series because it very well can be a series. There's so much potential there, and the fact that David Firth must have plenty more ideas in that odd brain of his should be enough to get a project going. Salad Fingers was truly a pop culture phenom, and that is why it deserves not only a reboot but a continuation of all the stories we've been given so far.