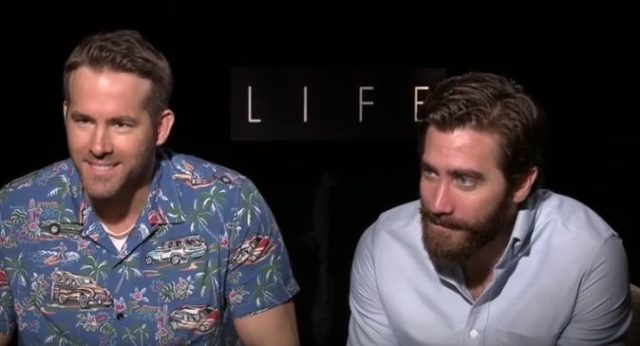 When you're as big an actor as Ryan Reynolds or Jake Gyllenhaal it can get a little cumbersome having to do interview after interview, time and time again about the same movie. You're answering questions you've answered a thousand times and you probably feel like your head is going to explode. The two star actors have been promoting their new sci-fi movie Life before it premieres in the theaters. However, this latest inteview was a prime example of them saying, "You know what? Screw this. We're messing with this guy."
I kind of feel bad for the interviewer because he's just doing his job and has to keep up with two guys who are obviously so big at this point that they have no qualms completely changing the subject and going on an 8 minute rant about things no one cares about. At the same time, I think it would be awesome to have been a part of this. These two go completely off the rails and it's fantastic comedy.
Below, Ryan Reynolds and Jake Gyllenhaal chat with Chris Van Vliet from WSVN-TV about the movie LIFE, at least they start to but things quickly go off track as they talk about their greatest fears, Muppets and Fraggle Rock.