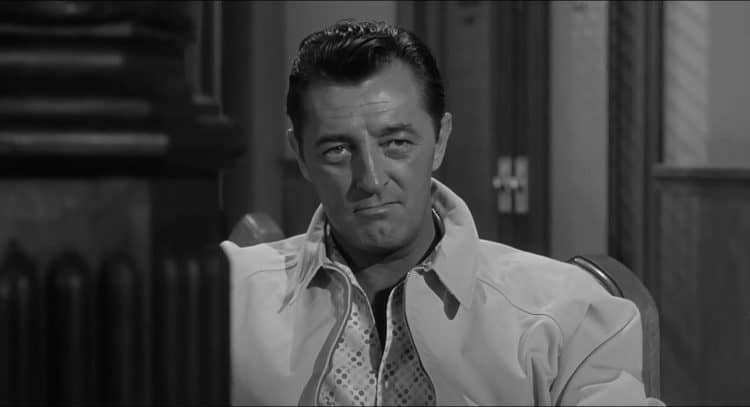 It's been said that Robert Mitchum had something of a troubled childhood. In fact he even claimed to have escaped a chain gang once, though there's likely no one still around that could validate or deny such a claim for certain. What was important though was that after turning his interests toward acting he became one of the most talented men in Hollywood and stayed that way for some time. Back in his day acting was quite a bit different but it was still demanding enough that a person had to act and act well in order to hold down a job and to stick around long enough to establish a career. In a day when special effects were at their simplest, or close to it, Robert Mitchum was one of the old school actors that had to make do with what he had and get by with the kind of situations that made truly wonderful movies that are still memorable to this day.
Here are his five best movies.
5. The Sundowners
Being constantly on the move is a hard life since despite being partially nomadic by nature, a lot of people tend to like the stability that having a home can bring since it means a place that you can sit and simply call your own without having to move constantly. Paddy isn't too keen on the idea as he likes to stay on the move and is hesitant throughout the movie, but as he warms up to the idea he and Ida start saving up money to one day do something with it that might involve settling down. By the end of the movie he's lost all the money gambling however, but he and his wife still reconcile by way of agreeing to one day earn up enough money to buy a farm they fancy.
4. Heaven Knows, Mr. Allison
According to Bosley Crowther of The New York Times this movie is based around a true story, which is something that many people tend to find interest in once it's announced. When Allison finds himself stranded on a lonely island with a nun both he and the woman have to hide when the Japanese land on the island to use it as a strategic point from which to attack the US forces. While attempting to keep them both alive Allison ends stealing supplies and killing at least one of the soldiers, though when the Japanese set up a trap for the Americans he takes a risk to disable their weapons, enabling his countrymen to bombard the island and rescue the two of them.
3. The Night of the Hunter
It's easy to agree with Geoff Andrew of BFI that this is perhaps one of Mitchum's most disturbing and somehow most masterful performances since it's the kind of role that might take a person to the brink and threaten to push them over if they don't manage to remind themselves that it's a role and nothing else. But as a rogue preacher that's discovered from his cellmate, shortly before he dies, that he hid a good amount of money somewhere around his home, the preacher makes his way to the man's hometown and seduces and then marries his wife before killing her, whereupon he then moves onto the two kids, threatening and cajoling them into telling him where the money is. In the end he's finally caught after being trapped in a barn, but the sheer evil that this character represented was intense.
2. Out of the Past
Sometimes it doesn't seem as though there is a right thing to do in a movie like this as Jeff was pinned down the moment he took on the case that would finally end in his demise. If not Kathie he might have been a happy individual living with the woman he was with at the start of the movie, or maybe he would have moved on and kept looking for a happy ending. In any case he would have been alive if not for being drawn into Kathie's web of deceit. Sometimes there are decisions that can be made in order to keep out of trouble, and then sometimes all that can be done is damage control to even out the trouble one is already in.
1. The Story of G.I. Joe
If you needed another reason to believe that WWII was a bloody, horrendous time for the soldiers that were in the mix, on the ground, and had no other way to go but forward, then this movie would certainly make you feel every bit of their struggle. The soldiers that fought and bled in the same mud and experienced the same battlefield were bonded in a way that was closer than many, and never forgot the sacrifices of the many that gave their lives for a much grander purpose.
He was without a doubt one of the best of his time. And no we didn't forget about Cape Fear.