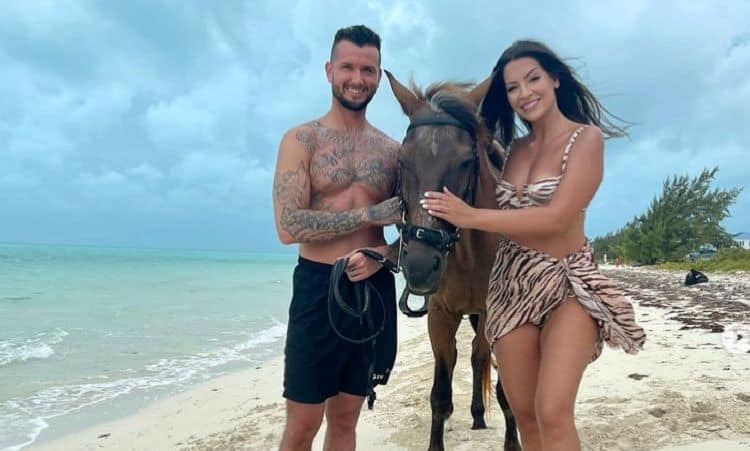 You might not know Ryan Hamilton by himself, but you know Ryan and Jen Hamilton from HAMMY TV without question. This is one sweet couple who likes to take their sense of humor and share it with the world. They live together, work together, and they create together. They are talented, too. What is it about them that makes them so relatable? Who is Ryan Hamilton, and who is his wife? Here's everything you didn't know you needed to know.
1. He is in His 30s
Ryan Hamilton is not the young star that many people assume he is when they find out he's on social media. He is still young, but he's not in his 20s or teens. He was born on March 27. 1988, which means he's in his early 30s.
2. He Was in the Military
When he graduated from high school in 2007, he enlisted in the United States Army. He served for four years, leaving the Army to pursue other avenues of his career. He worked until 2014 as a Military Police Officer in Colorado (Fort Carson) until 2014. He was honorably discharged that year.
3. He's Been with Jen Since 2015
He and Jen have been together since 2015. They began their relationship by filming their pranks, and their fame grew from there. They are now huge online, and their fans love to see them and watch them do what they do best.
4. They Just Got Married
This couple has been together for a long time now, and they finally got married. They wed in the early spring of 2021, and they are having the time of their lives. Their oceanfront wedding was gorgeous. They look so happy in the photos they shared on their joint Instagram page, and the world wishes them the very best in their new lives together.
5. He Loves to Travel
He loves to travel, and he and his wife regularly make it a point to do so. There are so many places in the world that they want to go to, and they make it a point to see as many as they can when they have a chance. Their favorite memories are often made on their adventures together.
6. He Inspires His Wife
She is a woman who derives inspiration from her husband, and that is a good thing. They feed off one another, and that allows them to create more things, to work harder, and to do better. They are living a good life right now, and they are doing so because they bring out the best in one another.
7. He Pushes His Wife
When she is down or when she is not feeling like her best self, doubting herself, and just not being her best self, he's there for her. He pushes her gently to believe in herself and to find what she's looking for in life. He is there to cheer her on and make sure she's being the best version of herself.
8. He Used Humor to Get Through Dark Times
He may have spent only a few years in the Army, but he saw some dark times while he was there. He had to find a way to let off some steam and to find some good in life, and that is where he used his humor. Being part of the military can be terrifying, and it can cause people to have a lot of trauma in their lives. He's dealt with it, and he used humor as his outlet when his life was tough.
9. He Struggled
He spent 11 months in Iraq. He has a tattoo of the Iraqi flag on his body to remind him of that time and of the experience he had there. It was not a good time, though. He came home with severe panic, anxiety, and PTSD. The time he spent there was long, hard, and he was not happy. He couldn't finish school as a result, and he struggled for many years.
10. Tattoos are His Therapy
His tattoos have helped him through his PTSD and anxiety. Each time he gets one, he feels a sense of his PTSD go from his life. He also credits his wife for that. He was unable to travel for nearly five years outside of Massachusetts because of his PTSD. However, she told him that he'd have to do it if he wanted to be with her, and she made him. She made him face his fears and he did it for her. Both she and his tattoos have changed his life.
Tell us what's wrong with this post? How could we improve it? :)
Let us improve this post!