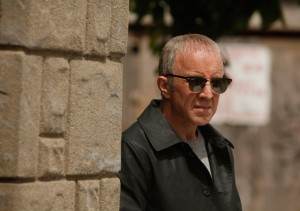 Never before with a show have I had to say so many times, "I take that back." But with Rubicon, as soon as I make a prediction or even dare to speculate, the show immediately strikes me down the next week. Take, for instance, my call last week that the girl in the apartment across from Will's was a spy. Guess what? I was wrong. In fact, she's just the opposite, and almost immediately become a love interest for Will. I felt guilty enjoying their chemistry, considering how bad I felt for Maggie last week. Her brief appearance in this week's episode was not only well-placed, but it served as a sad reminder of the once-great potential of Will and Maggie's relationship.
There were some cool little reveals in this episode here and there, though none of them were surprising: Truxton Spangler was in Rhumor's childhood photograph, and Donald Bloom was the one who bugged Will's apartment. The reveals weren't very big or particularly shocking, but they were pretty good examples of the show's masterful execution.
And don't even get me started on Spangler and Ingram. This episode confirmed that the two hadn't been collaborating on the subject of Will, and even showed that there was some discourse between the two on the subject. "You don't ask questions," Spangler clarified to Ingram, and the camera stared Ingram in the face so long that we knew right then that he wasn't on the same page with Spangler and the conspiracy. At this point, I thoroughly believe that Kale is dedicated to helping Will as best he can, though this could certainly change at any time. Where Kale's loyalties lie is still a pretty confusing issue for me. I hesitate to make a guess because, as before, it will almost certainly be proven wrong.
"No Honesty on Men," like the rest of Rubicon's freshman season, sneakily advanced the plot along while tricking us into thinking that nothing was happening. Perhaps that's why I love Rubicon so much; it goes at a breakneck speed comfortably.