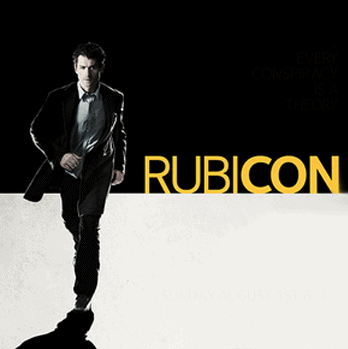 Disregard everything I said about the Maggie storyline in my review of last week's episode. This time around, Rubicon really did the Maggie storyline right. It advanced the storyline and character dynamic in a new and exciting way, and I really felt like the episode advanced the characters quite a bit.
As always, though, Kale Ingram was the star of the show. Arliss Howard definitely deserves a Best Supporting Actor nod at next year's Emmys, because he is absolutely fantastic. The level of manipulation that he inflicts on Will reminds me of Benjamin Linus from LOST, and possibly even more omniscient. When Ingram told Maggie that he told Will to keep her from turning around on him, it was almost a wink to the audience. I know I had expected such a turnaround to take place in the story, and that statement from Kale was almost a message from the show's writers. If you're making predictions, we're going to defy them.
The fact that Maggie's firing was also handled so unceremoniously was also a nice touch. We never saw the confrontation in which she was fired; we just saw the buildup and the aftermath. That's well done. And am I the only one who thought Will was seeing Maggie in every secretary he saw at Atlas?
Ed Bancroft was also a large part of the episode, once again providing the clues for Will to explore this mystery upon. He may have gone off the deep end with this episode, though, thanks to the always-devious Kale. Hopefully his role will be even more erratic in the future. I have a feeling that his character arc will also end with his death, but I really hope that this is another prediction that the show is going to defy.
We also got the payoff of Tanya's addiction storyline in a surprisingly happy way (well, if "working here a long, long time" can be considered a happy way, that is). Truxton's kind offer of help was a surprisingly touching look from the character. In fact, though he's shaping up to be one of the major villains of the show, Truxton seems to be the nicest character out of all of them.
And can I say that the final scene of this episode was really awesome? Will smashing the bug was a strong way to end the episode, and I'm very pumped for the next episode.