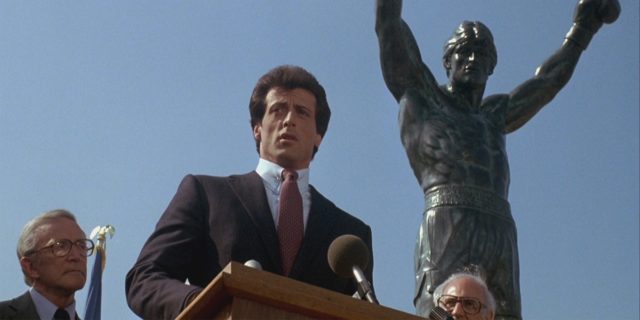 Hearing about movie props and related paraphernalia selling for huge sums of money is not unusual. Movie fans and collectors are willing to pay staggering sums of money for props that were used in their favorite movies or that may have been touched by their most beloved celebrity. What is more unusual is for a backup prop to become such a hugely desirable object that it could fetch over $1 million at auction. However, that is exactly what has happened to a backup prop from 'Rocky III'.
The 1982 sports drama film was the third installment of the Rocky film series. It was written and directed by Sylvester Stallone who also famously played the lead role in the movie. Others who starred in the movie included Talia Shire, Burt Young, Carl Weathers, and Burgess Meredith. The movie featured a sculpture of Rocky.
There were two versions of the statue made for the film and only the first was actually used in filming. The original sculpture remains in Philadelphia. The second version was intended as a backup in case anything happened to the first and this statue has spent years on display at the San Diego Hall of Champions. Unfortunately, this venue has now closed down so it is time for the backup statue to find a new home.
SCP Auctions are responsible for auctioning the spare statue, which was designed by A. Thomas Schomberg. This auction house has vast experience of selling movie and celebrity-related memorabilia. Some of the items they have sold include shoes worn by Michael Jordan in games and uniforms from 'Babe Ruth'.
The statue from 'Rocky III' is made of bronze, stands at 9-feet tall and weighs approximately 1,800 pounds. SCP Auctions have put an estimate on this object of between $500,000 and $1 million. It is even possible that the final sale price could exceed this figure if there are two or more excited bidders in the room who are enthusiastic to own the replica of an iconic movie prop. Bidding for the item ends on November 4, 2017.
This is not the first time that props from movies have fetched astronomic amounts of money at auction. The Hero Helmet worn by Chris Pratt in 'Guardians of the Galaxy' fetched $181,170at auction. It was sold at the Prop Store sale in London and was one of the top sellers of the sale.
It is also not the first time that memorabilia and props related to Sylvester Stallone have sold for high figures at auction. In 2015, the star held an auction to sell off many of the props from his 'Rambo' and 'Rocky' movies. Approximately 1,400 items were included in the sale and initial estimates suggested that these would bring between $4 million and $6 million.
The auction was held at Los Angles. Although the items did not make the estimated overall figure, a whopping $3 million was still raised on the day and Sylvester Stallone was delighted to have raised these funds. He chose to split the proceeds between several worthy causes that are close to his heart.