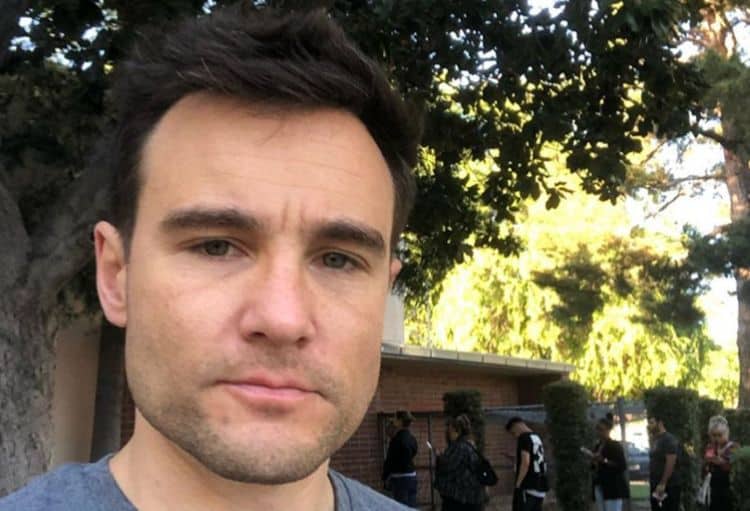 Robert Belushi may come from a famous family, but he's never let that define him. His father is Jim Belushi and his uncle is the late John Belushi, but Robert has always worked hard to forge his own path. While his first name may not be as well-known as his relatives' Robert is a star in his own right and has nearly 50 acting credits to his name. Over the years, he's managed to have a successful career and he's made appearances in shows like Agents of S.H.I.E.L.D., Chicago P.D., and How I Met Your Mother. Most notably, however, is the host of the new game show, Get a Clue. Keep reading for 10 things you didn't know about Robert Belushi.
1. He's A Comedian
Robert's acting work is what has gotten him the most fame, but like his father and his late uncle, he also has a very funny side to him. After college, Robert moved to Chicago to study improv at The Second City. He said, "I went to Chicago to be trained so that I could be good at it, not just a guy following a legacy."
2. He's Married
My apologies to anyone out there who has been pining over Robert. Unfortunately for you, he's off the market. He and his wife, Chelsea, have been married since 2014. Chelsea works as a hair dresser and Los Angeles and is her husband's biggest fan. The couple is expecting their first child together in September 2020.
3. He Gets Advice From His Dad
Having a father like Jim Belushi definitely gives Robert a bit of a competitive advantage in the industry. Throughout his career, he has been able to turn to his father for advice whenever he's needed to. His father says, "My main advice to him is just do what's right in front of you. It's basically stay in the moment."
4. He Doesn't Have A Big Following On Social Media
Even though Robert has been in the industry for many years, he hasn't spent a lot of time developing a strong social media presence. Robert does have accounts on Instagram and Twitter, but he only has 4,100 followers on Twitter and 1,665 on Instagram, however, he is active on both platforms.
5. He's A Dog Dad
Robert and Chelsea haven't welcomed their first child into the world yet, but they've both already gotten some practice in as parents to their adorable fur baby, a dog named Brenda. Brenda has made appearances on both of their Instagram pages and their followers love to see her.
6. He Isn't Afraid To Speak Out Against Racism
Many people in the spotlight are afraid to express their opinions on any issue that could be deemed as controversial. Robert Belushi isn't that kind of person, though. He has used his Instagram and Twitter accounts to speak out against racism and police brutality.
7. He Grew Up Watching Game Shows
Being a gameshow host isn't something Robert ever saw himself doing, however, he was always a fan of gameshows growing up. Robert grew up during the 90s when Nickelodeon's gameshows were at their peak. He enjoyed watching shows like Family Double Dare.
8. He's A Chicago Native
Robert was born and raised in Chicago and his family has deep roots there. His father and his uncle were also born in Chicago and began their careers there. He is proud of his city and like any good Chicagoan, he's also a fan of the local sports teams. Robert has always felt like Chicago was a great place for an aspiring young actor which is why he chose to return to the city after college.
9. He Started Acting In College
Despite growing up with a father in the entertainment industry, Robert didn't grow up wanting to be an actor. He didn't discover his own passion for acting until he was in college. Robert got his first opportunity to act when a friend of his asked if he'd be interested in taking a small role in a play, he agreed and realized that he wanted to get more involved in the acting world. He was determined not to ride his family's coat tails. In addition to his studies at The Second City, he also studied at School at Steppenwolf .
10. He Studied Film
Robert attended Wesleyan University in Connecticut where he graduated with honors with a bachelor's degree in film. Prior to college, Robert's plan had always been to work behind the scenes in the industry. It has since become clear that Robert, like his father and uncle, was made to be in the spotlight.