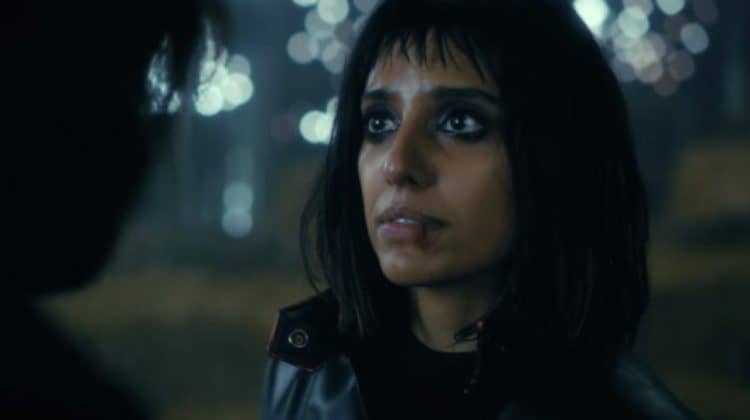 Every actor who hasn't had their big break yet is hoping that it's right around the corner. The reality is that it can take years of hard work before an actor finally gets a role that introduces them to the world. Ritu Arya knows this firsthand. After nearly a decade in the industry, Ritu finally got her big break when she was cast in the Netflix series, Umbrella Academy. Since then, Ritu's talent has been seen by countless people all over the world. Her natural ability to entertain and keep people engaged have definitely been key components in her success. Her next big role will be in the upcoming Netflix movie, Red Notice, which is set to debut in November 2020. Continue reading for 10 things you didn't know about Ritu Arya.
1. She's In A Band
Ritu is a true performer who loves using her creativity to entertain others. With that being said, acting isn't the only way she likes to express herself. She is also a musician and a member of the band KIN. In addition to performing with the band, she also writes songs.
2.She's A Classically Trained Actress
As with anything else in life, acting requires lots of practice in order to develop confidence and skill. Ritu got more than her fair share of practice at the Oxford School of Drama where she studied acting. The school boasts several notable alumni including Claire Foy and Alexandra Dowling.
3. There's Two Rappers She Would Love To Work With
As a musician and a fan, there are two rappers at the top of Ritu's list of people she would love to collaborate with. She told Xtra Wave, "My style is pretty mixed from a lot of artists I grew up listening, but Whitney Houston and Jessi J are the ones I look up to, and are the ones that keep me writing. They always write something that makes people grow. If I could collaborate, I would do it with Kendrick Lamar or Lil Wayne."
4. She Has A Degree In Astrophysics
Even though acting is something Ritu has always loved, she decided to study something else when she went to college. While at Southampton University, she earned a bachelor's degree in astrophysics. It's unclear whether or not she even pursued a career in that field.
5. She Loves Nature
Ritu is an international star, but she still likes to enjoy the simple things that life has to offer. When she isn't busy on set or preparing for an upcoming role, she loves to spend time outdoors and appreciate the beauty of nature. Some of her favorite activities include hiking and hanging out at the beach.
6.She Enjoys Traveling
One of the best things about Ritu's career is that it offers her plenty of flexibility to do other things she likes to do. One of the things it's given her the chance to do is travel the world. Ritu has gotten to visit lots of cool places like Sri Lanka, Spain, Dubai, and Belgium.
7. She Has Indian Roots
Ritu has been in the spotlight for the last several years, but she doesn't like to reveal much information about her personal life. Although we weren't able to uncover much, we do know that she was born and raised in the United Kingdom. However, her parents are from India. Despite spending her life in the UK, she still feels very connected to her Indian heritage.
8. She Loves Interacting With Her Fans
Having a strong fan base is the ultimate key to success for people who work in the entertainment industry. This is something that Ritu understands completely and she's worked hard to build a connection with her fans. She has even taken the time to personally respond to letters from her fans.
9. She Speaks 3 Languages
Knowing more than one language is something that can come in handy no matter where you live or what you do. Ritu Arya can speak three languages: English, Hindi, and Punjabi though all of her acting roles so far have been in English speaking productions.
10. She Likes To Form Bonds With Her Cast Mates
Some people are hesitant about forming out of work relationships with their co-workers, but Ritu is a firm believer that being friends with her cast mates can actually result in better work. She said, "it helps me to have a good relationship with the people that I'm working with. If you're lucky enough to become friends with your cast outside of work, then that, for me, only helps create trust and freedom on the floor when you are doing the work."