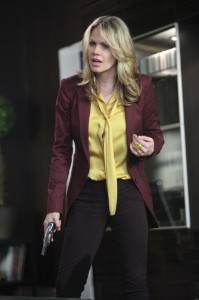 We already knew that Catherine was the true schemer behind the Ringer shenanigans. Frankly, most of us probably assumed it was out of jealousy and/or hatred for the current Mrs. Martin, Siobhan.
This week's Ringer showed us the events that led up to Catherine's decision to put a hit on Siobhan. With the season finale airing next week, the show not only exposed Catherine, but gave her a bit of a send-off.
Here's how it began: eight months ago, the real Siobhan told Catherine that she and Andrew were going to sell the Miami house. Catherine, of course, was upset about this, since she had nowhere else to live. She was also upset when she learned that Siobhan had plans to send Juliet off to boarding school. Siobhan was dismissive of Catherine's concerns and feelings, saying that the ex-Mrs. Martin was incapable of being a responsible parent.
So Catherine hired the man in the pilot to try and kill Siobhan. But then Bridget got her hands on the hitman's cellphone and threatened the person on the other end, telling him that the phone would be turned into the police if they tried to kill her again. Catherine was notified about that, but insisted that he find someone else to try again.
In the present, Catherine tried to stage a suicide involving Bridget, determined to get rid of Siobhan once and for all. But Andrew arrived home early and managed to pull Bridget from the bathtub. Upset that her plan had been foiled once again, Catherine held Andrew and Bridget at gunpoint. When Juliet arrived home, she joined the hostage party.
Agent Machado, who now knew Catherine was the one behind the hit, tried to help Bridget, but the FBI soon caught up to him and demanded he stop going rogue. Machado did convince the FBI to send over a few agents, but he didn't really buy their assurances that everything was fine.
Then came another crazy twist…Catherine called her partner: Olivia! Who also happened to be her girlfriend. Who saw that one coming? Catherine called for help, but Olivia freaked out about Catherine's actions and didn't want to help her. Olivia also told Catherine about the Ponzi scheme and that's when the two women teamed up to take Siobhan down together.
Fortunately, Bridget was able to contact Machado through the hitman's cellphone and he headed to Olivia's location, hoping to lure Catherine there. She took Bridget as a hostage and went to visit Olivia. In the end, Bridget managed to wrestle the gun from Catherine, but Machado was the one who arrested her.
Meanwhile, the real Siobhan was the B-story this week. After tracking down the maid who had seen Henry in Tyler's hotel room before his death, she also witnessed her death from an overdose of drugs. Siobhan also went into labor and had her twin daughters through an emergency c-section. But it's clear that Henry doesn't really trust Siobhan, since he asked the doctor to perform a paternity test on the baby girls.
The season finale of Ringer will be airing on April 17 at 9:00 p.m. ET/PT on The CW. Watch a preview for the finale below.