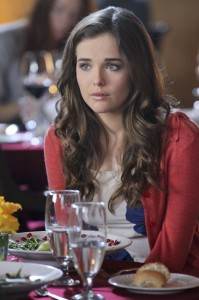 Last night's new episode of Ringer gave us quite a few reveals, so let's organize them, shall we?
Catherine Is a Schemer: At the end of last week's Ringer, Juliet was seen talking to the mastermind of the plan involving the fake allegations against Mr. Carpenter. Who was it? Her mother, of course. This was all just a ploy to grab money from Andrew. But after Tessa got attacked, Juliet was very suspicious of Mr. Carpenter. Worried that he could hurt her, Juliet told her mother about him. And while the audience was led to believe that Juliet recruited Tessa and Mr. C into the plot, it turns out that Catherine is actually (intimately) acquainted with Mr. C. After visiting him at his apartment, the two had sex, and she suggested he try not to freak out Juliet any longer.
But Juliet is a serious threat to the plan. After learning that Andrew was planning on selling the loft because they're experiencing slight financial troubles after paying off Mr. C, Juliet was wracked with guilt and wanted to confess to her father. She told her mother via text message and Catherine immediately freaked out, rushing to Mr. C to let him know. The pair decided to leave town immediately, but Catherine made them stop at a motel. While Mr. C was in the shower, Catherine stole all of his money and left a video playing. The same video showing Juliet, Tessa and Mr. C discussing their plan after he had received the settlement. She left him a note, warning him that she would release the tape if Mr. C ever came near Juliet again.
We also learned that it was Catherine who hired someone to beat up Tessa, as she paid him off tonight. Now she has nearly all of the money, besides Juliet's share, and she managed to convince her daughter not to spill the beans.
By the way, were you Jason Dohring fans happy about the shirtless scenes?
Who is Siobhan's Baby Daddy? Siobhan is back in Paris in this week's Ringer and she went to visit her doctor for an ultrasound. He shocked her by revealing that she's actually carrying twins. But he had even more shocking news: her date of conception was different than she had thought. Why is this important news? Because it could actually mean that Andrew is the father of her babies, not Henry. Naturally, she's keeping this information completely under wraps, even though she struggles not to tell Henry. It's clear that he's an important part of her plan now and can help her back in New York, so he's not someone she wants to lose. Plus, maybe she actually loves him. Who knows with Siobhan?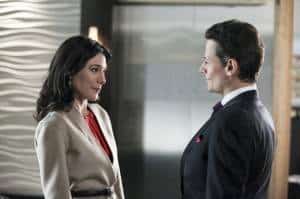 Andrew is the New Bernie Madoff? Malcolm did a lot more digging in this week's Ringer as part of his job at Martin/Charles. Convinced that something fishy is happening at the company, he went on both Andrew and Olivia's computers to try and find hidden information. Malcolm was also fired after Olivia found him snooping around her computer one too many times. After following Olivia to a suspicious-looking small accounting firm, he told Bridget that he believes Olivia is using the company as part of a Ponzi scheme.
While Bridget was originally resistant to the idea, she eventually believed Malcolm, and went to deliver this news to Andrew. Bridget seemed convinced that only Olivia was involved in the scheme, but Andrew delivered a blow: the whole thing was actually his idea. That's right, folks, Andrew is a crook! Frankly, this is sort of coming out of left field since Andrew has been kind of perfect up until now, but that's OK. Let's see where this takes us.
So what have we learned this week? Basically, everyone is a very, very bad person. Except for maybe Bridget (and Malcolm), who seems to have been dropped into a situation she has absolutely no control over and is struggling to learn what's happening around her as the show goes on.
In the March 6 episode of Ringer, it looks like Andrew's company will be threatened. Now that more people know the truth about the Ponzi scheme, is this the end of his reputation? Watch a trailer for the episode below.