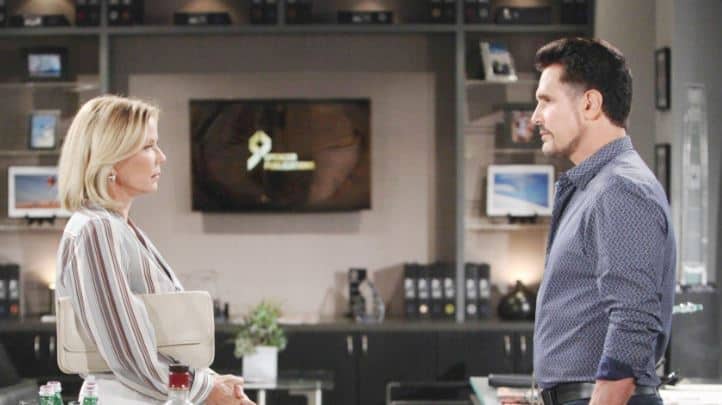 The Bold and the Beautiful fans aren't sure that things are going to work for Steffy and Hope and what they want for their careers, but we are all reeling over last week. It's not uncommon for their parents to pit them against one another and then sit back and fight with one another over their daughters. But they are all now fighting over someone else, too. They're all in a tizzy about Katie and Bill. They are fighting for Will, their son. She's upset that he is not a better father, and he is upset that she thinks she can take him from him. And that means they are being nasty — and they want to take one another down. Brooke supports her ex-husband, Bill, rather than her sister. Her husband supports her sister and his brother. And Steffy doesn't think her father's support is genuine.
Then there is the fact that Thorne and Katie have been seeing one another for all of six minutes, and he ended the week down on one knee with a proposal. He wants to get married, and he wants to be the father that Katie's son needs. This is not going to go over well with Bill, and we think he is about to make all the bad things happen to her and to him. And that won't go well. This is a family always divided, and we think this battle might divide them more than ever. It's not going to end well, and we think that there might be a chance they end up losing their minds over this entire thing. And then we got to see Xander have a moment of weakness with Zoe, and he's certainly going to hurt Emma with his feelings at this point. It's all ugly, all the time, all the places.
What's Happening on the Bold and the Beautiful
Bill and Justin go way back! Here's a #TBT of one of our favorite #BoldandBeautiful dynamic duos. Who is yours? pic.twitter.com/RfdV5qp6RJ

— Bold & The Beautiful (@BandB_CBS) September 13, 2018
We probably have to agree with this sentiment, but we do have one question. Is this Throwback Thursday photo being throw back to like, last week? Because these two simply do not age. It's a miracle, and it's one that makes all women wonder why men always age so gracefully and with such dapper and handsome looks?
What's Next on the Bold and the Beautiful
TODAY: Brooke pushes for Katie not to deny Bill custody of Will. #BoldandBeautiful pic.twitter.com/ZWmJmNLPDj

— Bold & The Beautiful (@BandB_CBS) September 14, 2018
No one is giving anyone any kind of good news this week. Brooke and Hope are both upset with Ridge for picking Steffy's line over Hope's, and Brooke is confiding in Bill. She's not happy that things are going this way for him. She is walking a dangerous line in the middle of this situation with him, and she doesn't seem to care that this is all happening to her. She's in the middle of a marriage to one man and she's having a grand time spending time with her own ex husband. She's not making many good choices right now, and she's allowing her anger with her husband to fuel this situation. She's mad at him for his decision, and she's taking that out on him and on her sister. This will not end well, and we can promise you that.
This is a situation that will not go well for anyone at any point. There is too much that might fall apart, and when Ridge finds out his wife is spending this much time with her own ex-husband, he's going to lose his own mind. She's unhappy with his life choices, and she's not trying to keep them all that secretive. Things are going to take a very ugly turn when he makes this realization, and we think that he might just fall apart as he works to try and get things back together for her. She's a mess, he's a mess, and all of them are falling apart. This is going to end poorly for this couple, and we know it.
Stay tuned for more The Bold and the Beautiful and be sure to check out TVOvermind daily for the latest The Bold and the Beautiful spoilers, news, and updates.