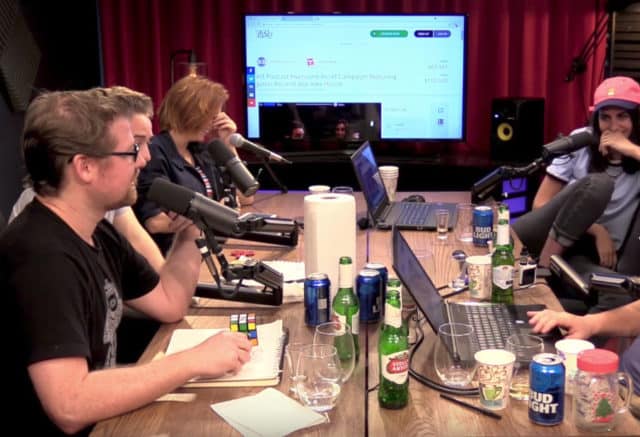 Prank calling Joel Osteen's Megachurch Prayer Hotline in the voice of Rick Sanchez seems like a bad idea from the get-go. But when he really gets going you can tell that the woman on the other end is pretty flustered. And he keeps going and the others can't help it as they start busting up. Well, when the woman starts going into what sounds like French and then tongues and then something else that's impossible to follow.
How the woman on the other line starts laughing is kind of hard to imagine, but I guess what other reaction would you be able to expect?
Just to key you in the whole Joel Osteen Megachurch Prayer Hotline, Joel Osteen is a televangelist in Houston and has an immense following that he uses to spread the word of God and continually expand his influence as far as it will go. If you haven't heard of him it's not too hard to believe since there's a chance that you don't follow televangelists and aren't so into the word of God that you'd go buying up every book, CD, DVD, or other product that Osteen seems to make so much money from.
The biggest controversy thus far that involves Osteen is that his church seemingly refused to open when Hurricane Harvey came storming it's way into Houston. Now there are still a few unknown factors that some people either choose to ignore or don't know about yet, but a lot of Houston has been underwater since Harvey hit, and that includes the lower levels of Osteen's megachurch. While it is very true that he did not order the doors to be opened to his church there is good reason now that he didn't. The upper levels might very well have sheltered many people however despite the fact that they reportedly do not have the type of facilities that would be needed to facilitate the care of so many.
I'm pretty sure that's what propane tanks and portable heaters and stoves are for, if that was his concern. It's reasonable to think that it's not fair to force people to inhabit a building that's already been flooded in the lower levels, but at the very least the upper levels would be dry and inhabitable. In truth there's just too many unknowns to say who's in the right on this one.
But prank-calling the church seems like a poor way to go about it. It's funny obviously since everyone in the studio was getting a genuine kick out of it, but where they did they really think the call was going to get them? Once they tip their hand and make the call sound like something that's not at all genuine where did they think it was going to go?
Some prank calls are genuinely funny because they get into the joke quickly and don't waste time trying to harangue the other person on the line. This one could have been funny but for the need to linger on the joke and draw it out as much as possible. Maybe I'm just getting old, it's possible, but humor doesn't seem to be what it used to be.
Save
Tell us what's wrong with this post? How could we improve it? :)
Let us improve this post!