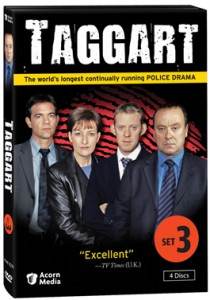 I thought Law & Order had been on forever, but that's nothing compared to the UK's Taggart, which bowed in 1983 (a full six years before L&O). The world's longest-running police drama releases a third set of eight episodes on September 21, and I have a look at the Acorn Media release for you before it does.
The Show
As a self-professed crime show junkie, I'm almost embarrassed to admit that I haven't seen Taggart before this. It's been on since before I was born! The series is set in Glasgow, Scotland, and spotlights a team of four detectives: Detective Chief Inspector Matt Burke (Alex Norton), Detective Inspector Robbie Ross (John Michie), Detective Sergeant Jackie Reid (Blythe Duff), and Detective Constable Stuart Fraser (Colin McCredie).
If you're wondering how the show gets its title, it takes it from the original protagonist, Detective Chief Inspector Jim Taggart, played by Mark McManus, who passed away in 1994. He was succeeded by James MacPherson as DCI Mike Jardine for the next eight years, before the baton was handed to Norton, who's been in charge ever since.
The Law & Order comparison isn't entirely unaccurate, as Taggart displays some of the same characteristics that made that show run as long as it did. It's a pretty straightforward crime drama series, without a gimmick or a hook to try and set it apart. There's no theme or specialty here, just regular detectives investigating the usual types of crimes you'd expect to see on a cop show. There aren't characters who stand out or take center stage away from each other; rather, it's a uniform ensemble piece. You're also not going to see too much adult content here, beyond that in the subject matter; there's no gratuitous sex, profanity or nudity to be found. People who like their crime dramas fairly traditional will take to Taggart.
The DVDs
These DVDs come in a plastic case with a cardboard slipcover. The slipcover does stick and will probably wear at the corners, but it's no worse than any of the others I've seen. The inside of the case is the real disappointment: the art is the same on each of the four discs, and there's no accompanying booklet of any kind, nor does the back of the box art give you more than a general description of the series.
As far as technical specs go, you get eight episodes presented in 16:9 widescreen, in standard stereo with subtitles, or standard fare for a DVD presentation. There is one forced trailer, a promo for all of Acorn Media's other releases, but you can skip this by selecting the title menu button on your DVD remote. The subtitles may be useful as the characters do have pretty thick Scottish accents; not thick enough to distract me, but people not used to it might have a harder time figuring out some lines of dialogue.
The menus on the DVDs carry on the same artistic theme, but they are full of information. When you select an episode, you're taken to a screen which provides a summary of the installment, and links to chapter selection (here called "scene index") and a "play episode" option. I found the summaries to be particularly welcome since I'd never seen the show before.
There's one quirk: when Taggart aired, it apparently had title cards at the beginning and end of each commercial break, as they've been left in the DVD version. It's not a huge deal, but it's just enough to momentarily jar you out of the action unnecessarily.
The Special Features
There are no special features on this set.
The Bottom Line
This is pretty much another British crime drama series – which isn't a knock, as British crime dramas are oftentimes head and shoulders above what we see on US television. It's solid, but it's not going to stick in one's head the same way a Waking The Dead or a Touching Evil might. At a list price of $60, or $7.50 an episode, this could be a little pricey especially considering the lack of any additional features. Amazon only lists it at $53.99 as of this writing, so you're not likely to see much of a discount on it for the time being. Check it out if the Law & Orders or CSIs are up your alley, but you might want to wait to see if it comes down in price first.
Tell us what's wrong with this post? How could we improve it? :)
Let us improve this post!