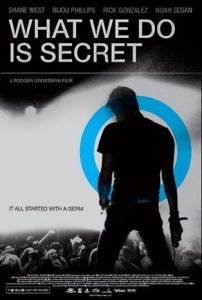 On paper, What We Do Is Secret (2007) is like my own special version of hell: a biopic about a genre of music I can't stand fronted by an actor whose work I hardly know. In reality, however, it's one of the best obscure films I've seen in a long while, centered around one of the best individual performances I've ever seen.
I love TV on DVD, but my secret passion is for the obscure films that my love of TV inevitably leads me to watching. The ones no one's ever heard of that went direct to video or got lost in the shuffle. Given anyone that I've taken an interest in on the small screen, I'm more interested in the small movie they did years ago than the big blockbuster. This time, it's Shane West's fault. I've spent a month now watching him in Nikita, and at first I was highly critical of him, then I thought, "Obviously, I just don't get this guy." I started doing my homework, trying to get a feel for his acting, and that's how I stumbled onto this film in which West portrays the tragic (is there any other kind?) lead singer of a 1970's punk rock band.
Full disclosure: I am not musically inclined. I was kicked out of the band in grade school and the only singing I do is karaoke. I also cannot stand this particular genre of music; I live on smooth jazz. Not only had I never heard word one about Darby Crash and the Germs before I watched this movie, but I had every reason in the world to completely hate the film. Imagine my surprise, then, when I actually got sucked completely into it.
What We Do Is Secret depicts the rise and fall of Darby Crash (Shane West), who grew to become an icon in the Los Angeles punk scene. From 1975-1980, he was the front man for the Germs, which consisted of guitarist Pat Smear (Rick Gonzalez), bassist Lorna Doom (Bijou Phillips), and eventual drummer Don Bolles (Noah Segan). Given the decade and the scene, it's no surprise that from the start all sorts of mayhem erupts, in sex, violence, philosophical ramblings and just plain adolescent confusion. Ultimately, as everything breaks down around (or possibly in part because of) him, in 1980, Darby intentionally overdoses on heroin at only 22.
I'm not going to spend time discussing the veracity of the film, because I'd just be talking about something I'm not qualified to analyze. That said, the fact that the surviving members of the Germs were heavily involved in its production and satisfied with its outcome is more than good enough for me. What intrigued me is the fact that what I was watching was just damn good storytelling. Biopics all unintentionally suffer from plot limitations because of their mere genre; we know what happens and how it happened, so there's not much room to wonder what's going to unfold. In this case, just reading the back of the DVD case tells you that Darby ultimately dies, so that gives you an idea of what kind of a movie you're about to see. Yet that's all okay, as long as the journey to get there is one that's strong enough to engage the audience throughout. What We Do Is Secret does just that, centered around the fact that West gives an arresting performance, in which he disappears and only Darby Crash remains.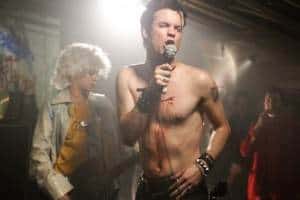 This is no small feat. Biopics rise and fall on the accuracy of their portrayals, and actors – if they're smart – put a lot of work into getting that right. I'm reminded of Josh Lucas, who so completely inhabited legendary basketball coach Don Haskins in Glory Road after becoming so close to Haskins himself. West has an uphill battle because not only is Crash dead, but he's a larger-than-life figure. Not to mention, Darby's eccentric behavior means he has to do some pretty insane things like self-inflict a chest wound (at right), or hang around with a pair of wings on (really), without becoming laughable. He's miles away from his clean-cut work on ER or Nikita, and he pulls it off by simply giving the role everything he has, whether it's being a physical dead ringer for Darby, or really performing in every single musical engagement in the film, or just utilizing his amazing ability to say so much just with the expression on his face. He is a revelation, and if I hadn't taken back every criticism I had of him before, I'd have to do it now. I have so much more respect for him seeing how hard he worked to bring Darby Crash to life, with astounding results.
West's performance is the primary reason to watch the film, but it's also populated by some great work from other actors and actresses you might not know. Phillips, Gonzalez and Segan all ably carry their weight as the three other members of the Germs. Tina Majorino appears as Michelle Baer Ghaffari, a close friend of the band (the real Michelle co-wrote the script with director Rodger Grossman). Ray Park plays club manager Brendan Mullen, who can hardly be understood thanks to his thick accent (a laugh-out-loud moment comes when at one point Pat says something about him needing subtitles and then in the next shot, Brendan's been subtitled). Shane West's A Walk To Remember co-star Lauren German plays a young Belinda Carlisle, and Nikita fans will enjoy seeing co-star Ashton Holmes (Thom) as Rob Henley, Darby's one potential love interest.
A whole other way of looking at the movie opens up when you listen to its one special feature – an insightful commentary with West and Grossman. The two get along very well, provide a lot of information about things you'd never even think to ask, and brought me right back to my indie-filmmaker days. They'll tell you what scene was almost busted up by the cops, where the lack of budget bit them, and the moment in which Shane really sprained his ankle. It's a track that anyone who's ever tried to make a movie with no money but an idea can appreciate. What We Do Is Secret took almost a decade of stops and starts to make, and it's the real respect and love that all involved had for the material that carried it through. As someone who's been in those trenches, it makes me love the film even more.
Music fans, fans of passionate filmmaking, and fans of great performances will all find something to love in What We Do Is Secret. There's no doubt in my mind that Shane West deserved the Rising Star Award he won for this movie; in an impressive case of "life imitates art," he's even succeeded Darby Crash as the real-life front man for the Germs. Anyone who thinks they know his work needs to see this movie, in which he threw his soul into bringing a tragic but influential figure back to life. Even I was left with my jaw hanging open in awe.
You can purchase What We Do Is Secret on Amazon for only $10, which is a steal for a film this good. There's also a corresponding soundtrack release featuring West and the Germs performing some of the band's best-known songs. I'm not ashamed to admit that I went right out and ordered it. I might not be able to stand punk rock, but I wanted to hear West nail all those performances again. Even I got sucked into some small part of the legend of Darby Crash.