ER was one of those shows you knew about even if you didn't watch it, because it went on for 15 years…a record for anything not named Law & Order. Warner Home Video recently released Season 13 on DVD, leaving only two more to go before we've seen the complete series run (can a full-series box set be far behind?) Take a look inside what's going on with this season at County General.
The Show
When it aired, I was not a fan of ER; in fact, I was a fan of its competing series, Chicago Hope. Aside from watching an episode here and there for a particular guest star, I actually once remarked that the show put me to sleep…which it did. However, now that I've spent a lot of time critiquing TV and analyzing it has become a hobby, I can appreciate the show for the juggernaut that it was. I'm not sure today you'd see a show stay on the air for 15 years, in a time when a show can get yanked in one episode.
ER is, of course, the brainchild of novelist Michael Crichton (yes, the same one that wrote Jurassic Park) and it was presided over by John Wells and Christopher Chulack, who also worked together on the amazing Third Watch. By the time we get to season 13, the audience is well into the debate of which season it started to decline in and/or how long it has left. The answer to that debate depends on which cast you prefer. Though ER Season 13 lacks the huge names the show used to feature well before they were huge, it has a lineup of people that tend to get overlooked. There's Maura Tierney (The Whole Truth), Mekhi Phifer (Lie To Me), Shane West (Nikita) and Scott Grimes (American Dad!) among the bunch, with the addition of John Stamos – probably glad to finally be called something other than "the guy from Full House that wasn't Bob Saget." For me, having liked Tierney, Phifer, West and Grimes in other roles, it's a cast worth watching.
Season 13 is a favorite of mine for a very personal reason: the storyline that ultimately leads to the departure of Shane West's character, Ray Barnett. Barnett is hit by a truck and ultimately loses both of his legs. As a handicapped person myself, I strongly identified with what he went through, and it was refreshing for me to see that depicted on television. Ultimately, this season of ER is somewhat like any season of Law & Order: by now, the show keeps on doing what's kept it on the air this long, just with different faces, and your enjoyment of it depends on if you like who's left on the show and if you're still satisfied with the formula. I found it worth watching.
The DVDs
Warner has done a great job with the basic functionality of this set. Box art is uniform to the rest of the recent series releases, just in a different color. All the discs are found in one big plastic slipcase that can be flipped through like a book, complete with the standard Warner-issue booklet that has titles, airdates and synopses for all the episodes. Warner is good with including these handy booklets with every release; if you're like some of my friends and don't know episodes by title, but rather as "the one where…" chances are the synopses will jog your memory.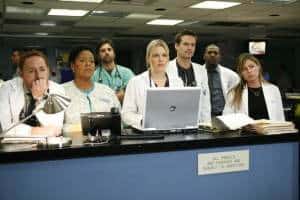 The menus are easy to navigate, and the little scissor icons for deleted scenes are kind of cute in a dorky way. All the basic menu functions are here. You'll find a widescreen presentation with Dolby Digital 2.0 audio and English SDH subtitles; there's no other language support on this release. Then again, I'd feel for the people having to translate all that medical jargon; sometimes I can't understand that in English.
For me, video and audio came through clear on both my Blu-Ray player and my laptop, so I have no complaints about the presentation. You'll be able to see all the colors at County just fine on this set.
The Special Features
Here's where things get a bit disappointing: the only special feature is deleted scenes. This is something that has apparently been common on ER releases for awhile now (I own Seasons 11 and 12, and both also lack all but deleted scenes, and in the case of Season 11, outtakes), which has frustrated loyal fans of the show. Those fans no doubt own the earlier seasons, which had a lot more on them; the first three seasons came with an assortment of commentaries, featurettes, et cetera. I'm not sure what's changed since then; I'm thinking Warner is simply trying to get the series released to fans, rather than be stuck in a holding pattern like Universal is with Law & Order (which has only released its first seven seasons).
Either that, or they've just run out of material. With as long as the show went on, it's impossible to martial the same people for special features release after release; they'd run out of things to say. Maybe there are issues with finding enough people to participate, with cast members having moved on to other projects (all four of the people I watched this season for have moved on to regular roles on at least one other series since). Whatever the reason, ER gets paltry special features, which is a disappointment but still better than not having the season at all.
The Bottom Line
If you can find it for a decent enough price considering you're just buying the episodes (Target had this for $35 last week), ER Season 13 is a good pickup. It's one of those shows you can jump into without much preamble, and it was an entertaining year. If you're a fan of the show and you've gotten this far, obviously you're going to own this one as well.
Warner has already announced that Season 14 will be released on January 11, 2011. (And I'm already penciling it onto our TV on DVD review calendar.) The burning question is if they'll turn around and release a Complete Series set in the near future. While I can't hazard a guess (unless they can somehow muster up more special features, there wouldn't seem to be a point), if you've invested enough money in the individual seasons by buying the previous 12, I'd stick with picking up the last 3 individually. Chances are, you've already spent just as much as the Complete Series will end up costing you.