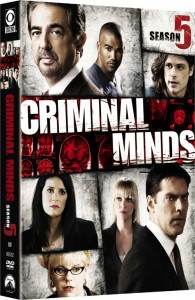 Today sees the release of the fifth season of Criminal Minds, CBS' hit series about FBI profilers investigating the worst of human nature. Here's a look at what you can expect within that six-disc, 23-episode box set.
The Show
Criminal Minds is one of CBS' most popular shows, following in the shadow of the CSI and JAG/NCIS franchises, and taking after them now that the network has greenlit a spinoff series (Criminal Minds: Suspect Behavior). The show's survived a lot, be it the abrupt departure of its original lead actor or a controversy surrounding its female cast members. This season is the one that may be overshadowed by the announcement of the spinoff (the backdoor pilot for which is included here) or the breaking news of A.J. Cook's release from the cast, but it's still another workmanlike season for the show.
In all honesty, this show scares the daylights out of me, more often than not. Criminal Minds pulls no punches when it comes to the graphic content or depravity of the crimes that are investigated. I'd venture to say it's some of the most disturbing content I've seen on network television. It fits exactly with the premise of the series, but it's not for the faint of heart. For example, I'm slightly partial to the backdoor pilot episode "The Fight," because it features one of my favorite actors, Jason Wiles (Third Watch). However, as much as I love Jason Wiles, I have to admit that episode also left me rattled when it was over. This can be a tough show to stomach.
There's also the fact that despite its specialization, Criminal Minds is still a procedural show. While it has more character development in it than most, if you're growing tired of the cop show genre, you might find yourself getting bored on occasion, when you're not disturbed by the content. I've seen a lot of procedurals, and I found myself going through the motions on certain episodes, but not every episode in a season is going to be perfect.
What works in its favor, though, is that it has a great ensemble, headlined by two veteran actors in Joe Mantegna and Thomas Gibson. I've always thought Paget Brewster is underrated after I saw her marvelous performance in Huff, and she performs well here. The show also features solid acting from Shemar Moore, Matthew Gray Gubler, A.J. Cook and Kirsten Vangsness. Not to mention it attracts a pretty high quality of guest star, including a return performance this season by C. Thomas Howell as George Foyet, better known as The Reaper. If you can stomach the content, and are into procedural television, Criminal Minds is one of CBS' top three shows for a reason.
The DVDs
Previous seasons of Criminal Minds have featured some dark and dour-looking box art, so it's great to see that this one doesn't resemble any of those. The six-disc set is broken down into three separate plastic cases with two discs in each case. There's no booklet, but thankfully there are episode descriptions and special features listed on the back of each case, so there's no loss of information.
Technically, Criminal Minds is akin to The Good Wife, presented in 16:9 widescreen with a Dolby Digital 5.1 and a standard stereo audio track. There is closed captioning, though not on the special features. Everything played back fine on both my DVD player and my laptop. The menus are easy to navigate, although the music got a little annoying after awhile.
There's also a suspicious note at the bottom of the box: "Some episodes may be edited from their original network versions." I didn't see all the episodes when they were broadcast, so I can't testify as to what those changes are, but it has to be a bit of a downer that fans aren't getting exactly what they saw on television. The most common alteration is usually in music when there's a tie-up with the music rights, and I can only hope that's the case and fans aren't getting chopped episodes.
The Special Features
Criminal Minds has a fair selection of special features. Unlike most series, though, they're scattered across the six-disc set. They are as follows:
Case Files: Small featurettes which shed additional light on episodes. They are "Break" (disc 1), "Dante" (disc 2), "Grim" (disc 4), "Subjects Unknown" (disc 5), "Deserted" (disc 5) and "Darkness" (disc 6). There are spoilers, so I'd suggest watching all the episodes on a disc before you watch any of these.
"Celebrating 100" (disc 3): Reflecting on the show reaching its 100th episode. It's a light piece but it's cute.
"Fear the Reaper" (disc 3): A focus on the conflict between Hotchner and George Foyet/The Reaper, with a particular focus on the construction of the one hundredth episode (creatively titled "100"). C. Thomas Howell is a pretty funny guy when he's not pretending to kill people.
"Gubler Direct" (disc 4): A featurette on Matthew Gray Gubler's turn in the director's chair. Everyone seems to be having a lot of fun with it, and not just gushing because they like him. It's interesting to see the directing side of him as opposed to the actor that fans are familiar with.
"Material Witness" (disc 6): The cast and crew reflect on some of the themes of the season. It feels good to hear at least one of them admit they've tortured the living daylights out of Hotchner. It's also amusing to see that between the taping of the special features for Third Watch season one and this, Ed Bernero shaved his head.
Gag Reel (disc 6): Not very long, and not one of the better gag reels I've seen, but good for a chuckle or two.
On-Air Promos (disc 6): The promotional spots used over the course of the season.
There aren't any commentaries here, but that seems to be more and more commonplace on DVD sets.
The Bottom Line
Fans of Criminal Minds will enjoy this set, and for people who are perhaps only casual viewers of the show, this is a good season to pick up because there are a lot of compelling episodes here. I can't totally recommend it because the content would (and rightfully so) upset some more sensitive viewers, and the fact that it's a procedural does mean it falls into a formula on occasion. However, if you've got the nerves for it, this is worth at least a rental.