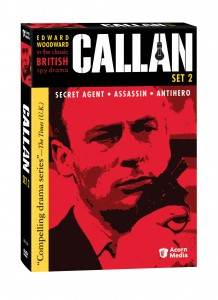 Edward Woodward is one of my favorite actors of all time; as a kid, I was completely in love with his CBS series The Equalizer. Unfortunately, Woodward passed away last year at 79 after prolonged health problems. Acorn Media has, however, released another volume of Woodward's pre-Equalizer spy series Callan (1967-1972), and I have the inside look at that to share with you.
The Show
Callan was a great drama about the dark side of the spy world well before the topic became in vogue. Woodward portrayed the title character, David Callan, crack agent for British counterintelligence who was the best at what he did, but did so under extreme duress. Callan was privy to all the nasty side-effects of working in the espionage business: double-crosses, assassinations, blackmail, and plenty of other unsavory dealings.
In a strange development, Set 2 of Callan is actually the show's fourth season (Set 1 started with the third season). I have no idea if we'll see seasons one and two get a release, but at least we have some part of this amazing series. At the beginning of the season, Callan has just spent time in a Soviet prison, and has decided he wants out of the business, which only further exposes the cruelty and motivations of his superiors and the people he called friends. There's really no "good guy" in this series; Callan is our protagonist, but he is both appalling at the same time that he's admirable. Much like the real spy world, everything in Callan is painted in shades of grey. The result is a morally ambiguous, curiously compelling, and taut drama that may be one of Britain's best.
Toward the end of his career, Woodward made appearances in four episodes of the Canadian spy series La Femme Nikita, as Nikita's father. I'd dare to say that as much as I loved that series, it owed a great deal in its tone and ambiguity to Callan, which existed during the middle of the Cold War and in an entirely different world where the issues it provoked and addressed were either not known of at all, or not known enough. For fans of the spy genre, or fans of dark, thought-provoking television, these final 13 episodes are a must-see.
The DVDs
Staring at the boxes for Callan has always sort of weirded me out. They'll never be described as pretty, and there's just something in their throwback design that looks off to me. Then again, maybe that was the point, considering that there was a lot off about a lot of things in the series itself. The art is uniform throughout, with the four-disc set having individual plastic cases for each disc which contain synopses of the episodes to be found on that disc. That's all easy enough.
Technical specs-wise, the age of the source material limits what can be done with the DVD presentation. This was well before widescreen, so viewers get a 4:3 fullscreen version, with quality that reflects the fact that we're watching a show that started more than 40 years ago. For a show of that age, it doesn't look much worse than if I'd taped everything on my VCR and was playing it back.
Menus are pretty easy to navigate, with a "play all" option and a scene index, but the scene index doesn't have any sort of visual aids, so if you're looking for a specific point in an episode, you'd better hope you know that episode well. There is a forced trailer for Acorn Media (which is standard on their releases) but it can be skipped by pushing the menu button on your remote.
The Special Features
This box set gives us an invaluable bonus: commentary from Edward Woodward on episodes 5 ("If He Can, So Could I") and 11 (the first part of the "Richmond File" three-part series finale). If you've ever read or listened to a Woodward interview, you know how eloquent and insightful he can be, and these commentaries reflect that. I enjoyed listening to them immensely, and I hope that other viewers do as well.
The Bottom Line
They just don't make actors of Edward Woodward's caliber anymore. He was one of a kind, and so it's impossible for me not to recommend the show that made him a name well before I was even born. The commentaries are a much-appreciated touch, but it's just great to have these episodes available to the general public so we can appreciate some fine work that most of the people in my generation have probably overlooked. If you think shows like 24, Alias or Covert Affairs are spy shows, let Callan show you how it was really done.
Set 2 is available at Amazon.com for a discounted price of $53.99.