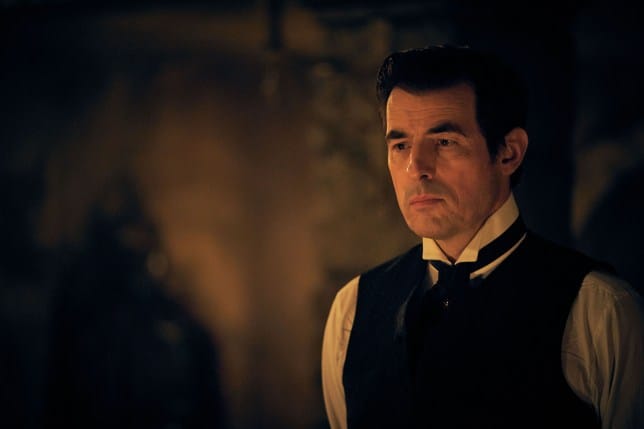 There have been many versions of the 'Dracula' story aired on television or made as films, each of which is based on the original novel by Bram Stoker. The latest of these is an upcoming three-part miniseries that is set for release on BBC One and Netflix. The development of this series began back in 2017, although filming was not completed until August 2019. According to Metro, no official date for when the miniseries will air has been given. In advance of its release, here is your chance to meet the cast of BBC One's 'Dracula'.
Claes Bang
Playing the lead role of Count Dracula is Claes Bang, this Danish actor and musician who has mainly worked on stage and on television in Denmark. He is best known for playing the lead role of Christian in the 2017 film 'The Square', which was directed by Ruben Ostlund. For his performance in this film, Bang won the European Film Award for Best Actor. This was an accolade that had not been won by a Dane ever before. Bang has been married to stylist Lis Louis-Jensen since 2010, and he is the stepfather to her two children. The couple lives in Frederiksberg, Copenhagen.
John Hefferman
John Hefferman is playing the role of Jonathan Harker, who is one of the main protagonists of the story. Hefferman is a British theater and screen actor who has toured with the English Touring Theatre, the National Theatre, and the Royal Shakespeare Company. Although he has appeared in many television series, he is probably best known for his roles in 'Jonathan Strange & Mr. Norrell', 'Dickensian' and 'Luther'. His films have included 'Eye in the Sky', 'Crooked House', and 'Official Secrets'.
Dolly Wells
Wells is a British actor and writer who is best known for co-writing the Sky Living Series 'Doll & Em', along with her best friend Emily Mortimer. Both Wells and Mortimer starred in this series. She has also had roles in television series including 'Star Stories', 'Some Girls', 'Noel Fielding's Luxury Comedy', and 'Blunt Talk'. She has been married to photographer Mischa Richter since 2000. The couple's daughter Elsie was born in 2002, followed by son Ezra in 2005. Both their children appeared alongside their mother in the series 'Doll & Em'.
Joanna Scanian
Born in Cheshire, England, in 1961, Joanna Scanlan is an actress and screenwriter. She is best known for her role in 'Getting On' in which she appeared between 2009 and 2012. She received three BAFTA TV Award nomination for her performance in this series. She has also had roles in series including 'The Thick of It', 'No Offence', and 'Puppy Love'. Scanlan has also had roles in many films, including 'Bridget Jones's Baby', 'The Invisible Woman', 'Girl with a Pearl Earring', and 'Notes on a Scandal'.
Morfydd Clark
Morfydd Clark is a Welsh actress who began her career on stage in 2009 when she joined the British Youth Music Theatre and the National Youth Theatre of Wales. She went on to study at the Drama Centre London. She has since had small roles in many films and television series.
Lujza Richter
Lujza Richter began her career as an actress in 2017. Her first role was playing Princess Mona Braganza in 'Phantom Thread'. She then played Rose in the 2018 short film 'Le lecon de dance'. IN 2019, she appeared in the short film 'Those Who Are Most Happy', and she has completed filming the short film 'The Refuge', in which she plays Eva. Richter appears in all three episodes of 'Dracula', although her role is unknown.
Mark Gatiss
An English actor, comedian, director, producer, and novelist, Mark Gatiss began his career in entertainment in 1993. He has worked as both a writer and actor for 'Sherlock' and 'Doctor Who'. Gatiss is a member of the comedy team 'A League of Gentleman', along with Steve Pemberton, Reece Shearsmith, and Jeremy Dyson. He is also known for playing Tycho Nestoris in the HBO series 'Game of Thrones'. Gatiss has been married to actor Ian Hallard since 2008, and the couple lives in North London.
Jonathan Aris
Jonathan Aris is a British actor who has worked in theater, television, and film. His work includes 'Tutankhamun', 'The Night Manager', and Sherlock. Aris has also done some voice work as he narrated three documentaries for the National Geographic Channel. He has been married to actress Louiza Patikas since 2007.
Sacha Dhawan
A British actor of Indian descent, Sacha Dhawan has worked in stage, television, film, and radio. His first major television role was playing Ali in 'Out of Sight' between 1997 and 1998. The other television series in which he has had major roles include 'Weirdsister College', providing a voice for 'Chuggington', 'Outsourced', 'Mr. Selfridge', and 'In the Club'.
Nathan Stewart-Jarrett
Nathan Stewart-Jarrett is best known for playing Ian in 'Utopia' and Curtis Donovan in 'Misfits'. This British actor trained at the BRIT School for four years before embarking on his career. He has also studied at the Central School of Speech and Drama. In addition to his television career, he has also worked in theater.
Catherine Schell
Born in Hungary in 1944, Catherine Schell rose to prominence in the 1960s when she landed roles in British film and television productions. She is famous for being one of the Bond girls and for having a regular role in 'Space: 1999′. She has been married twice. Her first husband was British actor William Marlowe, to whom she was married from 1963 to 1977. She then married television director Bill Hays in 1982. They were married until his death in 2006.
Yousef Kerkour
Born and raised in Morocco, Yousef Kerkour attended an American school. He began his career with the Royal Shakespeare Company, and he has since worked in both theater and television. He is best known for playing Youssef in 'Bounty Hunters', Hartley Suczek in 'Nightflyers', and Sami in 'Home'.