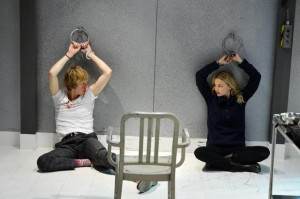 Oh my God, Revenge! The show that has consistently delivered twist after turn all season long just finished off its season finale with a bang…literally. Let's recap the milestones in the shocking season finale.
Emily managed to "steal" the evidence against Conrad and his co-conspirators by telling Daniel that a white-haired man had broken into her house and swiped it. Naturally, Daniel headed straight for Conrad, telling his father everything.
Meanwhile, Emily attempted to get into the information herself, but found it locked tight. What's a girl to do? Call Nolan for help, of course! But, as Emily soon discovered, Nolan had been kidnapped by the white-haired man (who I'm going to call WHM until I figure out his name, because I can't remember it right now). Telling WHM over the phone that she was Amanda Clarke and that they had unfinished business, she agreed to a meeting.
That quickly led to Emily being tied up next to Nolan in WHM's basement. Emily sent him off on an errand to find the evidence, which she claimed was in a storage locker, and then set about freeing herself and Nolan. Of course, Emily wasn't stupid enough to actually put the evidence in a locker. Instead, she sent it off with Nolan to deliver to the SEC agent. He did, which put the evidence in the hands of the very people who could expose Conrad. When WHM returned empty-handed, he and Emily fought. About to kill him, Emily realized that she couldn't turn in to a killer. After all, the evidence was with the SEC and those responsible for framing her father were about to be taken down. It seemed like her plan was at an end. So when Daniel confronted her, asking her whether she had kissed Jack, she saw no reason to lie. With her quest finished, she no longer needed to be engaged/married to Daniel, so the pair split.
Back at the Grayson homestead, Victoria was finalizing her plans to take Conrad down. And Charlotte decided to use her mother's PI to get information on Declan's newest friend, deciding to expose her in a way that made Declan compare her to Victoria and hat her forever. But the big shock came when Victoria was told by the SEC that Conrad was responsible for David Clarke's murder.
As it turns out, Victoria didn't know this one, crucial, fact. And that's when her own plan against Conrad for revenge became a crusade. She quickly got Lydia back on her side and promised to rain holy Hell down on Conrad for killing the man she (supposedly) loved. It led to explosive confrontations between the two Graysons, but Victoria would not be deterred. And this led to Conrad's own plan, and the five shocking moments of the season finale.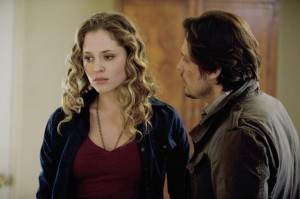 Shocking finale moment #1: Prepared to reveal everything about her revenge plan to Jack, Emily headed to the Stowaway, but it turns out Jack has a visitor: Amanda. Fauxmanda, to be exact. And she's pregnant! Well, ain't that a kick to the head?! Knowing that she can no longer be with Jack – and has broken up with Daniel – Emily wisheed the parents-to-be well and headed outside, alone.
Shocking finale moment #2: Victoria and Lydia boarded the plane with the SEC guy, but the WHM was also on the tarmac, leaving a little present for them: a bomb. The plane exploded shortly after take-off and, according to news reports, there were no survivors. Is Victoria actually dead?!
Shocking finale moment #3: After hearing the news about her mother on the television, Charlotte immediately called Declan, but his anger at her for her earlier actions shone through and he demanded she never call him again. In despair, Charlotte overdosed on pills. Shortly thereafter, Conrad entered her room to find her…unconscious? Dead?
Shocking finale moment #4: Perhaps the biggest shock of the night came for Emily, who realized that not only had she lost Jack, but her plan for revenge was far from over. When the plane blew up, it took all the evidence needed to clear her father with it.
Shocking finale moment #5: But wait! Nolan saves the day! He stopped by Emily's house shortly after she got the news about the explosion, only to tell her that he actually backed up a copy of the evidence. And it contains a very interesting video of Victoria, Conrad and WHM. Nolan tells Emily that Americon Initiative handled the cover-up. But there's more! "This goes so far past the Graysons and so far past what they did to your father," Nolan warned. "It'll work because he trusts me," Victoria said on the tape from so long ago. "I know David's deepest secret. The wife he had before we met…if you look a little deeper, you'll find there's much more to the story." Emily suspects that the Initiative killed her mother too. But that's not what Victoria's saying, Nolan replied. "What she's saying is that your mother's alive."
I mean, come on! That was completely insane, wasn't it? No revenge for Emily? Victoria and Lydia possibly dead? A pregnant Amanda back in Jack's life? Oh, Revenge, you certainly know how to make a (temporary) exit.
On a side note, I'd like to bring up what I thought was one of the best moments in a season finale filled with great moments. After learning of their break-up, Victoria headed to Emily's house to express her condolences about the end of her and Daniel's relationship. Emily tried to hand back the engagement gift Victoria had given them, but Victoria suggested she open it instead. Inside? Nothing. "You see, even long before the day of your engagement party, I knew that your future with Daniel was as empty as that box. Now, best of luck with your next endeavor," Victoria sneered at Emily. And that, my friends, was possibly the best gift in the whole history of gift-giving.
Revenge will return for its second season in the fall, but will be moving to Sunday nights. How can we possibly wait to see the resolution of these crazy cliffhangers?