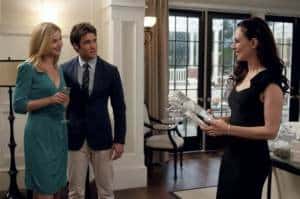 Poor Frank, we hardly know ye. This week's episode of Revenge was a pretty large pick-up from a slower-paced episode last week and it was quite the doozy. Marriages (nearly) broke up, people awoke from comas, a couple exchanged words of love for the first time, secrets were discovered, and the aforementioned 'Poor Frank'got killed. All in all, a good episode for us, but not necessarily a good episode for some characters.
In this week's episode, Conrad and Victoria were celebrating their 25th anniversary with a feature story in the local Hamptons paper. But Victoria can spot the hypocrisy a mile off and laments being celebrated for a marriage that she believes is a sham. At least, it is on her end. Conrad genuinely seems to care for her, even if he was having an affair with her friend. But Victoria just declares that she's been trapped in an 'arrangement', right from the very beginning. While it's clear that the couple has stayed together as a result of the David Clarke conspiracy, I'm curious as to what brought them together in the first place. All we really know is that Conrad was married to someone else when they first met. Did Victoria ever love him at all?
By the end of the episode, their relationship was as tense as ever, and Conrad decided to leave the house to go sit by Lydia's bedside at the hospital. Speaking of Lydia, she looks remarkably good for someone who fell off a balcony and onto a car, and we got a bit of a cliffhanger at the end of the episode when it appeared she was waking up. The big question on everyone's mind though is how much she'll remember when she finally opens her eyes.
Meanwhile, Tyler continued to worm his way into the Grayson family, and tried his hardest to disrupt Daniel and Emily's budding relationship. Emily ordered Nolan to dig up some dirt on the Talented Mr. Creepy so that she could take him down. He soon discovered that he's a bisexual hustler and he was forced to admit that his family lost everything recently, leaving him to fend for himself. His method of 'fending'basically means living as a kept boy or trying to worm his way nto someone else's family. He bought Nolan's silence with sexual favors, but it looks like Nolan has plans of his own and has no intention of letting Tyler get the upper hand.
At the end of the episode, Tyler told Ashley at least part of the truth about his current penniless situation and then told her he had copied Conrad's files and was planning on using the information they contained to make him indispensable to the Grayson patriarch. Ashley approved of his devious plan, which actually left me a bit surprised. I fully understood that she wanted to make something of herself in Hamptons society, but I really had no idea she was willing to use such questionable means to achieve this. She always struck me as a bit more moral. Oh well, shows you how good a judge of character I am.
Tyler did manage to put a crimp in Emily and Daniel's relationship for a while, but what nearly ended it altogether was Emily's continued friendship with Jack and Declan's big mouth. It's not Emily's fault that she turned Jack down because she's with Daniel (even if it's a fake relationship). Declan has no right to act like a punk just because his brother got rejected. And while Daniel acted upset about Emily and Jack still having contact, he eventually forgave his girlfriend and the two of them exchanged 'I love yous'. Oh, Emily, what a tangled web you weave.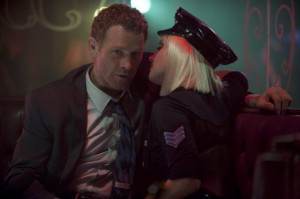 Speaking of tangled webs, Frank made good on his promise to dig into Emily's past. He soon learned that she spent a few years in juvenile detention and set off to find more information about it. It's clear that the warden at the facility took a real shine to Emily and seems to support her current path of revenge. But we learned that this very facility is what spawned Amanda Clarke's identity change. It was at his facility that she met the real Emily Thorne, who just so happened to be her roommate there. While the real Amanda went on to inherit a fortune, the real Emily was paid for her silence and ended up as a stripper.
She was contacted by Frank, who realized the ruse and told the real Emily where she could find Amanda. Frank couldn't wait to tell Victoria all about his discovery, but their call was cut short when RealEmily whacked him with a board…..and then killed him. After disposing of the body in some bushes, she headed to the Hamptons, where Amanda is shocked to see her and isn't exactly prepared to welcome her with open arms.
I have to admit, Amanda's plan to actually assume someone else's identity (instead of just creating one out of thin air) seemed both advantageous and short-sighted. The good thing about it is that there's a FakeAmanda walking around who will happily play the part for those who come look for David Clarke's daughter. The bad news is that RealEmily is a huge loose end in FakeEmily's plan and, as we saw tonight, has no concern for FakeEmily's carefully-spun web of lies. With Victoria warned by Frank that Emily is not who she appears to be, his recent death will spell trouble for FakeEmily, as will RealEmily's appearance. I suspect she won't want to give up the high life once she gets a taste of it in the Hamptons.
Overall, this was a great episode. Multiple storylines moved forward, someone actually died this time (assuming Frank stays dead and isn't just 'in a coma'like Lydia turned out to be) and I cannot wait to see how Emily adapts to these unexpected disruptions. Try and con your way out of this one, sweetheart. Then again, she is a master, so I'm confident she will.
By the way, I'm more convinced than ever that Charlotte is actually David Clarke's daughter. Victoria's relationship with her is clearly different. I could understand why she isn't as loving towards Charlotte if she is David's daughter, if only because of how that relationship turned out and her betrayal of the man she says she loves. But I am curious why she's so fond of Daniel if, as she claims, her marriage to Conrad is such a sham. After all, the relationships she's had with both of her children's fathers have turned out to be bad, so why does she clearly favor one child over the other? A question for another time, but hopefully one that will be answered.
By the way, there's no new episode of Revenge next week. A new episode will air on November 16 and you can take a peek at a trailer and some photos here.