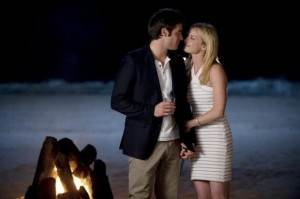 Revenge is back, readers, and while the ending of this episode may have been slightly anti-climactic, you have to give Emily props for finding every opportunity to manipulate the situation at hand.
Let's begin with the Grayson family. More specifically, with Victoria and Conrad, who are proceeding with their divorce. Victoria wants a few choice pieces of art but, more specifically, she wants Grayson Manor in the Hamptons. Conrad and his lawyer refuse to simply hand it over since it's the most valuable Grayson property and want to hold Victoria to the pre-nup. Only Victoria's lawyer said she was pregnant when she signed it, so it's invalid. Later, Victoria admitted to her lawyer that she wasn't actually pregnant when she signed the pre-nup. But hey, no problem, because her lawyer found a doctor who can fabricate some records! Tsk, tsk. Victoria's lawyer is giving lawyers everywhere a bad name.
In the midst of this acrimony, the Graysons did manage to find a common enemy in this week's Revenge: Tyler. Conrad told Victoria that their son's psychotic friend had evidence of what they did to David Clarke and Frank's involvement in Lydia's accident. This allowed for about 20 minutes of co-existence. Until it went down the drain.
Meanwhile, Daniel was gearing up to celebrate his birthday, but preferred Emily's suggestion of a small clambake to his mother's customary large-scale events. Emily recruited Amanda and Jack to help her, which led to a very uncomfortable first meeting between the Graysons and the girl they think is Amanda Clarke. But before the interrupted party, Emily managed to snatch back the evidence Tyler was holding (in the firm of Nolan's whale video camera) and also discovered he was off his anti-psychotic meds. This prompted Emily and Nolan to contact Tyler's brother in hopes that he could convince Tyler to leave town.
When Tyler realized that his whale camera was gone, he headed to Nolan's house to retrieve it. Unfortunately, Nolan didn't have the camera, but he got a cut in the arm and tied to a chair for his trouble. Tyler quickly realized that Emily had the camera and headed over there, breaking into her house while the party took place on the beach. Later, Emily went back to the house to retrieve the cake and stood up to Tyler without any fear, even when he pulled her own gun on her. Tyler then headed back to the beach and threatened Emily and the other guests.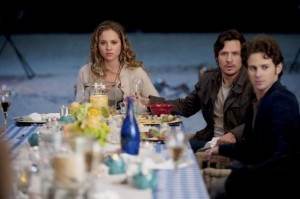 In particular, Tyler prompted Conrad to tell the truth about what he did to David Clarke. Fortunately, Conrad wasn't forced to spill the beans, but now the others – especially Amanda – are curious as to what Tyler meant. In the end, Tyler's brother showed up and provided enough of a distraction to let Jack and Daniel take Tyler down.
Of course, that didn't really matter, since Emily knew from the beginning that the gun in Tyler's hand wasn't actually loaded. And she also managed to plant Frank's missing wallet into Tyler's pocket, which means the cops are now focusing on him as Frank's murderer. Which also means Conrad is off the hook and he warned Victoria that their divorce is about to get very messy.
Like I said, the ending was slightly anti-climatic. The truth is, we always knew how it was going to end and the fact that everyone at the party (possibly barring Amanda) was going to survive. Each of the clambake guests – save Daniel – was first seen in the engagement party in the pilot episode. The only real question was how the situation would end and how Tyler would be stopped. Regardless of how it ended, I am continuously impressed by Emily. For a while there, it looked like she had lost her way. Tyler's continued involved with the Grayson family and Amanda's unexpected arrival threw her for a loop and she struggled to get back on track. How impressive was she in this week's Revenge, not only to stand bravely against Tyler but also to pin Frank's murder on him? I would not want to cross that woman.
Overall, I'm pleased one of my favorite new shows of 2011 has returned for the new year. Next week Emily gears up for another take-down-one-character-in-a-single-episode mission that's been largely absent for several episodes. But it also looks like Daniel is planning his own revenge against his father that might prove to be delicious. Watch a trailer for the January 11 episode of Revenge here.
Some final thoughts:
-I'm curious how Amanda and Victoria will interact in upcoming episodes, especially given how Victoria seemed to dismiss her as a non-entity this week. Was she merely posturing for Conrad and plans to learn more about Amanda?
-I loved the contrast between Victoria and Conrad as parents. Conrad is obviously no stranger to bad deeds, but unlike Victoria he didn't look down on Declan for his relationship with Charlotte.
-Victoria stealing Emily's idea of giving Daniel a scrapbook of memories was so sneaky and underhanded. Obviously she won with the better scrapbook, but Emily is clearly mistaken in thinking that Victoria will ever truly accept her.
-I'm curious whether Amanda will choose to pursue her suspicions about Conrad and David Clarke and what that will mean for Emily.
-I love that Emily and Nolan are back to being friends. And, is it just me, or are they even more comfortable with each other now than they were before their little fight?