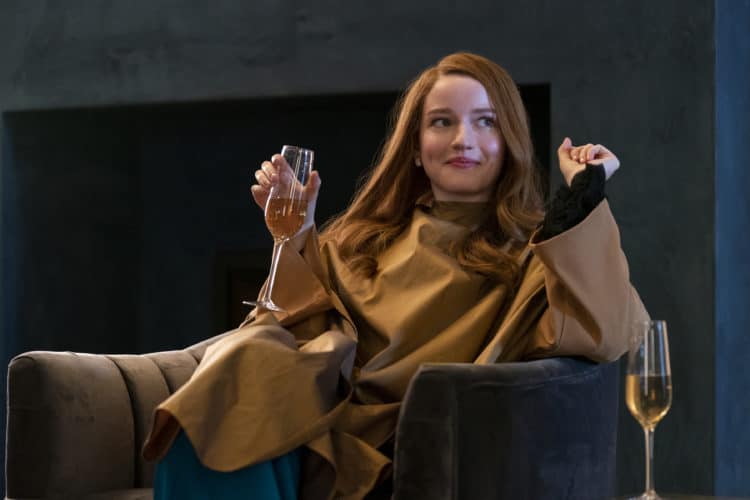 Inventing Anna is an American drama miniseries created and produced by Shonda Rhimes, best known for her shows like Grey's Anatomy, Scandal, and How to Get Away with Murder. Inventing Anna is based on the article in a New York Magazine titled "How Anna Delvey Tricked New York's Party People" by Jessica Pressle about Anna Sorokin, a Russian-German con artist who pretended to be an heiress under the name Anna Delvey. The series was released on Netflix on February 11, 2022, and features Julia Garner of Ozark as Anna Sorokin/Delvey alongside Anna Chlumsky as journalist Vivian Kent. Arian Moayed, Katie Lowes, Alexis Floyd, Anders Holm, Anna Deavere, Jeff Perry, Terry Kinney, and Laverne Cox also join the main cast of the series. The series centers on the story of how journalist Vivian Kent investigates the case of Instagram famous Anna Delvey, who deceived several socialites, acquaintances financial institutions, and hotels between 2013 and 2017 pretending to be a wealthy heiress. According to Deadline, Inventing Anna was the most-watched English-language series in a one-week period, watched with 196M hours viewing time between February 14 and 20 and received mixed reviews. The Hollywood Reporter reviewed Inventing Anna and wrote, "Between all the secrets, betrayals and conflicting narratives, as well as Anna's own larger-than-life personality, Inventing Anna never lacks for the kind of juicy drama that Netflix's auto-play feature was made for." If you're looking for similar shows to binge-watch next here are five of our recommendations.
The People v. OJ Simpson: American Crime Story
The People v. O. J. Simpson is the first season of the FX true crime anthology television series American Crime Story. The miniseries centers on the O.J. Simpson murder case based on Jeffrey Toobin's book The Run of His Life: The People v. O. J. Simpson (1997). It follows the criminal trial of O.J. Simpson for the murders of his ex-wife Nicole Brown Simpson and her friend Ronald Goldman. While Inventing Anna digs deeper into Ana Sorokin's story and her trial, it also adds humor. The People v. O.J. has a more serious tone to it but if you enjoy true crime, it is definitely worth watching. The main cast features Sterling K. Brown as Christopher Darden, Kenneth Choi as Judge Lance Ito, Christian Clemenson as William Hodgman, Cuba Gooding Jr. as O. J. Simpson, Bruce Greenwood as Gil Garcetti, Nathan Lane as F. Lee Bailey, Sarah Paulson as Marcia Clark, David Schwimmer as Robert Kardashian, John Travolta as Robert Shapiro, and Courtney B. Vance as Johnnie Cochran. The season received critical acclaim, especially for the actors' performances. For the 68th Primetime Emmy Awards, it received 22 Primetime Emmy Award nominations, in 13 categories, winning nine, including Outstanding Limited Series. The series also won Best Miniseries or Television Film and Sarah Paulson won Best Actress – Miniseries or Television Film in the Golden Globe Awards. Vox published a review of the season and wrote, "The miniseries digs deeper than you'd expect, poking at the messy intersections of race, gender, and class that so much TV still shies away from, and it will remind you, time and again, of bits and pieces of the trial you'd completely forgotten about."
Imposters
With Inventing Anna featuring a con-artist pretending to be an heiress, the American dark-comedy series Imposters which premiered February 7, 2017, on the Bravo cable network follows con artist Maddie Jonson, played by Inbar Lavi, who works with Max (Brian Benben) and Sally (Katherine LaNasa) and mysterious figure called "The Doctor" (Ray Proscia). Maddie's team operates by making people fall in love with her and she disappears with all their money and valuables shortly after marrying them. Variety reviewed the Imposters and described how entertaining the show can get. "It's a shaggy, ridiculous, tonally inconsistent show, and in the first two episodes, its pacing leaves something to be desired. But it owns its own nuttiness, which allows the audience to adjust its expectations accordingly — and makes for a fun, unexpected journey."
Dirty John
If you liked the performance of Julia Garner in Inventing Anna, her performance in Dirty John in a supporting role is also worth watching. Dirty John is an American true crime anthology television series, based on the podcast of the same name by Los Angeles Times reporter and Pulitzer Prize-nominated journalist Christopher Goffard. The series features stories inspired by true events and centers on themes of romance and love gone wrong. The series was created by Alexandra Cunningham also an executive producer alongside Richard Suckle, Charles Roven, Mark Herzog, Christopher G. Cowen, and Chris Argentieri. The first season of Dirty John features Connie Britton as the wealthy interior designer and businesswoman Debra Newell, who tries to look for love through dating websites after four failed marriages. She meets charismatic John Meehan who she easily falls in love with but everything starts spiraling down as she uncovers John's secrets and deception. The main cast also features Inventing Anna's lead star Julia Garner as Terra Newell, Debra's younger daughter, Eric Bana as John Meehan, and Juno Temple as Veronica Newell, Debra's older daughter. Connie Britton received nominations for her performance in the show which include the Golden Globe Award for Best Actress – Miniseries or Television Film and the Critics' Choice Television Award for Best Actress in a Limited Series or Movie Made for Television and Julia Garner earned a nomination for the Critics' Choice Television Award for Best Supporting Actress in a Limited Series or Movie Made for Television. The second season of Dirty John follows the story of Betty Broderick who was convicted of murdering her ex-husband, Daniel T. Broderick III, and his second wife, Linda Broderick in 1989. The series is narrated through Betty's point of view and centers on the breakdown of Betty Broderick's marriage and the events leading up to the night she killed Dan and his second wife. The season stars Amanda Peet as Betty Broderick, Christian Slater as Dan Broderick, and Rachel Keller as Linda Kolkena. In a review published by Vulture they wrote, "The series saves itself by effectively capturing how it feels to be powerless, abandoned, and misunderstood, and how those feelings can understandably metastasize into blind rage."
Good Behavior
Good Behavior is an American drama television series based on the novel of the same name by Blake Crouch. The series stars Michelle Dockery of Downton Abbey as Letty Raines, who was just released from prison on good behavior. In striving for a fresh start, she attempts to be reunited with her 10-year old son, however, she becomes involved with a hitman named Javier Pereira, played by Juan Diego Botto. Just like Inventing Anna, Good Behavior involves themes of deception. The seductive thriller series also stars Lusia Strus as Estelle Raines, Letty's mother, Terry Kinney as Christian Woodhill, Letty's parole officer, Nyles Steele as Jacob Raines, and Joey Kern as Rob McDaniels, Estelle's husband. The Hollywood Reporter reviewed the series and wrote about how addictive the series can be. "TNT's latest drama, Good Behavior, has more than a few good things going for it — starting with a beautifully moody and exceptionally rendered pilot by director Charlotte Sieling (Homeland, The Americans, Queen of the South), a virtuoso performance from Michelle Dockery (Downton Abbey) and the kind of intriguing loose ends that keep you wanting to come back."
The Catch
Inventing Anna's producer Shonda Rhimes tends to have a certain style when it comes to her shows and if you enjoyed Inventing Anna and her other shows, The Catch might be something for you. The Catch is an American comedy-drama television series created by Jennifer Schuur, Kate Atkinson, and Helen Gregory, and developed by Allan Heinberg. Shonda Rhimes and Betsy Beers served as executive producers together with Julie Anne Robinson who directed the pilot episode. The show stars Mireille Enos and Peter Kraus in lead roles with Sonya Walger, Rose Rollins, Elvy Yost, Jay Hayden, Jacky Ido, and Alimi Ballard in supporting roles. The Catch follows successful private investigator Alice Vaughan (Enos) who is conned by her fiancé Benjamin Jones (Krause). Alice is determined to find Benjamin while she also deals with several cases in her private investigation firm. The Guardian reviewed the series and wrote, "While all the Rhimes hallmarks are there – lightning-fast pacing, plenty of sex, a leather trench coat that will send you immediately to Net-a-Porter – it's both brighter and slicker than most of her other shows."
Tell us what's wrong with this post? How could we improve it? :)
Let us improve this post!