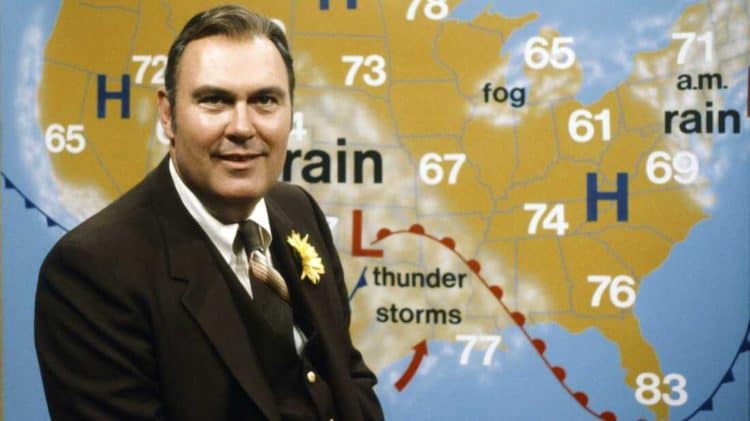 Even though a weatherman's job is simply to deliver the weather forecast, they often become a very important part of people's daily lives. That was definitely the case for Willard Scott who was a weatherman on The Today Show from 1978 to 2015. Over the course of his career, Williard became a crowd favorite and people always looked forward to what he had to say. As a result, people all over the country — and maybe even the world — were saddened when news broke that Williard passed away on September 4, 2021, at 87 years old. Although he lived a long and fulfilling life, his loss is still very painful for those whose lives he touched. Thanks to his work, however, Willard will continue to live on. Keep reading to learn more about Willard Scott and his unforgettable legacy.
Willard's Story
Willard was born and raised in Virginia. There doesn't seem to be much information about his upbringing, but we do know that he developed an interest in the broadcasting world when he was a teenager. At 16, he began working at a local radio station. Surprisingly, however, when he went off to college he decided that he didn't want to focus his studies on broadcasting or journalism. Instead, he earned bachelor's degrees in philosophy and religion from American University. That said, he was active with the school's radio station, and he chose to continue down that path after graduating.
From 1956 to 1958, Willard was forced to take a break from broadcasting to serve time in the Navy. From the 1950s to the 1970s, Willard worked in radio before moving over to TV. No matter what medium he was working with, Willard always took a lot of pride in everything he did. When he joined The Today Show in 1980, he quickly went from being a local celebrity to a national one. He proved to be a great addition to the cast and he was well-liked by viewers and other people in the broadcasting industry. Throughout his career, Willard received several awards and accolades including an honorary doctorate from Johnson & Wales University.
Willard's Work Outside Of Broadcasting
Many people are familiar with Willard's broadcasting career, but they may not know as much about some of the other things he's done. At various points in his career, he worked as a TV host. On top of that, he did a little bit of acting with guest appearances in several TV shows. From 1959 to 1962 he portrayed Bozo the Clown, an opportunity that would eventually head him into something even more noteworthy. According to Willard, he was responsible for creating McDonald's famous mascot, Ronald McDonald. In his book, Joy of Living, Willard wrote about the origin of the now-famous character. He said, "At the time, Bozo was the hottest children's show on the air…
There was something about the combination of hamburgers and Bozo that was irresistible to kids … That's why when Bozo went off the air a few years later, the local McDonald's people asked me to come up with a new character to take Bozo's place. So, I sat down and created Ronald McDonald." Willard went on to portray the character from 1963 to 1965. During that time, he did several commercials for McDonald's. The company, however, has often denied that Willard was the brains behind creating Ronald McDonald. On top of that, Willard also wrote several books and became successful as an author.
Willard's Legacy
Willard's long and successful career was a true testament to his hard work and natural talent. He accomplished more during his lifetime than some people can ever imagine. Along the way, he earned the respect of his colleagues, many of whom shared their fond memories of him on social media after his passing. For the most part, Willard was pretty private when it came to his personal life. However, one thing we do know is that family was a very important part of Willard's life. He was married to Mary Scott from 1959 until her death in 2002. The couple had two children together. Scott married his second wife, Paris Keena Scott, in 2014. They had been together for more than a decade before tying the knot. Paris also had a successful career in broadcasting although she worked behind the scenes. The couple did not have any children together. In addition to his wife and children, Scott also leaves behind two grandchildren. As of now, it doesn't appear that Willard's funeral arrangements have been made public. There is a good chance that his family will choose to hold private services.