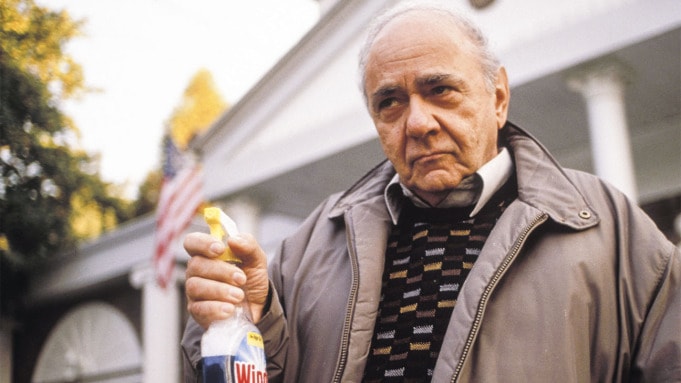 Death is never easy. Even when you know the person who passed is in a better place without pain or illness, it's never easy to lose someone important to you. When the world loses a star, it's difficult on so many. While we might not be close family or personal friends to legendary actor Michael Constantine, it doesn't mean that the world is not in mourning over the loss of the 94-year-old actor. His long, successful career is one that made him not only a familiar face, but a welcome one, to millions of fans, but it also made him familiar to us in so many other ways. He brought us laughter, tears, horror, joy, and so much more throughout the course of his many characters in his career, and the world is sad.
Michael Constantine's Early Years
Michael Constantine a Hollywood icon. The legend himself was born on May 22, 1927, in Reading, Pennsylvania. He was born with the name Gus Efstratiou. Both of his parents immigrated to the United States from Greece before his birth. It was the mid-50s when he began his career as an actor, and we can only imagine he had no idea just where that career would take him or what it would do for his life. He was a stage actor – an understudy, to be precise. While on the stage working as the backup to actor Paul Muni in a production called, "Inherit the Wind," he met a woman by the name of Julianna McCarthy. It was an instant connection for the two, and they married in 1953. Their marriage only lasted 16 years, but together they welcomed the actor's only two children, Thea and Brendan. He married a second time to a woman by the name of Kathleen Christopher, but their marriage also ended in divorce and he never remarried.
While studying acting under Howard Da Silva, he worked regularly both on and off-Broadway. He was also a watchman for a shooting gallery, working overnight shifts to make ends meet. It wasn't until 1959 that he landed his first film role in "The Last Mile," which was not a big role. It would take him another few years before he would hit it big with major roles. Despite many years of success as an actor, it wasn't until 2002 that he made a huge comeback and played the biggest role of his career when he starred opposite Nia Vardalos and John Corbett in, "My Big Fat Greek Wedding," as the father of the bride Gus Portokalos. This led to a short-lived television show, a second movie, and a lot of fame. He was an instant hit, and he made the character larger than life, memorable, completely loveable, and entirely amazing.
His Thoughts on His Biggest Role
When Constantine was given the script for "My Big Fat Greek Wedding," he wasn't sure it would be authentic. As the child of Greek immigrants, he didn't know that it would be a script he could get on board with. He auditioned for the role but also asked to see the script beforehand. He didn't want to take on a role that would not feel authentic and real, and he had some apprehension going into the audition without seeing the script first. Once reading it, he knew that it was not just good – it was amazing. His character walked around with a bottle of Windex like it was a personality trait, and it made him even more famous. He said in 2016, however, that he's a little tired of Windex because he gets hundreds upon hundreds of bottles of it from fans.
The Loss of a Legend
Michael Constantine is a man beloved by many. His coworkers, his friends, his family, and his fans feel the loss of this acting legend deeply. His family announced recently that the actor died peacefully in his sleep on August 31, 2021. There is no indication he was suffering from any illness or that he was not in good health for a man of 94. His family announced he died in his sleep of natural causes, which is not unexpected at the age of 94. However, it is still shocking, upsetting, and just unbelievable when someone who is so vivacious, full of life, and still so riveting is no longer with us. No one expects it from a healthy person who is still such an icon, but his fans and those of us who grew up watching him in his many roles do wish his family peace during this difficult time.
Tell us what's wrong with this post? How could we improve it? :)
Let us improve this post!