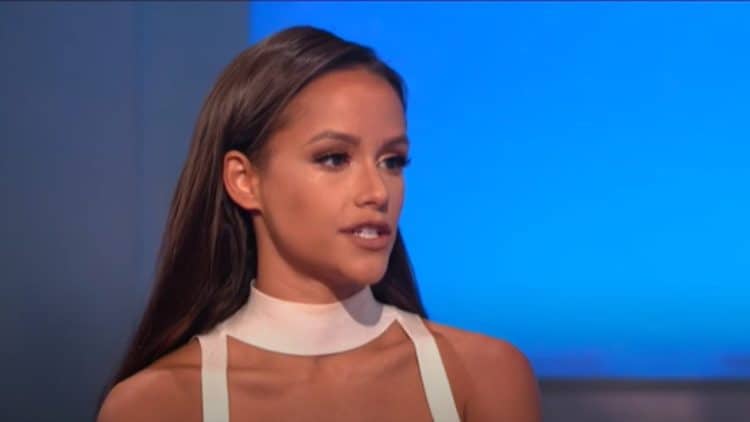 Long gone are the days when being on a reality TV show is a one and done thing. These days, a person can take a reality TV appearance and finesse it into a career in the entertainment industry; that's exactly what Jessica Nickson (formerly Graf) has done. Jessica was originally introduced to the public when she was a House Guest on season 10 of Big Brother. Even though she didn't win, she became very popular with viewers for her relationship with her now husband, Cody Nickson. Since Big Brother, she has gone on to compete in (and win) The Amazing Race and make several other TV appearances. Keep reading for 10 things you didn't know about Jessica Nickson.
1. She's Lived In Almost 10 States
Jessica has gotten the chance to experience several different areas of the United States. She was born in Florida but left the state with her family in the early 90s. She was raised mostly in Rhode Island. At the time her bio for Big Brother was written, she had lived in 8 different states. She currently lives in the Dallas, TX area with her family.
2. She's A Mom
While in the Big Brother House, Jessica formed a relationship with fellow House Guest, Cody Nickson. After the show, they went on to compete together on The Amazing Race. The two became engaged in 2018 and welcomed their first child together, a daughter named Maverick, in early 2019. In October 2020, the couple had their second child together, a daughter named Carter.
3. She Was In A Soap Opera
Reality TV isn't the only on screen experience Jessica has. After Big Brother, she also tried her hand at acting. She appeared in a handful of episodes of The Bold and the Beautiful between 2017 and 2018. She hasn't shared whether or not she has any plans to return to acting.
4. She's A Podcast Host
It's been a couple of years since Jessica's last TV appearance, but that doesn't mean she hasn't been staying busy. She is the host of a podcast called Now What? The podcast focuses heavily on Jessica's home life and what she has been up to since making her reality TV debut. According to her Instagram bio, the podcast has more than 8 million downloads.
5. She's A Brand Ambassador
If there's one thing being on reality TV is almost always guaranteed to do, it's get a person lots of social media followers. Between Instagram and Twitter, Jessica has almost 800,000 followers which has made her an attractive person for companies to partner with. She has been an ambassador for several brands including Bondi Boost and Smart Sweets.
6. She Likes To Interact With Fans On Twitter
Jessica is very active on social media and this is something her followers definitely appreciate. She enjoys using the platforms to interact with people and has been known to engage in conversations with followers on Twitter. Whether it be a response to a question or a retweet, Jessica likes to stay in the loop with the people who support her.
7. She Likes To Stay Active
Being a wife and mom probably doesn't leave Jessica with too much time for herself, but one thing she likes to do whenever she gets the chance is work out. She is and has always been a very active person who enjoys keeping herself looking and feeling good. Yoga is one of her favorite forms of exercise.
8. She Enjoys Traveling
When you've moved around as much as Jessica has, you start to enjoy the excitement of going to a new place and seeing what it has to offer. With that being said, Jessica is someone who loves to travel and she has gotten to visit several countries including England and France.
9. She's Still A Big Brother Fan
Sometimes people lose interest in a show after they've been on it, but that hasn't been the case for Jessica. Not only is she a Big Brother alum, she's also a fan. She still enjoys watching the show and has been keeping a close eye on the current all-star season. Like most other fans, she loves to live tweet while she watches and share her thoughts on how the House Guests are doing.
10. She's A Vlogger
If you've been wanting to keep up with Jessica, she has made it very easy for you to do just that. In addition to being on Instagram and Twitter, she and her husband also have a YouTube channel where they share videos of their daily lives and adventures they go on. Currently, the channel has more than 83,000 subscribers and over 4.5 million total views.
Tell us what's wrong with this post? How could we improve it? :)
Let us improve this post!