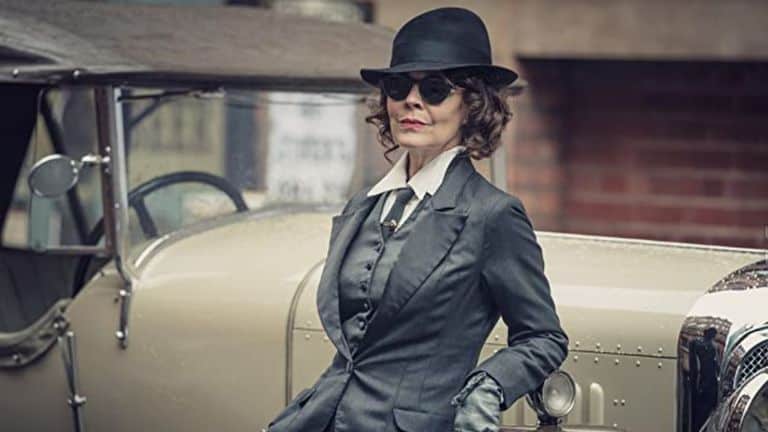 Everyone passes eventually, but quite often those that pass from anything that feels unnatural leave a giant hole in the lives of those that celebrated and depended on them for one thing or another. It's a hole that will fill eventually or be covered over, but for a time it's an aching pit that many don't feel will ever be healed, and Helen McCrory has left such a hole in the hearts of many people that enjoyed watching her act, and those that knew her personally. One way to fill that hole is with memories of what she's done and who she was since from our perspective she was a great and convincing actress that took the roles she was given and played them to such a great degree that they're going to be remembered for some time to come, especially those that happened to reach a wider audience. Helen definitely stuck to roles that, quite often, were more celebrated by English crowds than American, but her work has never been too hard to find for those that are dedicated fans that happen to enjoy watching her put on a show. Among the many actors that are out there, she's been one of those that falls so fully into a role that it's amazing to remember that she's been in so many different movies and TV shows since she delved so deeply into her characters that people might lose sight of her and simply remember the character.
It'd be interesting to see just how many people recall that she was originally cast as Bellatrix Lestrange in the Harry Potter movies, but had to bow out due to pregnancy, which allowed Helena Bonham Carter to step in and administer her own brand of crazy to the role. She did come back as Narcissa Malfoy, Bellatrix's sister, and was far calmer and reserved than Carter's character, which felt more accurate for Helen's overall style since she's been quite poised and rational more often than not, while Carter's take on Bellatrix was great since it left her as a slightly unhinged individual that would strike first and strike harder than Narcissa might. There's no doubt that there was strength in Narcissa, but she was also far more tender than her sister since her reaction towards her on-screen son, Draco, was much calmer and a lot kinder than her on-screen husband, Lucius. Plus, one great scene came during the final movie, when Narcissa gathered Malfoy to her and made it clear to her husband that they were leaving rather than continue the folly of fighting in Voldemort's service. In other words, Narcissa might not have been the same type of mother as someone like Molly Weasely, but she was still devoted to her family and as such would not put them in harm's way unless there was no other course. Once she learned that Draco was still alive, she even altered the course of the battle by allowing Harry Potter to live, lying to Voldemort that he was in fact dead.
Another great role that she played for a while Aunt Polly on the show Peaky Blinders. As Aunt Polly, or Aunt Pol, she has the capability to be absolutely vicious, but she does so in a way that's still calm, reserved, and doesn't make her prone to outbursts that often since she's such a carefully controlled individual. There's no doubt though that Aunt Pol has ice water in her veins since she's been through too much and seen too many things in her life to be taken advantage of so easily. Despite all that, she was still a compassionate and caring human being, at least to those she called family and friend since anyone else that even bothered to look at her family wrong was bound to be given no leeway since the whole point of Peaky Blinders was that even family ties weren't enough to keep a person safe at times, especially given that family can drag a person down just as easily as anyone else on this show. The loss of Aunt Polly is going to be rough though and it will no doubt affect the story in a big way if it continues forward, especially since she served as the backbone and sometimes as the heart of the show considering how important she turned out to be after a while. In essence, Helen's character was the woman that kept everyone in line and did her best to keep the family together.
Helen was a celebrated star in the movies, TV, and on stage and had the awards and nominations to prove it, as she was recognized as a very talented individual over the years. Her loss, like many others, is tragic, but she will remain another fond memory as the years go by. Rest in peace ma'am, you'll be missed.
Tell us what's wrong with this post? How could we improve it? :)
Let us improve this post!