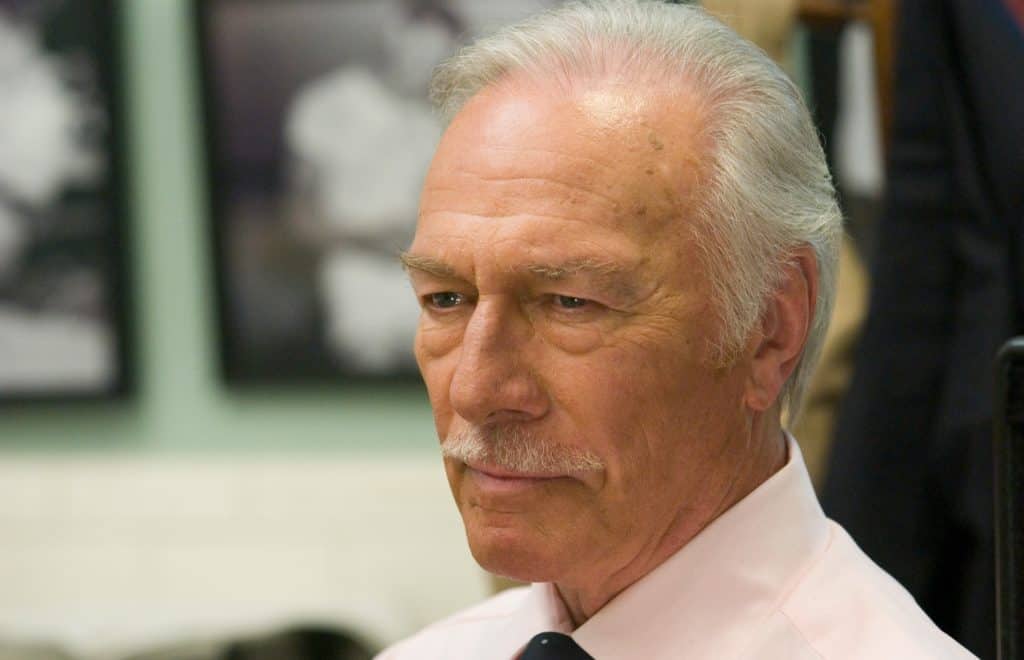 Another great actor has passed on and we're only two months into the year. But then, as I keep stating, and many already know, many of those that we've enjoyed for so many years have been getting older and a little more infirm, and the natural order of things is that people do pass away now and again. It's been tragic to learn of the passing of those that are still young enough to have plenty of years left to them, but gentlemen such as Christopher Plummer, who have experienced long and successful lives, are best remembered and mourned by those that feel the need. Instead of mourning the man, however, it behooves some of us to remember those times that we found him to be a great and very convincing actor. After nine decades on this earth, it's enough to think that a person would have earned a great deal of respect from others for one thing or another, and would be revered by many as someone that gathered a great number of memories that can be looked back upon and shared with those that recall when and where they happened. For instance, one regret that Plummer always had was that he never attended college, though his acting career obviously took the place of that, and he didn't look back nearly as much as anyone might think. But after making it big one would think that he might not need to, if only because he'd taken a path that would eventually see him become one of the big names in show business.
There are so many movies that he's starred in that it's hard to count them all, but there are those that are special to each person because they bring back a memory of something that was particularly pleasant or at the very least important to each individual. Personally, one movie that sticks out is Star Trek VI: The Undiscovered Country. It wasn't exactly a masterpiece and it wasn't really something that many people would think to mention, but somehow the character of General Chang stuck out in a way that didn't fit that well but was still great enough that one couldn't help but pay attention to him. Maybe it's the fact that he was a Klingon that quoted Shakespeare, or maybe it's because he was one of the many enemies that could match Captain Kirk for arrogance and was one of the more successfully deceptive villains in the series. But Chang was by far one of the better bad guys simply because Plummer was able to bring his style of acting to bear and somehow still kept the feeling that he was a hard as nails Klingon general that could be every bit as brutal as the rest of his people. In fact, his devious nature made him even more dangerous than many of his kind.
Another great role saw him playing an antagonistic role once again as in Dolores Claiborne he played Detective John Mackey, the man that had been trying to put the titular character, played by Kathy Bates, away for many years even though he couldn't find the evidence needed to do it. Mackey was so fanatical in his condemnation of Dolores that he was ready to pull just about any string he could without breaking the law, but near the end of the movie, it was found that he'd wasted much of his life trying to pin something on the woman only to end up a bitter old man that had nothing else to do but try to accuse someone that had already suffered enough. Plummer was the kind of actor that could serve as the kindly old grandfather in his old age, as he did at the beginning of National Treasure, or he could play the vilest human being you'd ever want to meet, which was what happened during Inside Man with Denzel Washington and Clive Owen.
Inside Man is kind of an interesting story since one really has to pay attention to what's going on if they want to know the whole story, and especially since Plummer plays a very shrewd businessman with something to hide. It turns out that Arthur Case, the role that Plummer played, was guilty of a war crime since he took a diamond ring from a friend that he'd betrayed to the Nazis. Anyone knowing anything about war crimes might realize that this is a big red flag, and as such the detectives on the case took Case to task for it, thereby ending the movie on what a lot of people would feel is a good note. Plummer was able to take on any role he needed and as such he was without a doubt one of the best actors that have ever graced the screen. Rest in peace sir, you'll be missed.