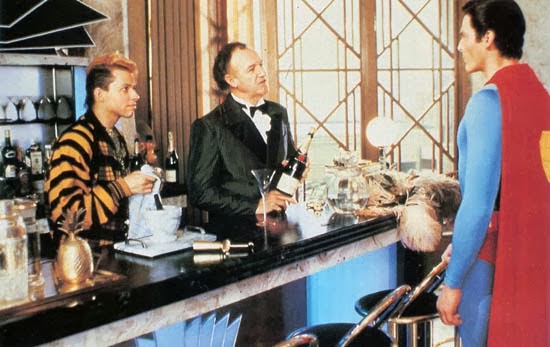 It's true that there have been a few Lex Luthor's throughout the years and they've all done their best to be the most ruthless and deceitful human beings as one can possibly be, but a lot of people are with Jon Cryer in stating that Gene Hackman was likely the best person for the job and is still the most iconic individual to ever take on the role. As Jeremy Dick of MovieWeb reminds us Jon was actually in Superman 4 and as a lot of people know at this point he came back years later to take up the same role of the man he's more than willing to laud as the greatest ever when it came to playing one of the most dangerous enemies that Superman has ever had. The fact that Cryer took on the role of Lenny Luthor, Lex's nephew, in the fourth movie was kind of prophetic in this case since even if no one knew that he would one day take up the role on the CW, it was still kind of telling to realize that Cryer had been so involved with the Superman story in the first place. Now that he's come back to assume the role that Hackman played so wonderfully it's easy to see that his time with the older actor was well spent and that Cryer didn't forget much of anything.
Over the years there have been a fair number of actors that have played the role of Lex Luthor, from voice actors to live action, and to be fair they've all had their good points and their downfalls. Gene Hackman's was that he was bound to get too old and after part 4 it was evident that he wouldn't be coming back for the role any time soon. Kevin Spacey, who came along in the 2000s, was ruthless and charismatic but there was something a little off about him, though if fans were asked it might be that they would say that there was something off about the movie itself. Jesse Eisenberg wasn't exactly the ideal version of Lex Luthor though he did have the slightly sadistic aspect that might have grown into something impressive, save for the fact that there was never a sequel to Batman vs. Superman: Dawn of Justice. Michael Rosenbaum played a younger Lex Luthor in Smallville, and in reality he wasn't bad as the show did quite well for a while and the characters were readily accepted by many. Something about Jon Cryer though is a bit of a surprise, especially after watching him in other roles such as Ducky in Pretty in Pink and Alan in Two and a Half Men. There just didn't appear to be much to him despite the fact that he was a good actor back then and still is. But the part of Lex Luthor, despite being defined by the fact that the character is simply ruthless, is also meant to be deceptive since for some time now his entire shtick has been that he's working towards the betterment of this or that when in truth he's working towards his own betterment, always.
So far Cryer has put in a great performance as Luthor and it's one that fits with the times, as with the others that have taken on the role throughout the years. That's the thing when it comes to who was the best and who was the worst, one has to take into account just what the time period was like and who fit the bill the best for the movie they were in. George Marston of Newsarama has a list that you might want to check out for that purpose. Batman vs. Superman was a rather dark movie and the Luthor we got at that point had potential but with Eisenberg's slightly twitchy nature it felt as though Luthor was too anxious, too filled with nervous energy, and it made him less of a ruthless mastermind than an intelligent man that might have serious impulse control problems. With Spacey it was a kind of 'go big or don't bother' attitude, and with Hackman it was all about being smarter and able to outwit the competition, and be ruthless while doing it. Every actor that's played Luthor thus far in history has managed to put their own spin on the character, and fans have reacted accordingly since between the comics, the animated series, the live action show, and the movies, it's hard to say with complete accuracy just who did it best. Hackman is without any doubts high on the list since he was the first that really nailed the role and raised the bar for those that would come later. But Cryer has so far been good enough to earn the mantle of Luthor. The fact that he credits Hackman on his birthday however is very inspiring since it shows that he's fully capable of recognizing just who got the ball rolling.