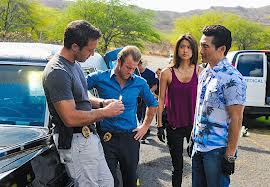 What kind of sicko kills cops in cold blood? Curt Stoner, that's who. Another version of the hook man legend, this time, a Vietnam veteran sniper with two bionic arms. He lost them in a bank job gone wrong more than twenty years ago. Now, instead of killing teens in love, he is getting revenge on the cops that took his arms. Ben Keoki, victim number one, was an honest cop just riding along in a funeral procession when a bullet with his name on it (seriously, his name was on it) rips through him.
Bang Bang time! Gunfire ensues. McGarrett does his usual ninja stunts in attempts to play the big hero. Really, McGarrett? White pants while you are flailing around on the dirty ground? What would your mother say because those grass stains are never coming out. Honestly, McGarrett's pants are the least of his concerns as he leaves the safety of his police barricade to go and smoke out the suspect. When he slays the man thought to be killing his friends, he clears the rest of the area. That was not the man killing Steve's friends. During the shootout, another officer is shot dead. Poor Officer Ookala. A drug dealer is hired by the "hook man" to create a diversion so he could take out victim number two
Well what do you know? He found another bullet casing with an inscription in it. The Governor tells McGarrett not to make it personal. Um, have you met Commander Steve McGarrett. He makes any attack on cops a personal attack on his life. At the half-time mark, we cut to the killer, back in his evil lair carving more names into bullets. Just before the big break, we see the name: MCGARRETT. Dun! Dun! Dun!
So this killer makes his first attempt on McGarrett's life, but the owner of the apartment he is commandeering comes home at the wrong time. Can you say dead man? He lines it up, takes the shot and…it's a miss. Steve and Danny end up in a hot pursuit car chase with the sniper and it ends when he drives off the docks. They track the killer to his hideout where Steve finds the clue to the final victim. Inside the night table drawer is a picture of himself and written across it is "You will pay for the crimes of your father". What? How is that any fair? All's fair in hate and war. Curt Stoner gets a taste of his own medicine when Kono shoots him down.
What a bummer end to what was supposed to be a heart racing episode. I was expecting a little more action, maybe some injured McGarrett. I mean, yeah the guy is a Navy Seal, but how do you not get shot or at least grazed by the bullets of an ex-army sniper? He has pretty accurate shooting percentages. The end of the episode was the most touching and strangest moment in Five-0 history though. McGarrett was fondling the bullet meant for him over Curt Stoner's dead body. He is about to walk away , but he looks up and sees the ghosts of the fallen cops: Ben Keoki, Officer Ookala and his father. I did let a few tears fall for Steve McGarrett because I think he is working so hard to avenge his father's death by working as a cop. I like to see touching moments with Steve because it reminds the viewers that even warriors like him feel pain and loss. Maybe there will be more of that in the future.