Simon, Janis & Flasso: Simon, working with the FBI, informs Vogel and the rest of the team that 1) he wants a beer, but 2) they need to find Lloyd immediately. Lloyd Simcoe's mind is a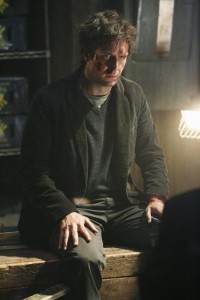 "priceless resource," Simon tells the agents, especially if whomever took him wants to recreate the blackout (something for which Simon still adamantly disputes his and Lloyd's responsibility). The next day at FBI headquarters, Simon offers to break into Lloyd's computer to see if there is anything useful there. Although he wants to go alone, Janis is assigned to escort him. After some playful banter between Simon and Janis about his request for a beer at Lloyd's house, Janis finally acquiesces and goes to the kitchen. She is met by two burly men in the masks Mark saw on the gunmen in his flash. Janis awakens on the kitchen floor, and Simon is gone. A handcuffed man is thrown down a flight of stairs into the basement where Lloyd is being held. The two scientists have been reunited, as Simon is revealed to be the unfortunate one in the handcuffs. Simon is tortured by Flasso when Lloyd won't answer the questions posed to him, starting with having cigar ash blown in his face, and eventually ending in him losing his pinky finger. When Mark crashes through the front door of the building he is being held in, Simon grabs a gun that had been dropped by one of Flasso's goons, and runs into the back alley. He meets another of the goons there and blows his brains out. Simon is eventually put into an ambulance, where he is met by none other than Flasso. Simon wants to know why Flasso cut off his finger. "I needed to direct suspicion away from you," Flasso coolly notes. What?!? Simon and Flasso are in cahoots! Flasso continues that Simon must continue playing ball because how would the world react to finding out that Simon was the one person known to be awake during the blackout. Simon is Suspect Zero!!
Flash back to October 6, 2009, the day of the blackout. Simon is attending his father's funeral in Toronto. After he consoles his younger sister, Simon excuses himself and gets in a car. The driver informs him that there is a flight to Detroit waiting for him. When he protests and says he no longer wants any part in the conspiracy, he is told that he has been involved since the age of 13; he has no choice but to see this through. He is given a ticket to the Tigers baseball game. Once at the stadium (which looked a whole lot like old Yankee Stadium), Simon receives a phone call from none other than D. Gibbons, aka The Chess Player. Gibbons instructs Simon to take his seat, grab the popcorn under his seat and start eating. In the bucket, Simon finds a ring with an alpha symbol on it. Gibbons tells him to put the ring on immediately. He does, and he watches as 50,000 people fall unconscious around him. He is then instructed to walk to the nearest tunnel, where he is met by Flasso. Back in the present day, Simon is tended to at the hospital by Olivia. He leaves against the doctor's orders, and is trailed by Janis. When he falls ill outside the hospital, faking an allergy to penicillin, Janis runs off for help. Simon uses this opportunity to flee.
When Simon deboards his plane in Toronto, he is met at the gate by Janis. He pleads for 24 hours in Toronto — his sister has run away and he wants to help look for her. Janis acquiesces, but Simon must wear an ankle tracker and be escorted by Janis. Simon and Janis go to Simon's mother's house, where Janis meets the Campos matriarch and other sons. While Simon takes a shower, his mother tells Janis about the prodigy Simon was, that her son never lets himself be pushed around, and that he always gets even. Janis' phone begins to buzz; Simon's tracking device is moving. Simon is on his way to visit his old physics professor Phillip. The old friends barely exchange pleasantries (and Shakespeare's "St. Crispin's Day Speech") before Janis shows up again. She allows Simon to quiz his former adviser (in fact, Phillip advised Simon on the designs stolen for the antennae built in Somalia). Simon wants to know if it is possible to create a "decoherence wave" powerful enough to disrupt the consciousness of everyone in the world. When Philip answers in the affirmative, Simon asks further whether something can be built to anchor the consciousness in this time. Phillip tells Simon he doesn't believe it is possible, and ushers his student out.
At a Campos family dinner later that night, the doorbell rings. It's Uncle Teddy, or as the audience knows him, Flasso! He is an old family friend, who has been involved in Simon's career since he attended the University of Toronto at 13. When Simon reacts poorly to Flasso's presence, Flasso invokes Simon's father. Simon flashes back to during the blackout under the stadium. Flasso tells Simon that was very unfortunate Simon's father died when he did — it's a convenient alibi for Simon's whereabouts during the blackout. Flasso instructs him to make up a convincing flash, as he didn't have one. Simon is escorted out by one of Flasso's goons, who proceeds to mock Simon about the danger of hunting, the activity Simon's father was participating in when he was "accidentally" shot. Simon, showing of some major kung fu skills, drops the goon, jumps on top of him and crushes his windpipe. Simon now has his flash. Back in the present day, the phone rings. It's Annabelle; she says she's at the Port Authority Bus Terminal in New York City. Flasso shows Simon, in private, what is actually going on. Annabelle is actually reading a script with guns pointed to her head. Flasso explains that she is an insurance policy to make sure Simon does what he is told. Outside the house, Simon continues to question Flasso, asking if the ring was what kept him awake during the blackout. Flasso wasn't sure, and not particularly interested. Further, Simon's teacher, Phillip, wouldn't be able to help Simon get the answers he seeks, as Phillip is dead in the back of Flasso's car. At his breaking point, Simon shoves Flasso down and jumps on top of him. He performs chest compressions while demanding a meeting with the person "pulling the strings" on the whole conspiracy. When Flasso chokes out that Simon's request is impossible, Simon continues to press on Flasso's chest, robbing his heart of oxygen. Flasso dies, and no one will be the wiser as any bruising will simply look like an attempt at CPR. That was for Simon's father. People should remember: Simon never gets pushed around, and he always gets even.
Commentary
Most of my reaction to the spring premiere can be found here, so I won't repeat myself. The first hour was very active, and kind of all over the place, as it tried to check in with all of the characters in an equal fashion. This was necessary as the first hour had to reintroduce all of the issues at play amongst the characters, not only so devotees of the show can remember what happened, but so any new viewers can catch up and understand the show. For all of its hyperactivity, I actually think the show did a good job in the first hour accomplishing these goals; however, I thought the show really took off during the second hour. With an almost sole focus on Simon, the show found a rhythm that I hope it continues to employ.
One of the main criticisms of FlashFoward during the fall was that the show seemed obsessed with how cool its concept is. They decided the mystery of "who caused the blackout?" was a sufficient motivating force for the existence of the show. Unfortunately, for most viewers, this is not enough. With the second hour of the premiere, the show allowed the audience to really understand the reasoning behind Simon's actions, attitude, fears and goals. Speaking for myself, I am now invested in Simon, much more than I ever was before; and you know what? This makes me more interested in the central mystery as well. Now I know Simon is Suspect Zero, and that he was manipulated into participation in the blackout, essentially since he was 13. Who chose him? Who is still controlling him? Is there someone who brought additional knowledge to Simon's designs to actually perfect the machine that caused the blackout? Can Simon create a counteracting force to help prevent a second one? These are all questions directly related to the show concept that arise specifically because we have been told about Simon's background. Should every subsequent hour ditch most of the rest of the cast to service one character at a time? No, of course not; however, allowing the audience to breathe inside these characters instead of constantly beating them over the head with the sci-fi mystery, will allow viewers to become invested in the drama inherent in the relationships already established. People need to care about the fate of the characters if they are going to come back every week. I think the hiatus allowed the creators to discover this idea, and retool the series appropriately.
What did you think about FlashForward's return? Did you enjoy the focus on Simon in the second hour? Would you have preferred the second hour to be structured like the first? Will you continue to watch the show for the rest of the spring? What else struck you? Please leave your thoughts, comments and theories below. You can check out photos for next week's episode, "Blowback," here. Remember to check out TVOvermind for more on FlashForward, and for all of your TV needs.
Follow: twitter.com/MikeNJD