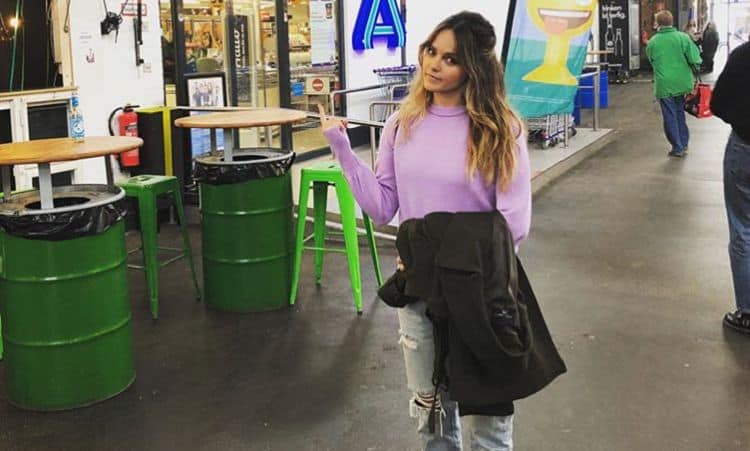 Ever since CBS announced their 'Silence of the Lambs' sequel series, we've all been on the edges of our seats wondering who it'll find for its Clarice. Well, wonder no more. The actress set to take on the challenge is none other than Australian actress, Rebecca Breeds. Known for her performances on The Originals and Pretty Little Liars, Breeds has been quietly preparing for the big time for years- and if the hype surrounding 'Clarice' is anything to go by, she's finally found the role to get her there. To find out more, keep reading.
1. Kindling the Fire
Breeds' passion for performance can be traced all the way back to St Andrews Cathedral School, where her activities in the school's amateur productions earned her the title of Drama Captain. After deciding acting was where her future lay, she enrolled in a double degree in music and performing arts at the University of New South Wales. By that time, however, she was already actively auditioning, and only lasted 6 months at university before deferring her studies for a film role. Over the next couple of years, she appeared in numerous TV commercials, eventually securing her first lead role as Leah Pointin in the 2008 Australian film, Newcastle.
2. Breakthrough Role
In June 2008, Breeds made the transition from "up and coming" actress to one who'd officially "arrived". The role that got her there was that of Ruby Buckton on Home and Away, one of Australia's longest-running and most popular daytime soaps. An immediate fan favorite, Breeds managed to pull in two Logie Award nominations over the following few years, including Most Popular Actress in 2010. She eventually left the soap in June 2012, with her final scenes airing on 15 August 2012.
3. Future Pop Star?
Aussie soap stars have something of a history of making the move into music (with Kylie and Dannii Minogue, Delta Goodrum, and Holly Valance being just a few). Although Breeds is happy enough to concentrate on her Hollywood career for the moment, she's not ruling out a future musical adventure entirely. "I wouldn't seek a pop career but (maybe) if there was an opportunity to record some music I really enjoy doing, that was maybe a bit more personal than the pop scene or more humble," she told Back to the Bay. "I don't like flashy lights. I like sitting on a stool with a guitar. That would be more what I'd like to do. You've got to see what opportunities come along. If they don't, they don't. If they do, we'll see what happens."
4. Romantic Bliss
Home and Away wasn't just were Breeds made her name; it was also where she met her now-husband, Luke Mitchell. The pair began dating in 2009, with art intimidating life shortly after when the soap's writers introduced a love story between their respective characters. After a whirlwind engagement, the couple married in January 2013. Since making the move to the US, Mitchell's career, like his wife's, has gone from strength to strength, with roles in The Tomorrow People, Agents of S.H.I.E.L.D. and the military drama The Code.
5. Career over Family
Breeds and Mitchell may have married for over 7 years, but so far, they've yet to welcome any new additions to their home. According to Mitchell, the pair are too busy to even think of starting a family and have put any plans for kids on the back burner while they concentrate on their blossoming careers. "We're riding this wave of our career at the moment,' he told The Daily Mail.
6. Hollywood Calls
Shortly after leaving Home and Away, Breeds decided to abandon her native Australia to try her luck in Hollywood. The move proved successful, and shortly after arrival, she landed her first US part with the role of Abby Russo in Rob Greenberg's We Are Men. Although the show was canceled after disappointing ratings, Breeds had clearly done enough to win over TV execs, and in 2015, she was offered a part in the 6th season of Pretty Little Liars.
7. TV Gold
If you're revamping a cultural phenomenon like Silence of the Lamb, it's unlikely you're going to gamble its success on an untested actress. And at this stage, Breed is far from that. Since establishing herself as one of the leading lights of Australian daytime TV, she's made the transition to US prime time TV with ease, with some of her most notable roles including Aurora in the supernatural series The Originals (2015—2016), Camille in Molly (2016), Megan James in The Brave (2017), and NCIS Agent Scout Manion in The Code (2019).
8.. Film Glory
She may be best known as a TV actress, but over the last decade, Breeds has also starred in a handful of well-received films. Her first-ever appearance on the big screen came with the role of Leah Pointin in the 2008 Australian film, Newcastle. Some of her most significant roles since include Emma in Scent (2011), Stella in the Bollywood movie Bhaag Milkha Bhaag (2013), Keevey in Three Summers (2013), and Sally in Slam (2018).
9. Return to the Stage
Going by her recent casting in Clarice, TV is clearly working out well for Breeds. But as an actress who enjoys the full spectrum of performing (not to mention one whose passion was first ignited on the stage), she's keen to start treading the boards again soon. "Acting work is good, wherever that is," she told Back to the Bay. "I did a lot more stage when I was younger, but for the last three years, I've only done screen. But I'm not finished with that yet, there's lot more to do, but if the chance came to be on stage, I would definitely pursue it."
10. Poised for the Big Time
If you hadn't heard the name Rebecca Breeds until recently, you're not alone. However, if the events of February 2020 are anything to go by, her years of traveling the subway unnoticed may soon be over. Last month, CBS announced it had cast the actress in the titular role in its upcoming Silence of the Lambs sequel, Clarice. Finding an actress capable of stepping into the very big shoes of Jodie Foster is no easy task, but in Breeds, CBS clearly feel they've met their woman. The series will follow Clarice a year after the events of Silence of the Lamps, and judging by the hype, is set to be must-watch TV.