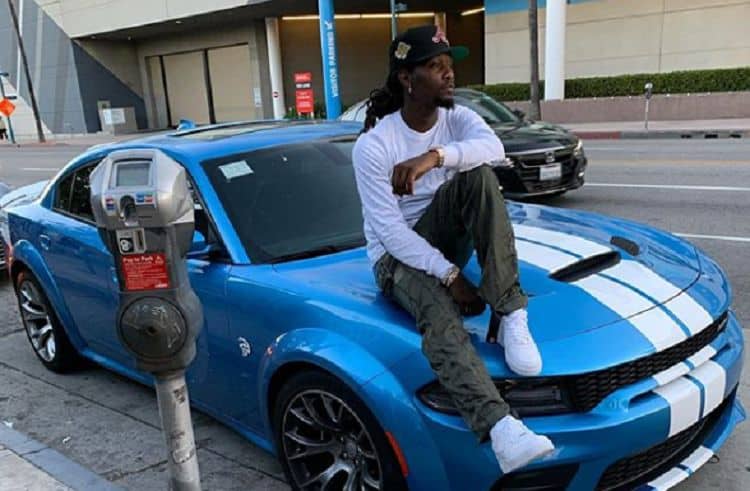 Rapper Offset, who is one-third of the hip-hop trio Migos, has recently been arrested on drug and gun possession charges. The rapper was driving his Porsche 911 Carrera in Jonesboro, Georgia, and his bodyguard Senay Gezahgn was a passenger at the time. He was initially pulled over for making an illegal lane change, but police searched his car and found three guns and a small amount of marijuana. The rapper was also carrying over $100,000 in cash. This is not the first time that the artist, whose real name is Kiari Kendrell Cephus, has found himself hitting the headlines. Here are ten facts that you probably didn't know about Offset.
1. He Grew Up with His Bandmates
Migos consists of Offset, his cousin Quavo, and Quavo's nephew Takeoff. They are closer than most bandmates as they grew up together in Gwinnett County, Georgia. All three boy's grew up in Quavo's mother's small house. This was because Quavo's father had died when he was just four years of age and both Takeoff and Offset's fathers had left when they were young. Therefore, Quavo's mother raised all three boys herself.
2. He Attended Military School
Like his bandmates, Offset displayed many talents at school and he was especially skilled at football. Unfortunately, he could not control his temper, and this caused many problems for the star when he was at high school. As a result of his uncontrollable temper, he was sent to military school.
https://www.instagram.com/p/BlJ-97VH7yM/?hl=en&taken-by=offsetyrn
3. He Has Been in Trouble with the Law Before
Unfortunately, this recent incident is not the first time that Offset has been in trouble with the law. He was first arrested in 2011 for larceny and marijuana possession. Then, in 2015, all three bandmates were arrested on drug and gun charges. While Takeoff and Quavo got plea deals, Offset was sentenced to eight months in jail.
4. He Has Become a Fashion Icon
Although he considered himself a stylish man, Offset never intended to make any particular fashion statement but being in the limelight has led to him becoming a fashion icon. He and his bandmates are particularly well-known for wearing multiple elaborate gold and diamond chains. He is also known for wearing black turtleneck shirts.
5. He Has Starred in Fashion Campaigns
As Migos has become so successful in the music industry, it has led to other opportunities opening for the bandmates. For Offset, this has included starring in several fashion campaigns. These have included campaigns for fashion designers Lavati, Bryce Barnes, and Gosha Rubchinskiy.
6. He Appeared with His Group on the Front Cover of Rolling Stone
One of the highlights of Migos' careers was appearing on the front cover of the February 2018 issue of 'Rolling Stone' magazine. This issue contained an in-depth interview with the three bandmates about their success and future plans.
7. He Has a Reputation for Walking Out of Interviews
Over the last year, Offset has earned himself a reputation for walking out of interviews if he doesn't like the questions he is asked. He even walked out of an interview with Rolling Stone once because they asked him about his engagement to rapper Cardi B.
8. He Had a Public Fall Out with Joe Budden
Offset and his Migos bandmates have a long-running battle with rapper and broadcaster Joe Budden. This originally stemmed from the group being interviewed by Budden along with another artist. When an altercation broke out, Budden dropped his microphone and abandoned the interview. The row later escalated when Migos included a derogatory comment about Joe Budden in one of their songs. In turn, this led to a social media battle between the two sides of the argument in which many other people became involved.
9. He is a Father of Four
It is well-known that Offset is married to fellow rapper Cardi B and that they have a daughter together. The couple got married in September 2017 and their daughter, Kulture Kiari Cephus, was born in July 2018. However, Offset already had three children from previous relationships. He has two sons, Jordan and Kody, and a daughter called Kalea.
10. He Was at the Center of a Homophobic Controversy
Like many rappers, Offset has caused controversy with the lyrics of his songs. In January 2018, he faced criticism for a line of one of his songs that says "I cannot vibe with queers'. This was viewed as a homophobic comment and upset the LGBT community. Offset apologized for any offence caused and explained that he did not associate the word queers with homosexuality. He said he had used the term to describe people who are odd or eccentric.