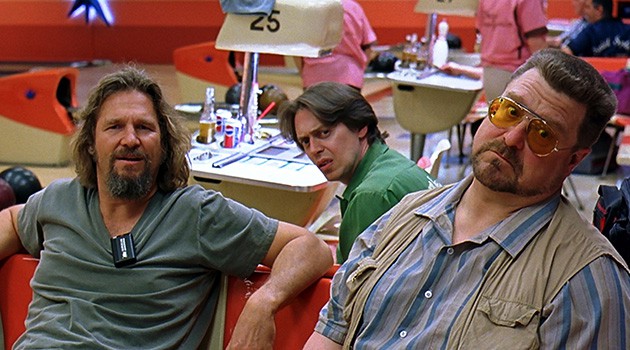 There are a lot of supporting characters in The Big Lebowski, one of the greatest cult classics ever made, but some of them just don't make the cut when it comes to who's ranked as the best. Some of them are just way more memorable than others and some are kind of just there to be there. Every movie has to have some filler and unfortunately actors can be used as filler just as much as a plot or a premise or anything else that needs to be added in to fill a gap in the story would otherwise be hard to explain. In this movie the number of characters is high enough that they really kind of start to show their worth after a while when the main story starts unfolding and the characters are given their due prominence. The one thing that should be easy to agree on is that the main three, the Dude, Donny, and Walter, are above and beyond the list.
That's just how this is going to roll.
5. Jesus Quintana
Jesus is kind of a slime really when you look at him and when you learn his back story it's even easier not to like this guy. But thanks to John Turturro he provides such a colorful character in the film that he kind of fills a niche that the movie couldn't do without. Yes he's disgusting and extremely annoying but he's still a very needed part of the film.
4. Bunny Lebowski
Bunny is the spoiled little girl that marries a millionaire and then just runs off with friends while her husband tells everyone that she was kidnapped in order to pull money out of the family trust. She's not the main bad guy but she's definitely not the protagonist either since she's all about herself and seeing to her wants and needs while attempting to ignore a huge debt she owed to the wrong people.
3. Brandt
Brandt is basically the guy that's just there to serve the person he's attached to. He's a welcome mat, a fool, and a sycophantic butler of sorts. Phillip Seymour Hoffman was a great actor during his time and this was perhaps one of his most simple-minded roles of all time.
2. Jeffrey "The Big" Lebowski
If anyone in this movie was able to claim the title of 'big bad' it would be this guy. He's mean, cantankerous, and will do or say just about anything to get the money that was his late wife's. His daughter can't stand him, neither can his trophy wife Bunny, and the Dude and Walter have by the end of the film had enough of him. In fact it was this Lebowski that should have gotten roughed up from the start.
1. Maude Lebowski
Despite being the person that hired the thugs that initially roughed up the Dude, Maude is hard to see as a real bad person in all of this. She's an artist to be sure and a strange person as well without a doubt. But throughout it all she might be kind of strange and a bit twisted but she's still not nearly as mean as her father.
There's several other supporting characters but these were the best of the bunch.