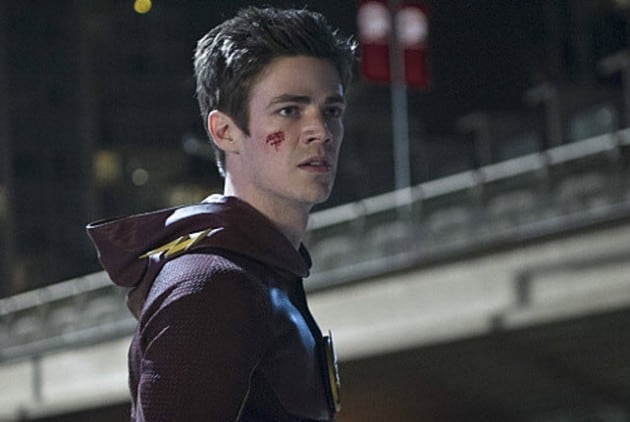 For two weeks now, we've been promised a "very emotional" midseason finale from The Flash, which in TV world is usually code for someone dying. But as ever, The Flash defies the odds and manages to turn in an emotional episode using…actual emotion. Crazy, right?
Even though there was a superhero showdown between The Flash and Reverse Flash that had the two speedsters slugging it out, the focus of the episode was almost entirely on character relationships, and the various tragedies that came with them. Here are the four most powerful moments in order of how hard they hit.
4. Caitlin/Ronnie
Only one moment doesn't involve Barry Allen himself, and that's Caitlin at long last finding out Ronnie is alive, but uh oh, he's a meta-human and possibly crazy. To me, this was really the only moment that didn't really work. I think there was a better way to go about revealing Ronnie was alive to Caitlin, as he just sort of wanders up to her one day, but the changes his mind. And who sees homeless looking dude stalking them in a parking garage, and then instead of getting in their car, starts trying to figure out where he went? I don't know, I think this reveal needed its own episode, and the moment felt shoe-horned in just so every cast member could have something emotional happen to them
3, Barry/Joe
You expect emotional moments between Barry and his crush or Barry and his father, but this one really took me off guard, and really sums up how well this show develops its characters. Jesse L. Martin as Joe could have easily just been a "gruff dad/cop type" on The Flash, but the show has allowed him to be so much more than that. His line about "needing his Barry Allen" was enough to make you choke up.
2. Barry/Iris
As someone who has been on the Barry end of this conversation, and had it go roughly the same way, Barry finally telling Iris how he felt was an incredibly well-done moment. It was genuine and honest without being cheesy, and without producing a nonsensical result like Iris ditching her year-long relationship and kissing Barry. That may have worked for The Office, but real life is just a little more complicated than that. Of course Barry and Iris will probably get together eventually, but this was a good, necessarily moment where everything is out in the open, and it was handled really well.
1. Barry/Dad
We've seen Barry visit his dad in prison a few times now, but this time the conversation was more much impactful than anything else that's come before it. Barry is heartbroken that he finally had the super-criminal that killed his mother in reach, but let him get away. "Up until now you were in here because of him, now you're in here because of me," Barry says tearfully. But his father tells him that the man in yellow has taken too much from his family already, and not to let him take any more. It was an incredibly well scripted and acted scene, and at least the last three of these on this list should be enough to convince doubters that The CW shows lack talented actors in lieu of casting pretty faces. That just isn't the case.
Moving past the emotion, the big reveal of the night was that, surprise, surprise, Harrison Wells is actually Reverse Flash! This is no big shock to anyone even remotely familiar with Flash comic lore, but the show has been hinting at it pretty strongly by making Wells act shady as can be with his magic chamber which allows him to walk and a computer that lets him read newspapers from the future. It's still not quite clear what his ultimate plan was, but the gist of it he was able to time travel to kill Barry's mom, which led to the chain of events that would turn Barry into the Flash. Or something like that. They're borrowing parts of the "Flashpoint Paradox," but it's unclear what they'll keep and what they're changing.
What did you think of last night's Flash finale?
[Photos via The CW]