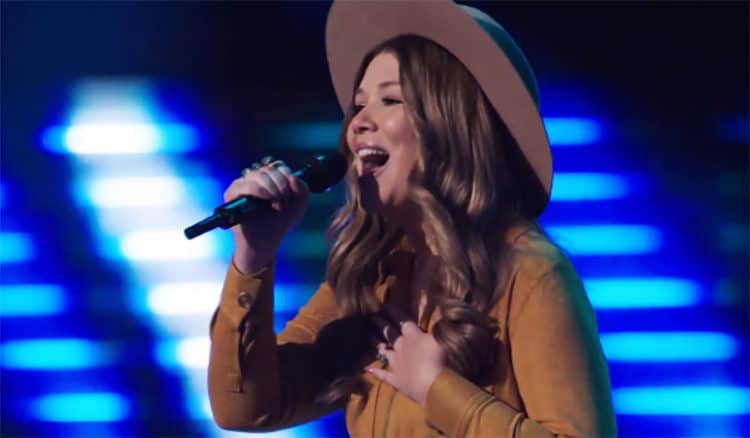 Rachel Mac may be just 15-years-old, but she has the poise, professionalism, and vocal ability of someone three times her age. The talented teen recently wowed the world with her blind audition for The Voice. Rachel performed a beautiful rendition of "Let if Fly" by Patty Griffin. Although Nick Jonas was the only judge to turn his chair around, fans of The Voice know that it only takes one judge who is willing to give a singer a chance. Rachel is excited to see what the rest of the competition has in store for her and there are already a lot of viewers who are excited to go along for the ride. Here are 10 things you didn't know about Rachel Mac from The Voice.
1. Her Father Got Her Into Music
Rachel has been singing for the majority of her life and her introduction to music came from someone very close to her: her father. Rachel credits her dad with being the person who inspired her to get into music. He has continued to support her every step of the way.
2. She Is Very Family Oriented
Rachel's parents divorced when she was young, and she and her sisters were raised by their father. Still, she insists that she has maintained a close relationship with her as well. Although Rachel's life is a little more hectic than the 'average' 15-year-old, she always makes time to hang out with her family.
3. She Is A Big Blake Shelton Fan
One of the reasons Rachel was excited to be on The Voice was because it gave her a chance to perform in front of Blake Shelton. She has always been a huge fan of his and when she was in elementary school she even gave an entire presentation on him. Although it would have been nice if she could've gotten on Team Blake, she's happy with her decision to work with Nick. Plus, the fact that she got to share her Blake Shelton story with Blake Shelton himself is definitely something to be proud of.
4. She Grew Up In The Church
Rachel's faith has always been important to her. Her father is a worship leader at a local church and Rachel has spent a lot of time there as well. Even though country music seems to be her focus at the moment, singing at church has played a big role in Rachel's style as a musician.
5. She Hasn't Released Any Original Music
Due to her young age Rachel hasn't had as much time to build up her career as some of the other contestants on The Voice. She has performed a lot of cover songs, but at the moment it doesn't appear that she's released any of her own music. There's also no information to suggest that she has any songs of projects in the works.
6. There Are Already Fan Threads Dedicated To Rachel
So far, Rachel has only done one performance on The Voice but that hasn't stopped lots of fans from falling in love with her sound. She already has a few fan threads dedicated to her Idol Forums and it looks like many users were familiar with her even before The Voice.
7. She Plays The Guitar
Rachel isn't just a singer, she's an all-around musician. She has been playing the guitar for several years and she often accompanies herself during performances. Singing is obviously the primary focus on The Voice, but it would be great if we got to see/hear her play the guitar at some point during the season.
8. She Loves Dogs
Anybody who has ever had a dog knows that the term 'man's best friend' couldn't be any more accurate. The bond between dogs and humans is truly indescribable and Rachel knows this from first-hand experience. Rachel has an entire highlight section dedicated to her dog.
9. The Voice Is Her First TV Show
Over the last few years, TV talent shows have become increasingly popular. Some people are willing to audition for as many as possible until they find an opportunity that works in their favor. Rachel, however, is completely new to the TV world. The Voice is the first time Rachel has done a TV talent show and it doesn't appear that she's even auditioned for any others.
10. She Has Some Theater Experience
Rachel doesn't have any official acting credits, but her bio for The Voice mentions that she has some theater experience. She hasn't mentioned whether she has any plans to pursue acting at a more serious level, but music appears to be her primary focus at the moment.
Tell us what's wrong with this post? How could we improve it? :)
Let us improve this post!