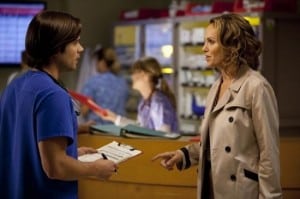 After a week without Private Practice, Tuesday night brought one of the most distinct episodes of the series. With the extremely ominous title "You Don't Know What You've Got Till It's Gone" the episode delivered a new brand of tension and anxiety, and went where I'm surprised even Shonda Rhimes would go.
The episode introduced new doctor James Peterson (Matt Long), to everyone at Saint Ambrose. In her meeting with him, Charlotte, while fighting some severe morning sickness, remarks at how he probably doesn't want the job because he's a USC hot shot with trauma center experience. But, she promises him that he'll have a much faster track to promotion at Saint Ambrose than anywhere else — and just like that, Dr. Peterson is in the game.
Thanks to a nasty rainstorm the ER at the hospital is extremely busy and backed up. Amongst the patients are Pam and Todd Reiter, little Sarah Nelson, and Sheldon's patient Nick Calhoun.
The conflict surrounding James Peterson heats right up following his treatment of Sarah and her fractured wrist. Based on her medical history — three injuries in two months — James believes it's a case of abuse, and despite the fact that Cooper trusts the family, he's determined to follow protocol and contact Children and Family Services. His determination goes further in Todd Reiter's case. The man believes he suffers sympathy symptoms with his wife's pregnancies, but as with Sarah, James is set on learning more — thankfully here, as his intuition saves the man's life even after Amelia insisted extra scans were not necessary.
Clearly, James Peterson is not against making his opinion known, especially when it comes to Nick Calhoun. Sheldon hears first hand, still working on helping the man who came to the ER with an adverse reaction to his medication. According to Peterson, Calhoun is nothing but a sexual deviant and someone "who matters" deserves the bed he's taking up in the ER.
The episode also explored both Addison and Jake, and Stephanie and Sam's relationships. When a patient of Jake's comes in suffering from yet another miscarriage, Addison disagrees with Jake on the woman's desire to try again. Jake, who has high hopes for his patient doesn't agree with Addison's firm belief that it's probably time for the woman to explore other options to have a child. The two of course, butt heads throughout the entire episode. To make matters worse, Addison lets her past with Sam slip to Stephanie…who knew absolutely nothing about it. Stephanie backs Sam into a wall, lecturing to him about how wonderful she's thought he is, listening as he explains what actually happened between he and Addison and he really does like her, but she says goodbye.
The tension of the hour escalates rapidly when Sarah goes missing from the Emergency Room. Earlier in the episode we learned that Sarah's parents are separated and have a rather ugly relationship due to the fact that Sarah's father had an affair. When speaking to Violet, Sarah described how her parents yell at each other and it makes her want to run away. Of course, the hospital springs into action to look for the girl. Sheldon, for one, knowing full well about Nick Calhoun's struggle with sexual urges towards young girls, panics, races through the hospital and regretfully assumes the man is involved with Sarah's disappearance.
Going with the heavier tone of Season 6, Sarah is sadly, not found by the end of the hour. I'll admit, even despite Shonda Rhimes' reputation for heartbreaking storylines, I was a little surprised she went this far with a child's storyline.
To cap the episode off, we saw Dr. Peterson's failed attempt at asking out Amelia. Rather bluntly, Amelia tells the doctor that no, she doesn't drink. She explains about her son and calls him out on why he's propositioning a 'date,' — he thinks they're about the same age and that they could have fun, but she's about one hundred years older than she looks. Amelia being Amelia stands up to the man's cockiness without cracking, herself. Now, will Amelia's apparent distaste for James continue? Or turn into something…else?
The latest episode of Private Practice was undoubtedly different from other episodes in the series. It was very contained, most of the episode taking place in the Emergency Room, and moved a lot faster that I'm used to for the show. Even though the storylines did nothing but tug on my heartstrings, I thought it was a very well-done episode and I enjoyed it.
Considering the fact that Private Practice will not be continuing past their 13 episode order, I'm very interested in seeing how the storylines flesh out between now and the end. How far will Charlotte's pregnancy progress? What will Sheldon do about his cancer diagnosis? And most curious — will Addison end up happy?
Keep tuning in to find out!
Private Practice airs Tuesdays at 10/9c on ABC.
Tell us what's wrong with this post? How could we improve it? :)
Let us improve this post!